Online registration has now closed but we would love to see you there on the night, you can sign up for £30 from 7:30pm
This year our ever-popular Glow for Myton event has a new venue and a shiny new look – think disco balls, an Abba tribute and dancing the night away, all whilst raising money for your local hospice.
On the night of Saturday 22nd April Coventry City Centre will come alive as hundreds of fundraisers step up for the cause and walk, jog, dance or run their way around the 70s themed 5km course before returning for the Abba Legacy After Party.
Starting and finishing at the HMV Empire Coventry everyone who takes part will receive a bespoke Glow for Myton medal that glows in the dark and even doubles up as a fridge magnet in addition to glow sticks.
Date: Saturday 22nd April
Location: HMV Empire, Coventry
Distance: 5K
Theme: 70s with an ABBA Legacy Tribute Act and afterparty 
All for just £30 per person
There will be a DJ from 7.30pm, a Dance-along and warm up with the amazing Matt Print and confetti cannons to see you on your 5km way.
Along the route there will be three exciting new Glow Zones; a Disco Tunnel, 70s Foam Tunnel with props and ABBA LED glowing sphere columns with tunes playing so you can get your groove on.
On your return to the HMV Empire Coventry the After Party will kick off with a 45 minute set from the incredible tribute act, Abba Legacy, playing all the greatest hits. There will be a break for a balloon drop with fabulous prizes up for grabs, followed by another 45 minute set for all those Dancing Queens (and Kings!).
There will also be a 70s fancy dress competition so get your flares, bell sleeves, mini dresses, sequins, Flower Power and wigs at the ready – the bigger and brighter the better! The best dressed on the night will win two tickets and guest list entry to an event at the HMV Empire Coventry.
Glow for Myton is a fabulous, feel-good night of fun and fundraising not to be missed!  Sign up by March 2nd and take advantage of our early bird price of just £15, after that date it will cost £20, and on the night £30.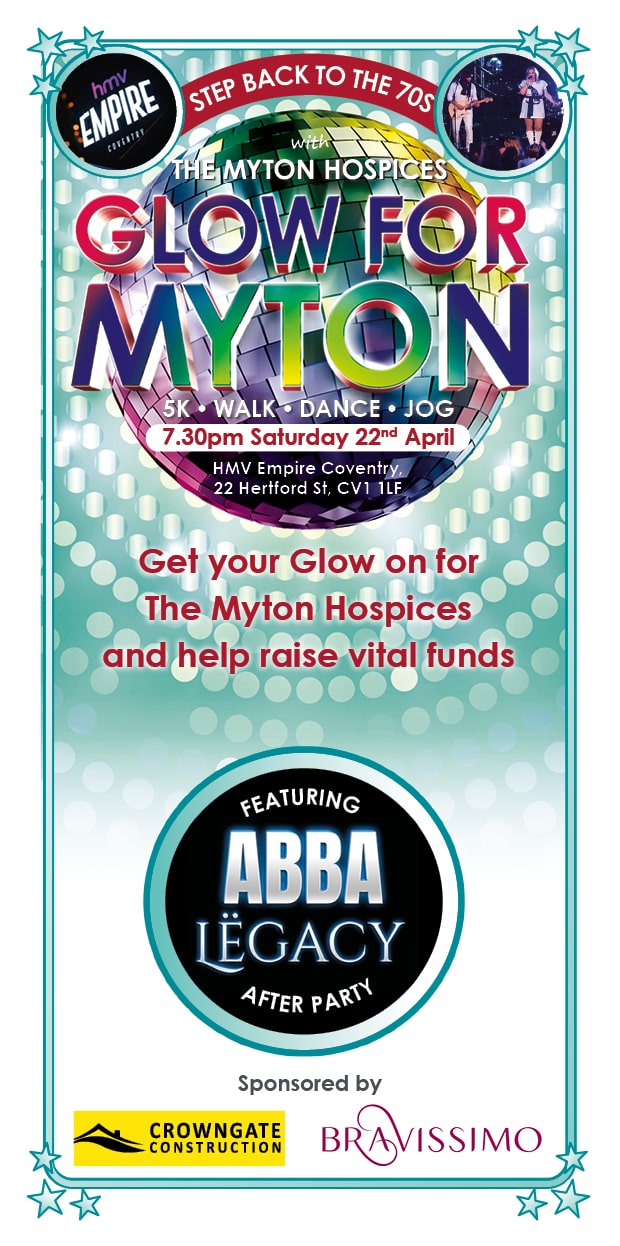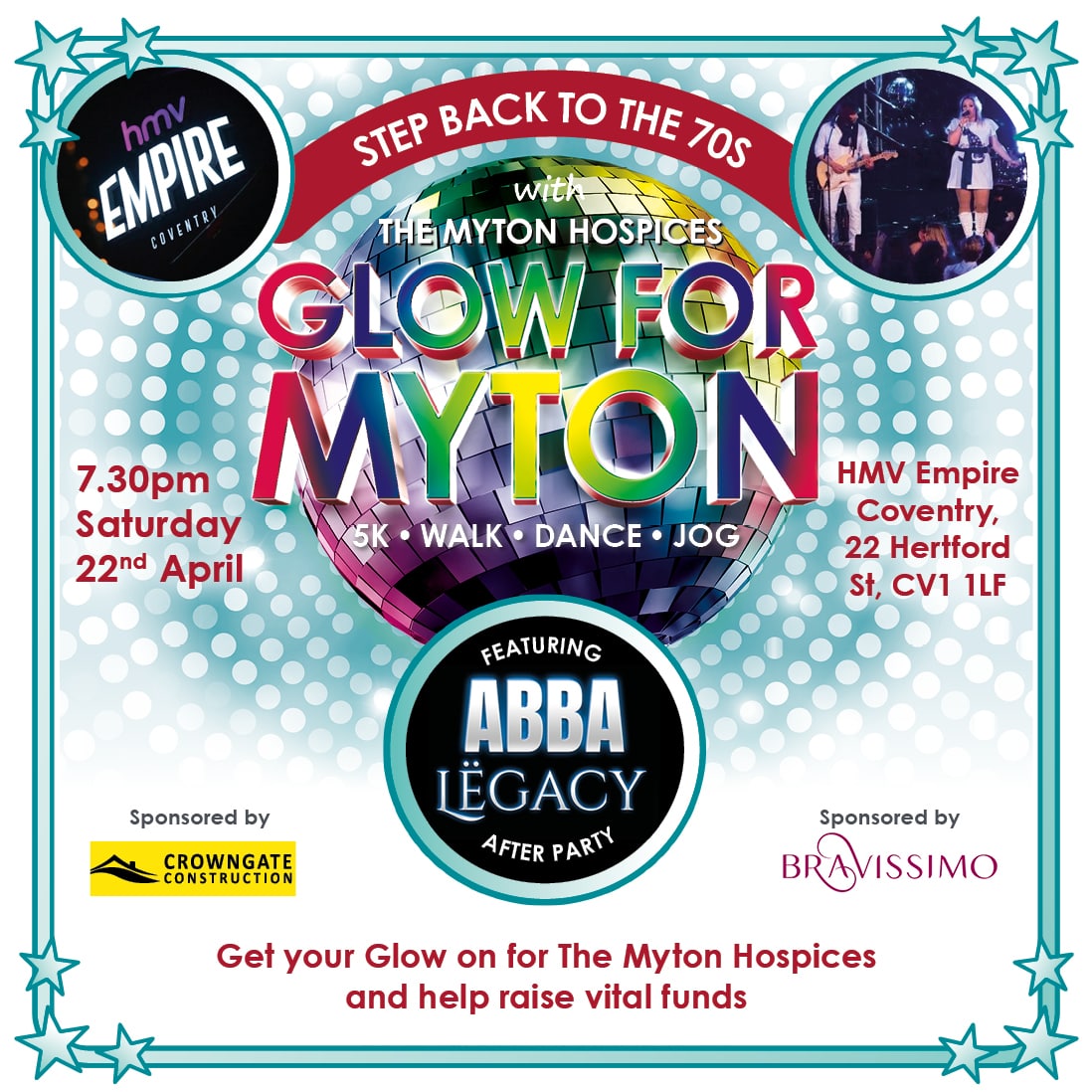 So what do you get for your money?
As well as a great night out in the city, everyone who signs up will get a bespoke Glow for Myton medal, glow sticks, and a back sign for those who wish to take part in memory of a loved one.
Also, tickets to The Glow for Myton after party where you'll be treated to two sets from the amazing Abba Legacy Tribute Band in addition to the knowledge you are helping your local charity to continue its vital work in Coventry and Warwickshire!
Don't worry about how quickly you make it around the route as it isn't a timed event – but if you want to set yourselves a target we are more than happy for you to challenge yourself. This event is one everyone can get involved with; the route is wheelchair friendly, so everyone can soak up the party atmosphere, and it's all for fun!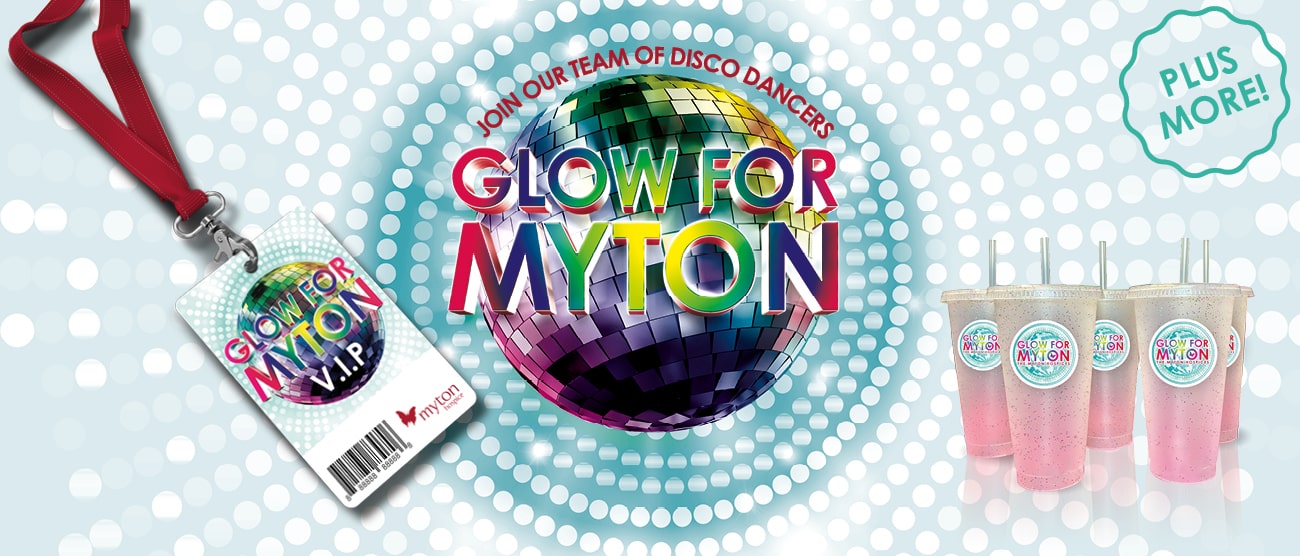 Whether you take part in memory of a loved one or just to support Myton, people pledging to raise certain levels of money will also become part of our team of Disco Dancers and receive additional goodies as listed below:
If you pledge to raise £100 or more you will start at the front of the 5km route, receive LED glasses and a bespoke lanyard, and a guest pass to access a VIP area on the night.
If you pledge to raise £250 or more you will receive all of the above plus a bespoke drinks cup.
If you pledge to raise £500 or more you will receive all of the above AND a limited edition Myton Disco Ball Hoodie.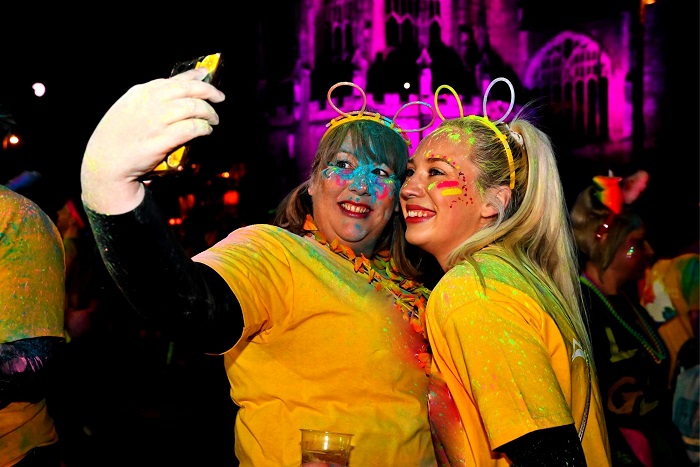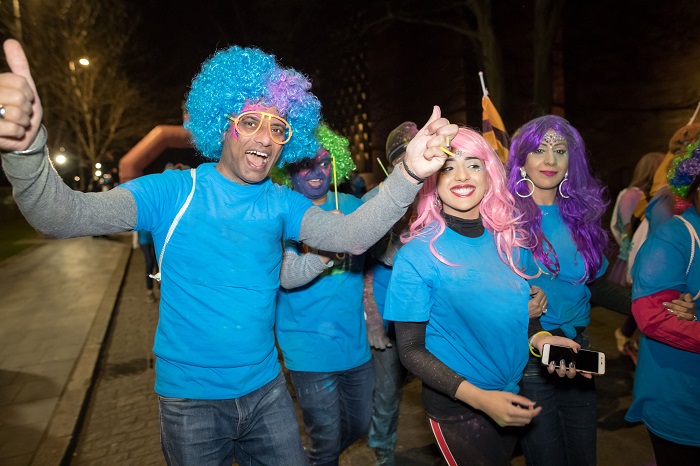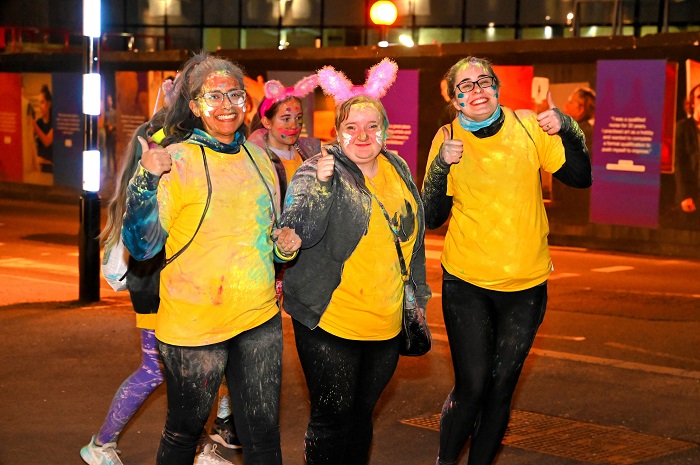 For more information or if you have any problems signing up please call 01926 838838 or email events@mytonhospice.org