Light Up A Life 2021 - An Online Service
We are excited to be holding our Light Up A Life service at Coventry Cathedral on Sunday 12th December however this event is now at full capacity.
We will be recording the service which will be available for you to watch online on Friday 17th December and you can still make a dedication which will be displayed at the Cathedral and featured in the online service too.
You'll also have the option to join our waiting list when you make your dedication.
Everyone who wants to be part of Light Up A Life can submit the name of their loved ones to be displayed at the cathedral during the service.
Our hospices still remain an important part of our Light Up A Life celebrations and you are all welcome to visit our Christmas trees outside our hospices over the festive period for your own moment of reflection, or to tie your tag to if this has become your tradition, as it has for many supporters.
Please do take into consideration government guidelines on social distancing if you do decide to visit.
How to make a dedication...
Please complete the below form to make a dedication in memory of a loved one and leave a memory or note on our memory wall.
If you would like your loved ones names displayed in the cathedral during the service and featured in our online service, please make your dedication no later than the Friday 3rd December.
You will then receive a card and remembrance tag(s) in the post.
Donations of £30 or more will also receive a limited edition hanging gold coloured metal butterfly, locally produced especially for Myton.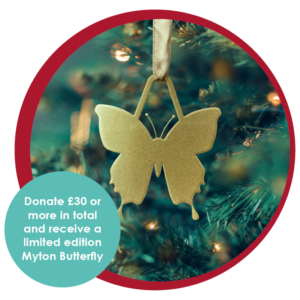 Thank you for your support!
Dedicate today
Dedicate today