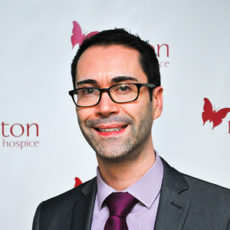 David Pratt
David Pratt has been Director of Strategy & Information at The Myton Hospices since May 2015.
David joined the Fundraising team at The Myton Hospices in 2007 and spent seven years working in a variety of roles including managing Community Fundraising, Donor and Supporter Care, Trusts and Legacies. He was also Deputy Director of Fundraising for three years.
In 2014 he took on a secondment role to support the Senior Leadership Team in writing the organisational strategy for 2015-2020, and as Director he is responsible for leading the development, delivery and evaluation of the strategy and for building relationships with key stakeholders in the health and social care economy.
Contact David:
Warwick Myton Hospice,
Myton Lane,
Myton Road,
Warwick,
CV34 6PX
01926 838 881