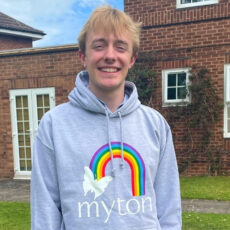 James Chalker
My name is James Chalker and I am the Fundraising Volunteer Co-Ordinator at The Myton Hospices.
I have worked for The Myton Hospices since December 2019 and have been in a variety of roles before starting this new and exciting role.
Within my role, I provide pro-active support to the fundraising team in recruiting and communicating with volunteers within fundraising, as well as ensuring a positive experience for fundraising volunteers and helping with Events.
I love my job and really enjoy what I do. No day is ever the same as I do a wide variety of tasks – which I love!
I feel privileged to work for an organisation like The Myton Hospices as I get to work with and meet lots of amazing people!