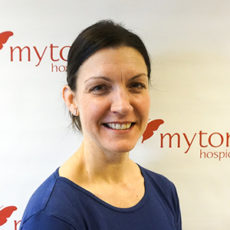 Karen Badgery
After qualifying as a Registered Nurse in Norwich in 1997 and working for a short time at the Norfolk and Norwich Hospital, I spent the next 11 years working in the community as a Staff Nurse then as a District Nursing Sister. During this time I moved back to my home county of Leicestershire. District Nursing and sadly, a personal bereavement, evoked in me a passion for palliative care, and so I decided to specialise.  For the next eight years, I worked as a Hospital Macmillan Nurse in Palliative Care.
I, and ultimately my patients, benefitted from some fantastic education over the years, which, in October 2016, prompted me to take up my current post as Head of Clinical Education here at The Myton Hospices. The best thing about working at Myton is the support everyone gives to each other across all the sites.
Palliative care is something that almost all health and social care workers deliver in some way, and my vision is to enable them, through education, to do this to the best of their ability, wherever they work in Coventry and Warwickshire.
I live in Leicestershire with my husband, and enjoy travelling, eating out, spending time with my friends and family, going for long walks and exercising.