In 1979, the Bishop of Coventry set up a committee to discuss the possibility of opening a hospice for people in need of palliative care in the Warwickshire and Coventry areas.
Following the general election, an appeal for money was launched. Funding came from many sources, as it does now, including Rotarians, Lions, Round Tables, and various other charitable organisations and many individuals.
Myton Hamlet, then a disused children's home, was purchased from Warwickshire County Council. Architects and builders came in to convert the building into a hospice.
The Duchess of Kent formally opened the Hospice and planted a tree, in September 1982. The Day Unit in Warwick opened two years later.
In 1998 our purpose built Inpatient Unit was opened and was followed by a new Day Unit a year later.
In 2002, the people of Rugby raised £1 million to build the Rugby Myton Day Unit which provides day care to the people of Rugby and the surrounding area.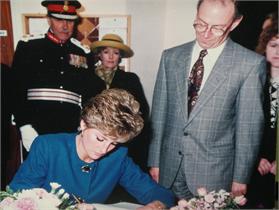 The final link in the Myton chain is Coventry Myton Hospice. Opened in 2009 after a £7 million fundraising appeal, Coventry Myton Hospice has an Inpatient Unit and a Day Unit.
Let's take a look back on the last 40 years...