Whether it's a wedding, birthday, anniversary or another special occasion, you can make a difference to the lives of local people that need our help.
Weddings
It's the little things that can make the biggest difference - you've chosen your venue, menu and table decorations, why not make your day even more special by making a donation to Myton instead of favours?
For a suggested donation of £2 each, our butterfly pin badges make the perfect wedding favour. You can also personalise the message on the card to make it unique to you which will make the perfect finishing touch.
There is such a thing as too many saucepans and by asking your friends and family to make a donation to Myton instead of buying you a gift, you'll be helping local families that need our support.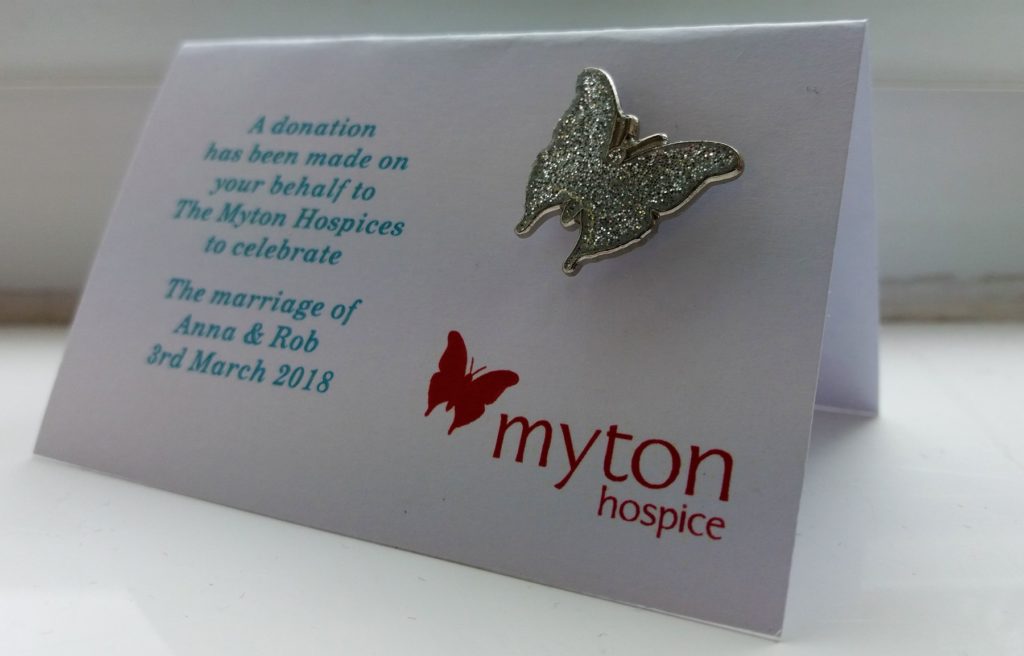 A birthday, anniversary or special celebration
Make a birthday, anniversary or special occasion memorable by giving a gift to Myton. By asking family, friends and guests to make a donation to Myton instead of buying a gift, you could quickly turn a £25 toaster into one hour of specialist nursing care!
We have lots of materials to help you celebrate in style, and donation envelopes and boxes are available for you to issue with your party invitations or to use at your event.
Get in touch
To find out more about giving to Myton in celebration please contact Ellie on 01926 838 830 or emailing ellie.morgans@mytonhospice.org or fill out the short form below.