The sun was shining as hundreds of cyclists set off from Warwick Myton Hospice on either a 50km or 100km ride around Warwickshire and the Cotswolds.
On return to Warwick Myton Hospice, cyclists received a medal as well as a complimentary burger, and a massage from Fire and Earth Sports Massage.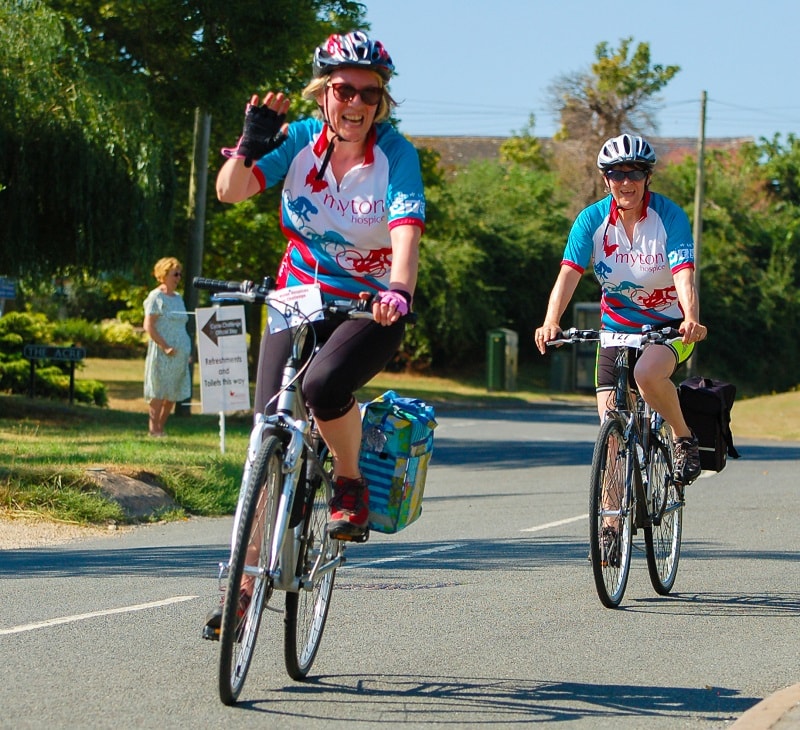 On the 100km ride, participants had the opportunity to take part in our timed hill climb, testing both themselves and their bikes! The two fastest riders, being crowned King and Queen of the Myton's respectively were, Paul Aldridge and Catherine Rigney.
Our Events Team are busy counting sponsorship, and so far this year we have raised over £30,500!
If you still have sponsorship you would like to pay in you can donate online by clicking here (please remember to tell us which event it is for when asked). Online JustGiving page sponsorship will come directly to us.
If you wish to send a cheque you can send it to:
The Myton Hospices, Myton Lane, Myton Road, Warwick CV34 6PX, or pop in and see us at your nearest hospice.
Myton would also like to thank Unleashed Cycles in Warwick who provided technical support throughout the event, Fire and Earth Sports Massage, Simon Coates for taking photos throughout the event, Ted Bear and Ed from The Engine in Kenilworth who manned the BBQ, Steve Crowe and Son Butchers who supplied the burgers, and all the wonderful volunteers who gave up their time to support this year's Cycle Challenge.
Simon Coates teaser photos ...
A full set of our photos will be uploaded to our our official Facebook page Friday 14th September. Click here to see our Facebook page.
A huge thank you to everyone that took part and secured sponsorship to help raise vital funds so we can continue to provide our services to terminally ill people and their families when they need us most!
What's next?
We are delighted to announce our 3rd annual Myton Hospice charity golf day Sponsored by Tustains at Stoneleigh Deer Park Golf Club The Old Deer Park, Thursday 27th September 2018.
The cost to enter is £250 for a team of 4, which includes Bacon Roll & Coffee on arrival, 18 Holes of Golf and prize presentation dinner at 7:30pm. Men's, Ladies and Mixed teams are welcome.
Registration closes soon so you will have to be quick to secure your place! For more information please click here.