At 78 years old and with an appetite for adventure, Bob ticked an item off his bucket list to raise money for Myton – a wing walk! He created a bespoke boiler suit to wear for the challenge, covered in Myton butterflies and even took his trusty banjo along for the flight so he could sing a song he had written for the event.
Bob took flight with the Aerobatics Team at Rendcomb Airfield in Cirencester.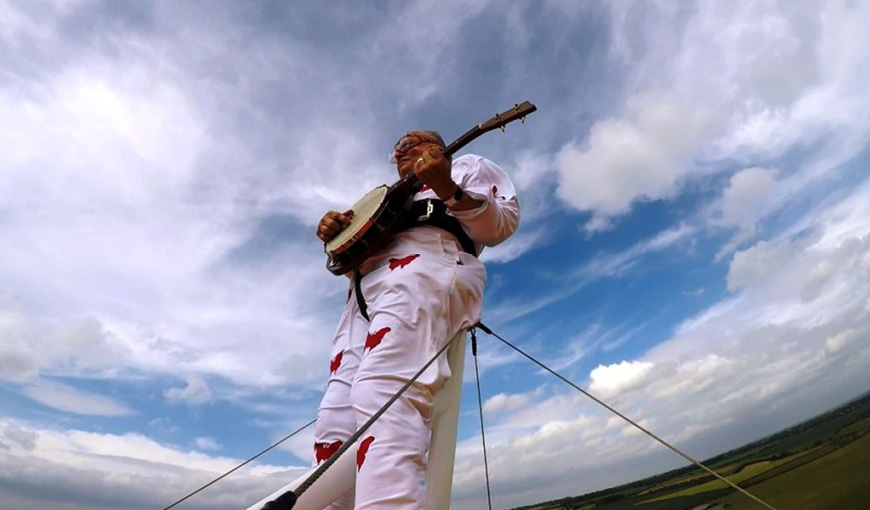 He said:
The acceleration was huge; it was astonishing how such a small aircraft got up into the air so quickly. I couldn't help but think of how this was how those brave young men of the Royal Flying Corps in World War One must have seen the airfield when they were flying their canvas and wooden framed aircraft around the field!  I demonstrated an act of bravado as we passed by the public viewing area by raising both my arms up so that my friends and family could all see that I was fearless!

Dave the pilot began to do several different manoeuvres at a fairly low level and I thought 'this Wing Walking is a doddle and anyone could do it.' Silly me! He took the plane up to about 1,000 feet so that I could see and appreciate the spectacular views from that height which were memorable indeed. He then began to do an almost vertical climb before turning the nose of the plane over on its side and we were descending into what I can only describe as being a dive bomb! I had to close my eyes. He did this same manoeuvre again and I had to close my eyes again! When we landed my senses were really buzzing!
Bob also visited Coventry Day Hospice with his wife to perform with his banjo for patients!
Take a look at the short clip below of Bob performing...
Take a look at some of our images below of Bob performing...
We cannot thank Bob enough for taking on such an incredible challenge to raise money for Myton! You can still sponsor Bob, click here.
And if you're feeling inspired to take on a daredevil challenge for Myton, why not sign up to our ZipWire or Skydive events?