For many Christmas is a time for traditions and one of our favourites is having a Christmas tree (or multiple – we won't judge!). Whether you decorate with tinsel, baubles, white lights or multi-coloured, the tree is often the centre piece to Christmas!
Between 8 and 10 million real trees are sold in the UK each year, with about 6 million of these being disposed each year after the festive season. If you are looking for a way to dispose of your real Christmas tree responsibly, we're here to help!
A team of amazing volunteers are raising vital funds for The Myton Hospices and Pass The Smile with the return of the Charity Christmas Tree Collection service across Coventry and Warwickshire in partnership with JustHelping. 
In return for a donation the scheme's volunteers will collect and repurpose your real tree over the 13th, 14th and 15th January 2023.
Once collected trees are transported to Russells Garden Centre in Baginton, where they will be shredded and used to restock paths in their Quarry Gardens and maze. This year organisers are also aiming to send a quantity of trees to aid production of biomass for fuel.
Click here to book your collection and see if your postcode is included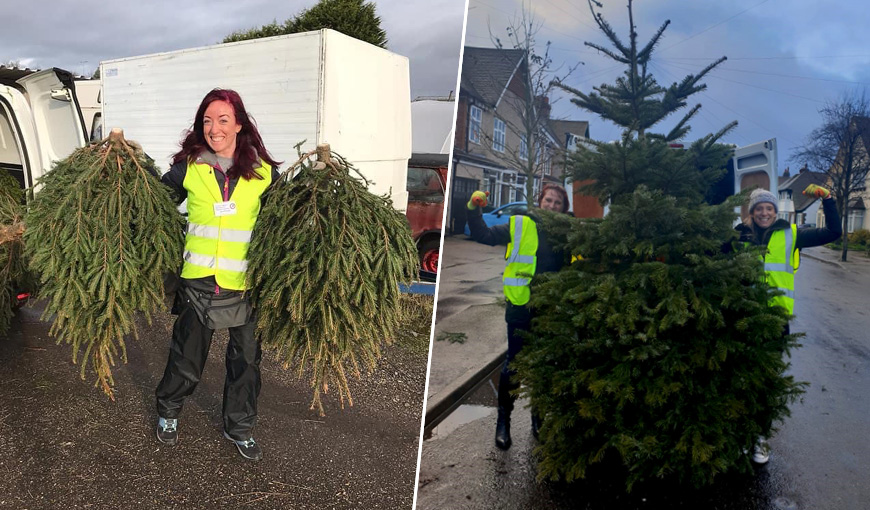 This year is not the first that amazing volunteers have collected Christmas trees. Launched in 2020 the project has now raised over £54,000, funds which help both local charities to pursue their work and support communities.
The 2022 collection alone raised £34,000, collecting 2,500 trees with the help of 125 volunteers, and sponsors including Diamond Logistics, KB Transport Solutions, Coventry Building Society, Mirius, Armstrongs Accountants, Tudor Environmental, and Fox Gardening Services.
This year we are aiming even higher with a plan to collect 4000 trees, extending the collection area into Bedworth, Nuneaton, Rugby and Stratford-upon-Avon. So spread the word to your friends, family and neighbours!
Co-organiser, Pass The Smile's Scott Crowther was staggered by the success in 2022.
We've been overwhelmed by the ongoing support of our volunteers, the sponsors and everyone who registered a tree for collection.

Every year we think that we've reached a peak but the help we get enables us to go even further, it's incredibly humbling.
Charlotte Ingram Director of Income Generation at The Myton Hospices said:
We are delighted to be working with Pass The Smile and Just Helping again this year to organise the Charity Christmas Tree Collection.

The growth of the collection each year has been fantastic and we are looking forward to collecting and recycling even more trees this year.

We would like to say a huge thank you to everyone who makes the collections possible and to all those who support by making a donation!
Coventry and Warwickshire's Charity Christmas Tree Collection team have also taken on the task of collecting and repurposing Warwick Castle's Light Trail Christmas trees this year, in return for a generous donation from organisers Theme 3.
Members of The Myton Hospices and Pass The Smile teams headed to Warwick Castle on Tuesday 13th December to switch on their Light Trail to celebrate the charitable donation.
If you can please help us to spread the word about the collection service – we need people to help with leafleting homes across Coventry & Warwickshire and to help get the word out in your community, workplace, schools and to family & friends.
If you can help in any way please complete this short form and our friends at Pass The Smile will be in touch, alternatively, you can email covxmastrees@gmail.com.
Click here to book your collection and see if your postcode is included