Here at The Myton Hospices, our fabulous fundraisers span the generations – from one to 100 and beyond. And one of our youngest supporters is the amazing Conor Walker.
Conor is just three years old, but is already a seasoned fundraiser for the cause – helping his mum raise vital funds for Myton in memory of her friend Marie Edgar, who was cared for by Myton before she died in September 2017, aged just 37.
Conor's mum Claire Walker and ...
Marie were the best of friends for 24 years – ever since meeting outside a Take That concert in 1993. Despite Claire living in Liverpool and Marie in Coventry, the pair became pen pals at a young age and regularly visited each other at their respective homes. Marie's death left a huge void in Claire's life.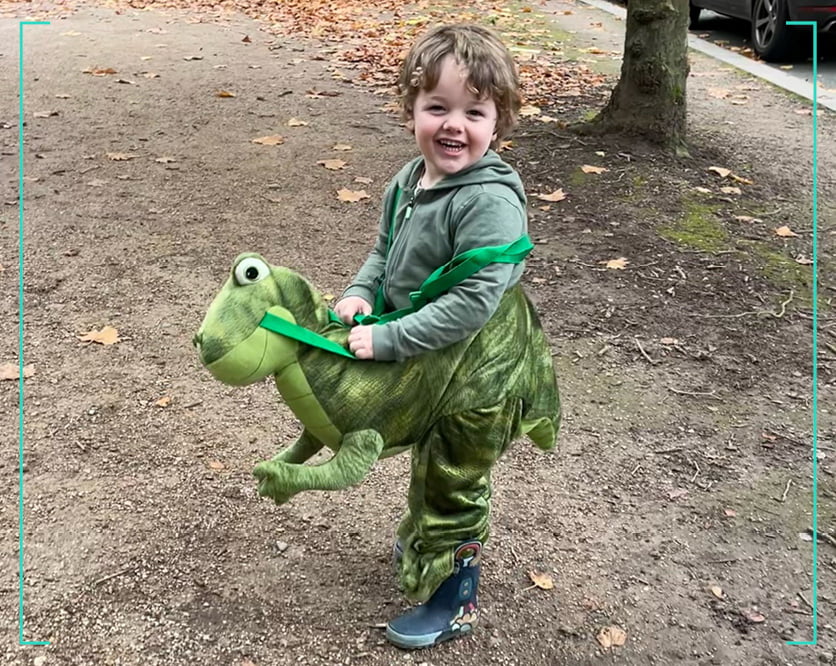 To pay tribute to her great friend and to thank The Myton Hospices for the 'amazing care, love and support it gave Marie, her beautiful children and family' Claire and her family host some sort of fundraising each year in honour of Marie – doing things like donations to the Hospice instead of sending Christmas cards, a Dance for Life and more besides.
And last month, Conor took on the...
responsibility single-handed – dressing up as a dinosaur and completing a sponsored Spooky Welly Walk. The inspirational youngster's efforts have been rewarded by friends and family digging deep to sponsor him.
And thanks to his and their efforts, a fabulous £150 and counting has been raised to support our patients and their families.
Claire said she and the family were so proud of Conor for his efforts.
We couldn't be prouder of Conor for his Spooky Welly Walk. It was his first charity walk and what better way to honour Marie than to do something that I'm sure would make her smile. We hope the money makes a small difference and we will always do whatever we can to repay Myton for the care and compassion you gave my beautiful and sorely missed friend Marie. Well done Conor.
Clare Cropp, Fundraising Operations Manager at Myton, echoed these feelings. She said:
A huge thank you to Conor for his amazing effort and the wonderful amount of money he raised to support our patients and their families. It makes us very proud to have supporters starting so young and we're hugely grateful to the Walker family for all their fundraising efforts for Myton in memory of Marie.
If you've been inspired by little Conor – and how could you not be?
Then please click here to find out how you and your family can get involved with our Myton events.
---
Have some festive fundraising fun this Christmas by taking part in the Myton Reindeer Run ...
The Myton Hospices is urging youngsters to step into Christmas by taking part in our fabulous new Reindeer Run fundraiser.
The perfect opportunity to get the seasonal festivities off to a flying start, the Reindeer Run can be any distance and done at any time, in a location of your choice - making it perfect for all ages.
All we ask is that you raise as much sponsorship and as many festive funds as you can! 
Read the latest Myton news below ...