The Myton Hospices is challenging people to do just this, while clocking up 100km or 100 miles for our Virtual Race!
There are no set times or locations to take part in the event, which means you can go at a pace which suits you and cover the distance in a variety of different ways – from cycling, swimming, running, rowing, walking and more!
The Virtual Race starts on Friday 21st June, and everyone who completes their chosen distance over the following 100 days will receive a medal!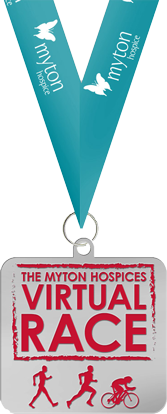 The money raised will ensure Myton can continue to be there for people like Colin when they need us most:
When I saw the look on my GP's face I knew immediately that I had cancer for the third time.

The third time was vastly different as the cancer had now spread to my left femur. I had a metal rod inserted into the bone to strengthen it. This was followed by a course of immunotherapy drugs and radiotherapy.

During the radiotherapy, I was in so much unexplained pain that I could not move. I was taken into hospital, but soon realised I was giving the doctors a few headaches as my condition was spread across various medical disciplines.

Then a Macmillan nurse suggested a new pain relief regime and referred me to Warwick Myton Day Hospice and over the following days the pain was noticeably easing.

As I shuffled on my walking frame into Myton for my trial visit I found myself in tears. Then a supportive arm came around my shoulders and suddenly I felt that others knew my frustrations and understood my emotions.

Through my weekly visits I feel the supportive Myton arm around my shoulders even more strongly than I did that first day. They've been supportive to me both physically and emotionally and all with a sense of fun and humour.
We need to raise £9.2 million this year to continue providing our services free of charge!
help us to continue to be there for people with life limiting and terminal illnesses, and their families, by signing up here.