He has written about the run and his family's experience of Myton:
"In September I ran, for the first time, the Loch Ness Marathon in aid of The Myton Hospices. What started as an over-ambitious New Year's resolution turned into nine months hard training with countless hours of finding new routes through London's parks and canals.
I hadn't planned on running for charity as I wanted the marathon to be a personal challenge. However during the spring of 2017 my mum, who was diagnosed with secondary cancer in 2016, became weaker.
Her first visit to the hospice for 'symptom relief' was with a clear view to see her return home within the week. It was not, as she feared, the end of her life.
Myton blew away all our preconceptions about what a hospice would be like. The home-cooked food, china plates, ensuite room complete with its own patio and the sensitive, compassionate care from the wonderful nurses were more than we could have hoped for.
Dan's mum, Gill, tells us about her first stay with Myton.
I asked one of the team how they were funded. Just 20% from the NHS and the rest from donations - I was astonished.
Here was a place that gave dignity and comfort to those who need it most and yet nearly all of their funding comes from donations.
Later that day I set up a fundraising page and asked friends and family to give whatever they could to support this incredible place which had helped - and even rescued - my mum and our family in a time of great trial.
The marathon was intended to be a family trip to Scotland with my parents, baby boy, wife and her parents all cheering me across the finish line.
Sadly as we approached September it became clear that my mum was not going to be strong enough to make the journey.
She was devastated. But technology is a wonderful thing and mum was able to download the race app and, in the great company of her brothers and sister, followed my progress from the comfort of her home.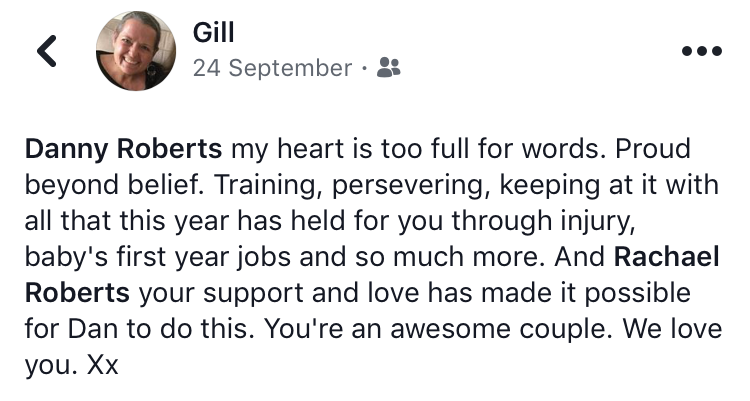 On a blusterous mountain top I phoned to say I was setting off and she wished me luck. It was a tough race - Scotland has a number of large geographical obstacles that really slowed me down. But with each step I thought of mum and the care she received at Myton.
Once I crossed the line I called mum again, both of us feeling emotional.
In the end, though she was not there in person, mum was delighted to have her siblings around her and was still able cheer me on in her own way. She was very proud.
Mum passed away on 20 December 2017 in the comfort of Coventry Myton. Her weekly care at the Rugby Day Hospice and her brief stay at Coventry in March gave her peace and wellbeing beyond anything I expected.
They helped her feel content and strong in the face of an utterly cruel fate and I have no doubt that without them my mum would not have been so brave.
As I continue my running into 2018 I will always remember Myton's help and kindness."
Dan raised £3,087.28 for Myton running the Loch Ness Marathon. Thank you, Dan, for your support!
---
If you would like to find out more about fundraising in aid of Myton, please click here.