For anyone old enough to remember watching the antics of It's a Knockout on television, you would have felt like you had stepped back in time as the competitors battled it out at Leamington Rugby Club to be crowned the champions!
Featuring original penguin and giant suits from the show, the afternoon of activities was run by Off Limits Event Professionals and saw ten teams from local businesses including Aston Martin, Iress, Rugby Round Table, ICM Ltd and Staysure Insurance taking part.
Not ones to shy away from friendly competition, staff from our Fundraising and Marketing departments fielded their own team too.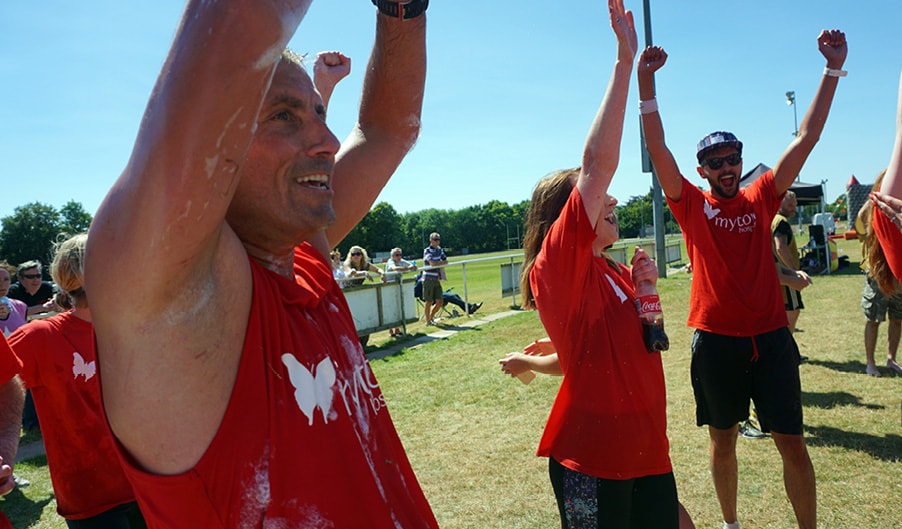 Corporate Fundraiser, Abigail Smith, said:
We were delighted to see so many teams from local organisations working together and having so much fun whilst supporting The Myton Hospices – it was really great to be a part of! And it was fantastic to receive such positive feedback on the day and following the event, especially considering this event was brand new to us. The weather was perfect and Leamington Rugby Club was such an accommodating venue and a pleasure to work with. We are very grateful to our stall holders who came along to provide food and beverages, and of course, we are super thankful to each and every one of the teams who participated!
Take a look at what all of the teams got up to here (full set of photos to be added to our Facebook page next week):
If you are interested in team building with a difference then register your interest by completing the short form below...