Age is no barrier for Myton supporter Robert 'Bob' Smith – and neither was gravity – as he took to the skies to complete a daredevil fundraising wing walk for the cause.
An avid Myton fundraiser, 80-year-old Bob is no stranger to the intrepid undertaking, having completed a wing walk for Myton back in 2019, raising £2,500 in the process in memory of, and tribute to, his late wife Carol, who was cared for by our amazing frontline medical team.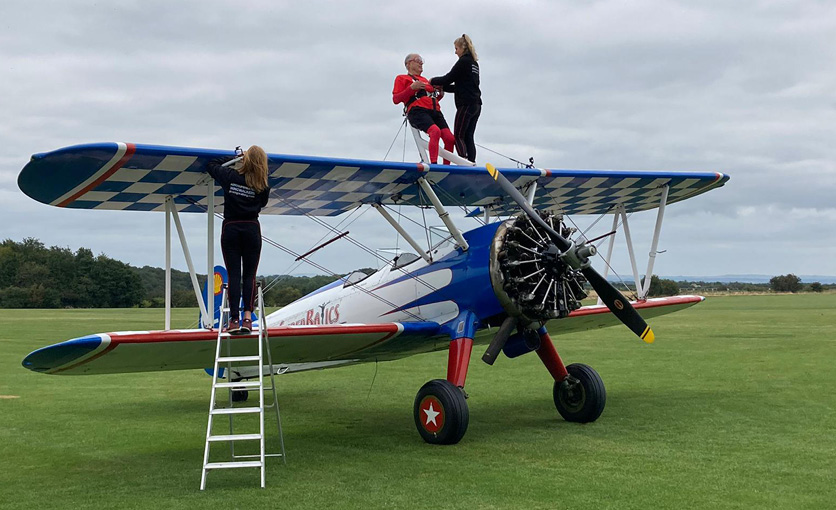 So when the Coronavirus Pandemic struck and our fundraising was crippled overnight, he decided now was the time to strap himself to the top of a plane again for us!
Bob's fabulous fundraising feat took place at Rendcomb Airfield near to Cirencester on 27th August.
Bob said:
I have always wanted to do something again to provide income for The Myton Hospices, not least because the Pandemic has served to make such events not possible until recently.

When my Wife Carol was very ill, Myton were unbelievably good in their provision of part-time care for her during her illness and she was so much more comfortable and contented as a result. Later, as her illness progressed, their end-of-life care was again of the best and highest possible standard.

Once the restrictions had been eased it seemed right to do it again, because Myton and many other charitable organisations have lost a great many opportunities to generate funding for their work.
With his mind made up, the superstar octogenarian then had to come up with a way to make this wing walk different.
As it turned out, this was pretty simple – just a couple of easy additions to the routine!
He dressed as a Myton butterfly and ...
because he is qualified to fly ay Level One in aerobatics from his previous flight, he opted to fly at Level Two this time around with just the small matter of a loop-the-loop, barrel roll and a couple of engine stalls thrown in for good measure!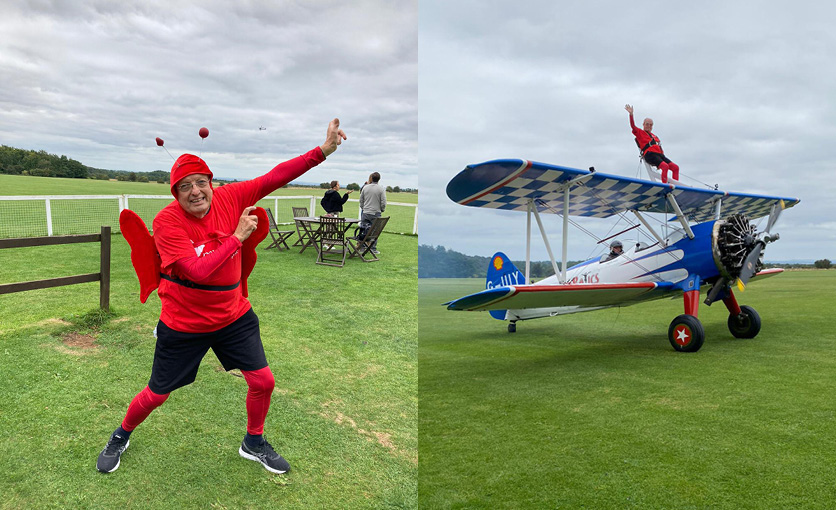 A humble Bob added:
People have commented on how brave I was. Actually, I'm not brave at all. It may seem strange but I did enjoy myself tremendously whilst I was up there. I would like to say a huge thank you to everyone who has donated and supported me in my challenge. I'm delighted to, with your help, have raised such a fabulous amount of money for the truly amazing Myton.
Thanks to the generous donations of friends, family and supporters, Bob's wing walk has raised a fabulous £638 and counting.
Bob, we're so grateful for everything you do for Myton and think you're a fundraising superhero.
Thank you on behalf of ...
everyone at Myton and on behalf of all our patients and their loved ones.
If you've been inspired by Bob's amazing bravery and epic fundraiser, you can still donate to his challenge by clicking here.
And if you'd like to take part in one of Myton's upcoming event's, just click here and you will find everything you need to get your journey started.
Bob has written a blog about the wing walk itself, so it's over to him to talk us through the day.
The Wing Walk 27.08.21 – by Robert Smith, aged 80
I travelled to Rendcomb Airfield near to Cirencester and had a full safety briefing on arrival by the pilot, and their Health and Safety representative.
Everyone loved my Myton Red Butterfly outfit and even people I'd never met before insisted on taking pictures with me.
When it came to my turn to fly ...
Dave the pilot, took the aircraft away from the take-off area for a few minutes and when he brought it back he poured some clear liquid into it.
That's strange I thought, the engine is air cooled and shouldn't need water, but it was in fact clear thin oil which is used when they burn a smoke trail. I realised this later when the aerobatics took place.
I was duly strapped into place by ...
Emma, an accomplished and professional wing walker, and after all the final safety checks and briefings, with a tremendous roar of the engine we took off.
Dave spent several minutes climbing to 3500 feet, which is deemed to be the safe height for the more advanced aerobatics that I was to take part in.
He had previously told me that before he would begin any movements, he would wiggle his wings and I needed to give him the thumbs up to go ahead. He duly wiggled and off we went.
I was scheduled to fly for 12 minutes; my kids told me I was actually up there for 20!
First, he did the loop the loop.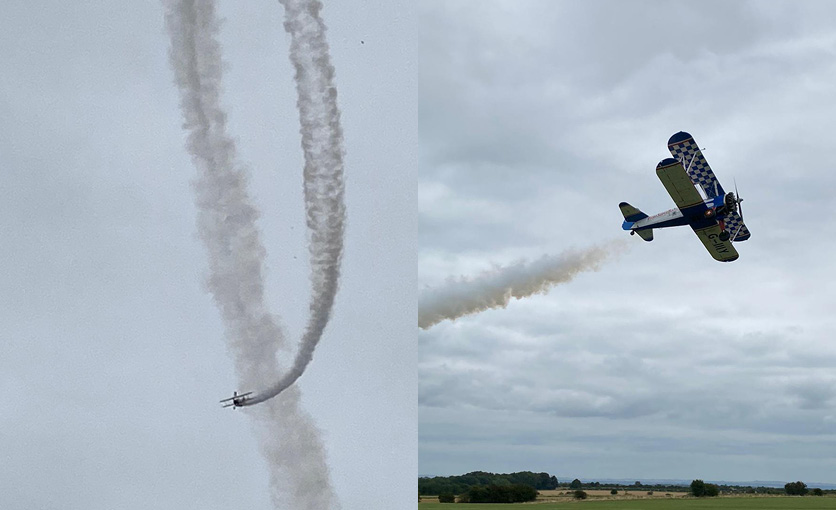 It's a strange sensation. I felt that I was standing on the wing, but the position of the earth and the sky kept changing.
Dave wiggled again and so next began the more complicated Cuban Eight movement which involved doing a vertical climb, smoke off then at 60 mph, smoke on and a step dive up to 160 mph leveling out and performing a flat circle of smoke at right angles to the leg of the dive.
He then moved over and did the same thing adjacent so that the smoke trail made the two circles join into the figure 8.
The smoke trail made the whole thing look like a pair of glasses laid flat with their legs up in the air.
He wiggled again - and then went into a simple double barrel role, again, smoke on, so it looked from the ground like a corkscrew and he finished off with a couple of stall turns.
Or so I thought …
by this time we were down to about 1500 feet, so he went closer to airfield viewing area and we actually finished off with another loop the loop again.
Then, much to my relief we did a simple slow pass of the viewing area so everyone could see I was still ok before, to my immense relief, we landed, and he taxied up to our original starting position.
When I watched the video recordings afterwards ...
I heard my eldest son Paul, (himself a retired RAF pilot and Squadron Leader of the F Flight  Eurofighter Squadron), giving a commentary of what was happening. One of my Grandchildren asked his Uncle Paul If I would be cold up there, and I heard Paul say quite clearly: "Well Jake, he's probably freezing his nuts off!" - and they all laughed immensely.
Take a look at the GoPro footage below from Bob's wing walk ...
The truth is just that, after 20 minutes flying around strapped to a metal pole and 3500 feet, it most certainly does get very chilly around ones nether regions!
All of my friends and relatives were there, and they were so pleased and proud of me.
I was a bit unsteady on my legs for a while because I was so disorientated; I also felt a bit queasy from the smoke trail fumes but after a while this went away, and we all went into Cirencester for a nice celebratory meal before driving home.
It was a truly memorable day for an amazing charity!
You can still donate to Bob's fundraising page below ...
Read the latest Myton news below ...