Geoff, 81, has been supporting The Myton Hospices ever since it opened its doors – a whole 39 years ago in 1982 – through his role as co-founder member of the Rugby 250+ Club.
During that time the Rugby 250+ Club has amazingly raised more than £250,000 for Myton.
With Coronavirus putting the brakes on the Rugby 250+ Club's usual fundraising activities last year, Geoff decided to take matters into his own hands – or feet – and completed his own walking marathon.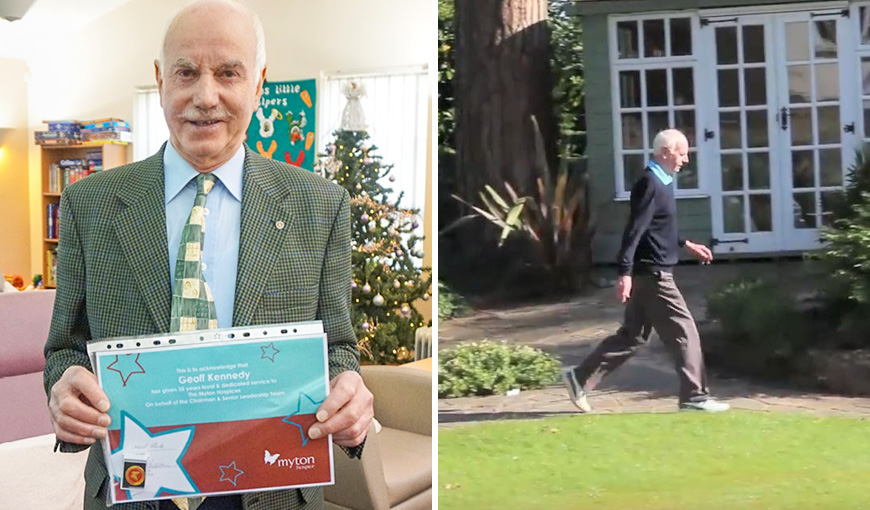 Photo above of Geoff walking his marathon last year around his garden!
Over four days...
Geoff completed 312 laps of his garden – the equivalent to a marathon 26 miles – and raised nearly £5,000 in donations and nearly £6,000 once Gift Aid was added. Amazing!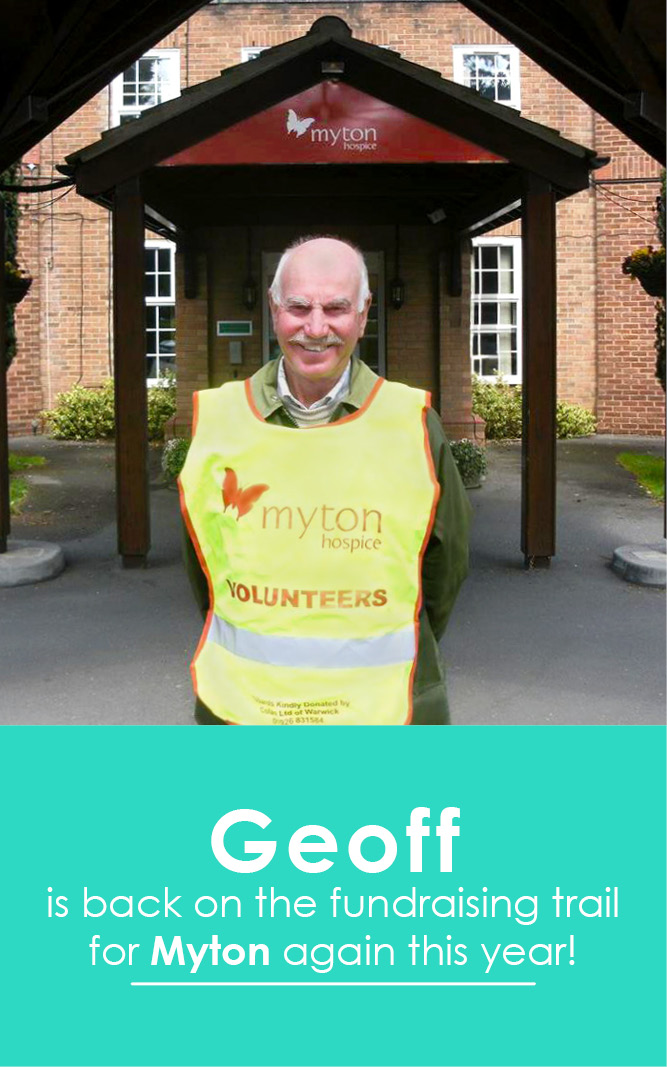 He has, once again, set himself the challenge of walking the distance of a marathon over four days – but this time he's hitting the streets of Rugby, where he hopes people will be able to cheer him along.
Geoff said:
I have always considered The Myton Hospices a wonderful organisation with an unsurpassed caring ethic.

It is a comfort to me to know that Myton is there should I ever need it and I am delighted to be able to continue raising money for the cause.

Last year I decided to do my own version of the London Marathon in Lockdown by walking 26+ miles round my house and garden and raised over £5,600.

This year I want to raise even more money for The Myton Hospices and will be elevating my challenge by taking on the marathon distance over four days around Rugby.

I hope that you will feel able to donate generously to reward my effort, but mainly to benefit the wonderful The Myton Hospices.
Geoff has set himself a target of £3,000 for his marathon mission and is hoping people will donate as generously as they are able to help him reach that – or even better his fundraising total from last year.
You can sponsor him by clicking here.
And remember to give him some encouragement or a beep on your horn if you see him out and about in Rugby.
He will be setting off at 9.30am on Monday, May 17...
just days before his 82nd birthday on Friday, May 21 - and will be walking 6.5miles each day around the town centre, Elliotts Field, Junction 1 and Technology Drive.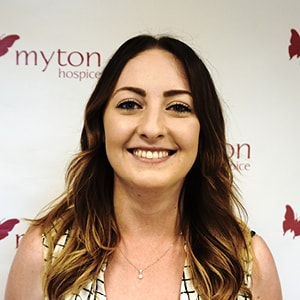 Rebecca Richards, Events Manager at The Myton Hospices said:
We are so grateful to Geoff for everything he has done and the amazing amount of money he has helped raise for Myton over the years – including his fabulous challenge last year.

We hope people will get behind him once again and help him raise as much money as possible to enable us to continue to provide our care, free of charge, to adults across Coventry and Warwickshire with a life-limiting illness. Thank you Geoff and good luck!
Could you jog, walk or run 5km or more for Myton? Ever wanted to know how it feels to jump out of a plane at 12,000ft?
Our events are a valuable source of income for us and that is why we work hard to ensure that we have a wide range of events scheduled throughout the year for each and every one of our supporters to enjoy.
Take a look at our upcoming events by clicking here.
Read the latest Myton news below...