Our 2019 overseas challenge saw a team of 25 people travel to China to trek along the Great Wall in aid of Myton. Their aim was to cover 35km in five days and to raise at least £42,000.
Their challenge began...
the morning after landing in Beijing with a 'warm-up' trek to prepare their legs for the coming days, along one of the Great Wall's most popular sections. Starting at Taipingzhai, they took on the first of many hills and steps and were treated to sights of 600-year-old army barracks and the Wall winding its way through the surrounding forest.
The following day the trek began in earnest, with 13km to cover and 27 watchtowers to pass through!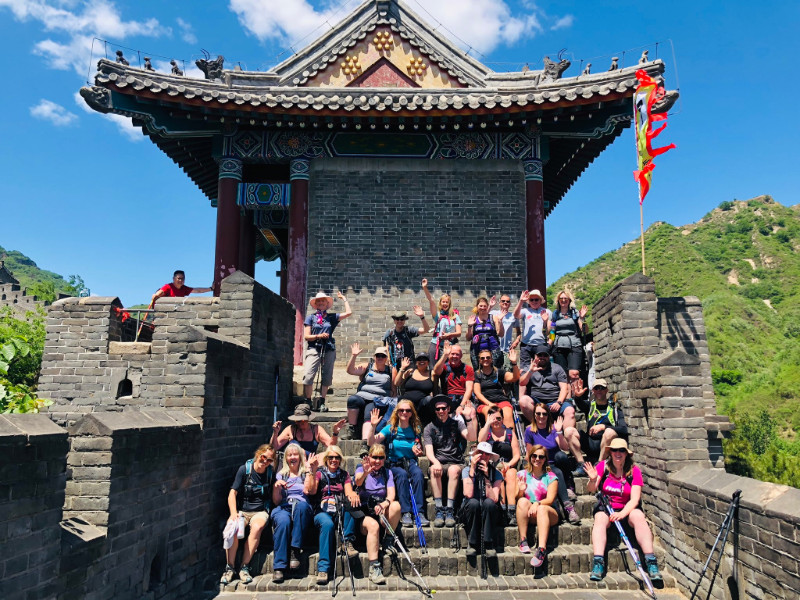 This section of the Great Wall is also one of the oldest the team trekked along and one of the quietest, winding through remote villages and farms.
Day three...
saw the team covering 7.5km from Jinshanling. Although the distance was less, the undulating Wall put everyone through their paces. The team treated themselves to a well-earned ice cream from a local seller in one of the watchtowers as they walked!
On day four...
their biggest test – the appropriately named Heavenly Ladder – lay ahead of them. But not before they climbed 1,000 steps and trekked through 11 watchtowers. Their final hurdle before an evening of rest was the near-verticle staircase of the Heavenly Ladder.
The team's final day...
included the incredible opportunity to each lay a new brick along a section of the wall which is currently being reconstructed. This part of the trek was probably the most emotional for our trekkers, not least because the end of their challenge was in sight. Many of the group placed a photo or a note to a loved one who had died at Myton in the cement, before laying their brick – a poignant tribute to some very special people.
Before flying home, the group enjoyed the hustle and bustle of Beijing and a farewell dinner!
Now that they're home and their feet are resting, what did our Great Wall of China trekkers think of the experience?
Paul:
The trek along the Great Wall of China was a massive physical challenge, made all the more difficult by temperatures that reached 41 degrees, but it was also hugely enjoyable. I'm so proud to have been part of an incredible team of people who have raised so much money for the hospice that cared for my wife so compassionately when she needed it.

To have been able to take part in this challenge on the first anniversary of Kate's death, and in company with my mother in law, helped me have a purpose at what would otherwise have been a lonely and very sad time. The comradery helped to keep the sadness at bay; of course, there were still tears on occasions, especially after we had laid a stone on the wall in memory of a loved one. Thank you so much to everyone who's sponsored us, to help ensure Myton can give the same care to others when they need it!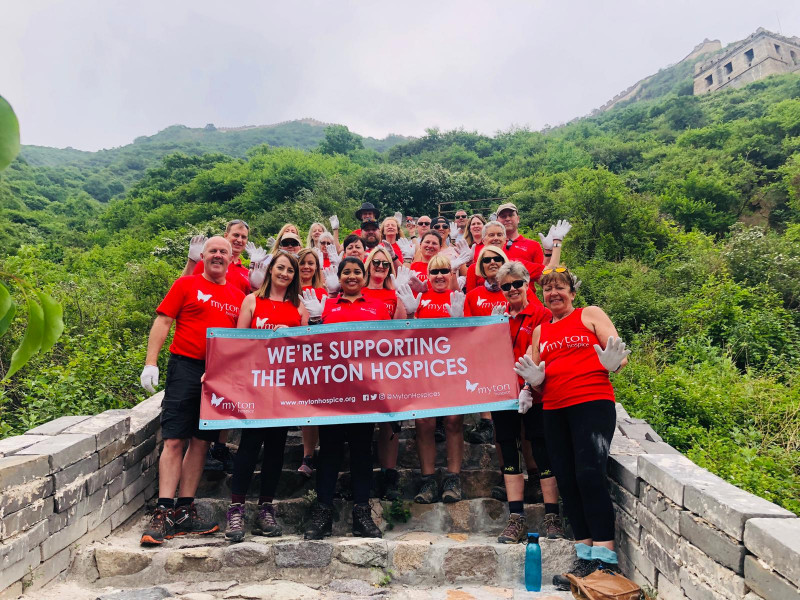 Steph:
I will never be able to express my gratitude for what being part of this trip has personally given to me. The personal journeys of some of our group were overwhelmingly humbling, along with the physical efforts every last person gave. I have not laughed so much whilst also being so unbelievably exhausted. Thank you Myton for letting me be a part of this beautiful adventure and for allowing us to put back into your wonderful organisation.
Jane:
On the first anniversary of one of the worst days of my life - when my beloved daughter Kate died, in May 2018 - I had one of the best days of my life: walking in her memory on the Great Wall of China, in aid of The Myton Hospices. I had a few tears with my son in law in the morning, and then we walked from our overnight accommodation, up the hill at the back of the village and straight onto the Wall. This was an un-renovated section, and it was just beautiful. It was the best day of the week for me. Green-clad hills stretching into the distance on all sides and ahead of us, the line of the Wall with its watchtowers.

I had wondered in advance, as an older person, if I would be up to the trek. It was definitely very, very hard. So I feel a great sense of achievement to have completed it. Kate loved China, and it felt like a fitting memorial that we were walking there on this anniversary, to raise money for wonderful Myton where she had two stays at the end of her life.
If you're feeling inspired by our Great Wall of China trekkers, why not register your interest for our 2020 overseas challenge?
We will be trekking along the historic Inca Trail and you could join #TeamMyton for this incredible, once in a lifetime adventure! To find out more, please click here.