"Life's Good – It's the disease that's the problem" are the words Hazel's husband, Alan, said when he was battling Motor Neurone Disease (MND).
Alan was diagnosed with MND on November 21st 2017, after experiencing some trouble with his right arm. With a trip to the GP and a raft of tests with a neurologist, Alan was diagnosed with ALS, a form of MND.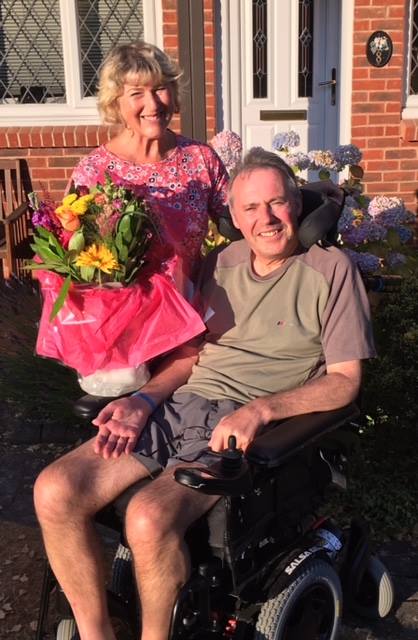 However, this didn't stop their fighting attitude. They set about to live life to the full and enjoy every moment.
Hazel said:
We adopted a positive mindset and that helped us enormously.

It was hard being both Alan's wife and his carer but in some ways it brought us even closer together as we made special memories that have sustained me since.
Alan was admitted to Coventry Myton Hospice for six weeks before returning home for symptom control after contracting pneumonia.
She commented:
The hospice was amazing. I have nothing but praise for everyone there.

Uniquely the staff helped Alan dictate his life story which he proudly gave me on a CD when he came home.
Alan died in the summer of 2019, which was understandably devastating to Hazel and all his loved ones.
Hazel added:
Four years on and I am beginning to feel positive about life again.

I am a volunteer at a local hospice and am now on the board of Trustees for MND Association.

This new role gives me a greater opportunity to ensure the needs of those living with this terminal illness are met.
With Alan's dictated autobiography and their shared experiences, Hazel has written a book about their journey as a way to help others who care for a loved one who is seriously ill.
Full of insightful perceptions of caring for a loved one and immensely positive phrases, the book is sure to help other individuals in similar situations.
Hazel popped in to our Coventry Myton Hospice for the first time since Alan died to deliver some signed copies of her book.
100% of the proceeds are going to charity, including The Myton Hospices.
We are so incredibly grateful for Hazel's continued support.