The group got into the spirit of the event by braving the icy waters dressed as Queen at Live Aid.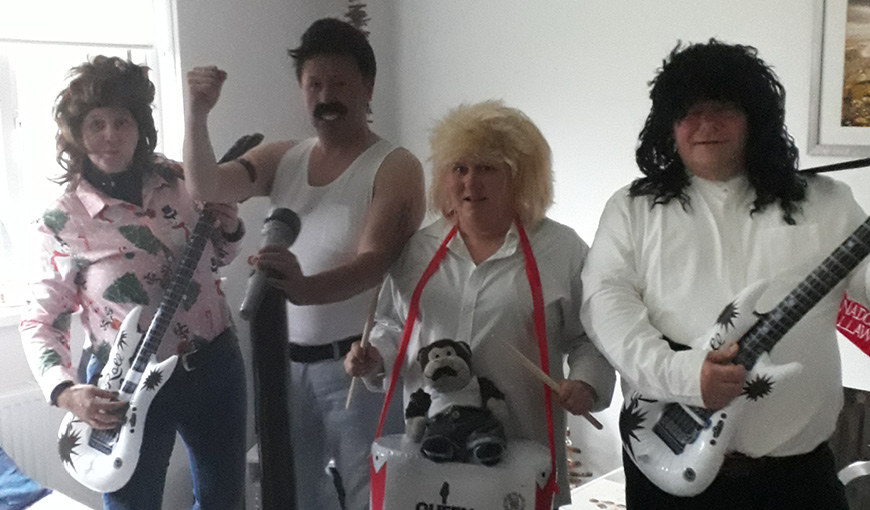 An amazing 2,048 swimmers took part in the 36th annual Saundersfoot New Year's Day Swim in Pembrokeshire. Great British Bake Off 2019 contestant Michelle Evans-Fecci set the swimmers off along with a fireworks display.
The event has become something of a spectacle with people traveling from all over to take part, and raising money for a variety of good causes! And Helen, Dave, Simon and Jane have proudly raised around £400 for Myton!
Helen explains:
My brother and sister-in-law moved to Saundersfoot about 5 years ago and joined the Committee that arranges the swim each year. I have been visiting Saundersfoot for 35 years and most years have watched the swimmers but thought 'not for me – too cold!'

However, when I began to see all the good causes they were swimming for I started to do the swim with Simon, Jane and partner Dave 4 years ago.  Over the past 3 years we have raised money for the Air Ambulance, RNLI and Pancreatic Cancer. And as I joined Myton last May it gave me an amazing opportunity to do the swim for Myton and raise some money towards all the good work done here. It's such a fantastic place with fantastic people doing an amazing job and I am proud to have had the opportunity to raise some funds for Myton.
---
Looking to take part in a Myton event this year? How about our brand new Glow event!
We are bringing some of the world's biggest celebrations to Warwickshire for this year's brand new Glow for Myton – Around the World in 5km!
If you register by Wednesday 5th February you will pay just £15 to take part in this amazing new event! Registration will cost £20 per person after this date.
Take a look at our short teaser video below and see what we have planned for our Glow for Myton 2020 event!