Did you know at The Myton Hospices we have over 700 volunteers and without their support our vital care wouldn't be possible?! Each and every one of them is amazing.
Today, we want to introduce you to the incredible Hannah.
Hannah has been volunteering with us for several years now. Ranging from roles at the hospice itself to helping at many of our fundraising events. We are so happy to have volunteers as enthusiastic as Hannah!
Hannah shared the following with us about her time with Myton:
I have volunteered at The Myton Hospices for the last three years as a volunteer receptionist at weekends when I can, alongside my full-time job in the NHS.

I also have taken part in many of the fundraising events, whilst also raising vital funds myself for the hospice by taking part in charity runs.

I have loved every moment of volunteering at the hospice, supporting patients and their family members through the hardest and toughest of times.

Myton has changed my life in many ways as it made me realise I had a true passion for helping others through difficult/traumatic situations, even setting up my own support page to help those going through grief and loss.

Having spent many years raising money for Cancer Research UK with my mum, I decided that I wanted to volunteer in an 'end of life care setting' to give something back, as you never know when you may need the help yourself.

I actually appreciated the service that Myton provides and had first-hand experience when my Grandma spent her final weeks in the hospice.

I spent many weekends volunteering at Myton when she was being cared for, I was so glad I had an understanding of what patients go through whilst I was supporting nurses who were caring for her.

I have met many wonderful people along the way at Myton and I will be forever grateful for the skills and experiences that I have learnt and that have come my way.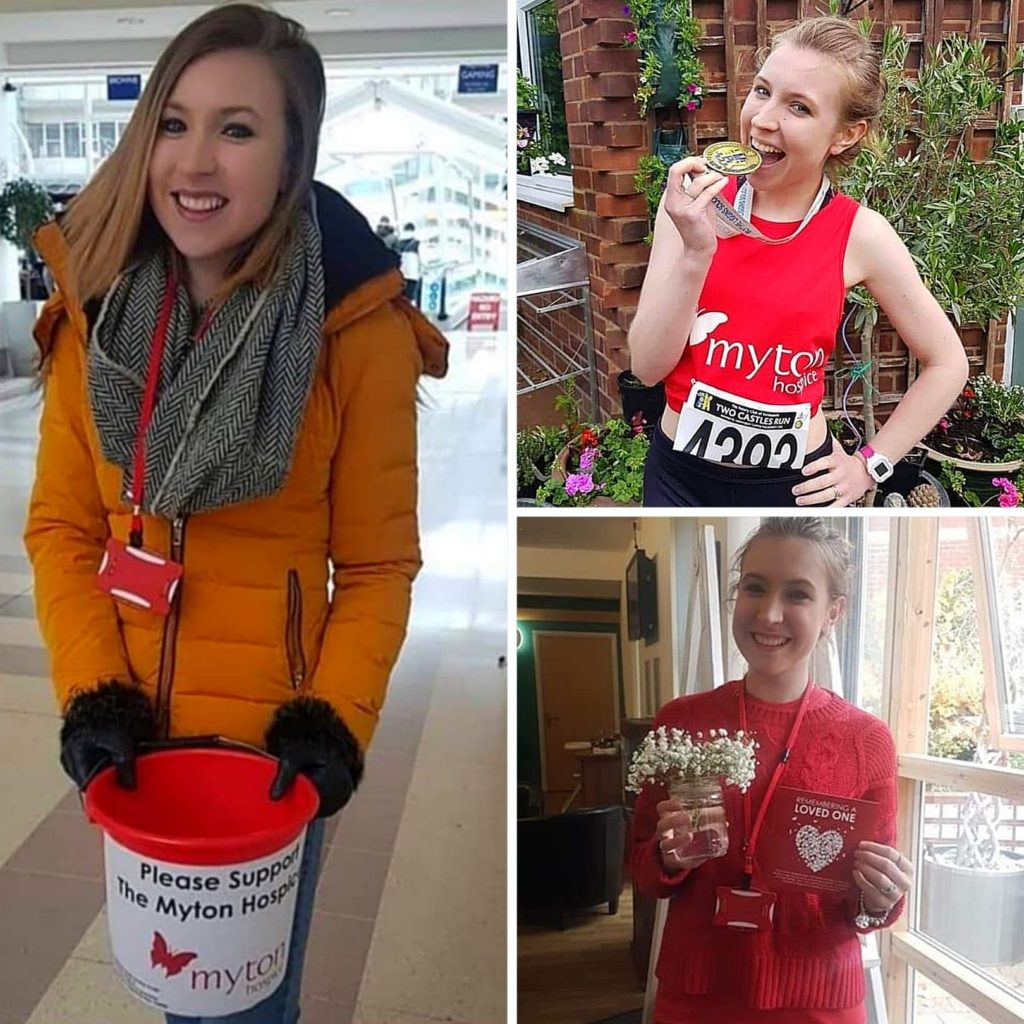 Thank you so much for all of your help and support over the years, you are an absolute superstar!
Hannah has also set up her own Facebook page dedicated to helping others who have also lost a loved one – you can find it by searching Angels of Hope and Comfort through Grief and Loss or by clicking here. What a remarkable young woman!
If you're feeling inspired and want to find out how you could make a difference and join our volunteering team, then please click here.