This is one of our most popular events with hundreds of people taking up the challenge of using their pedal power to raise money and awareness for The Myton Hospices! So mark Sunday 4th August in your calendar and sign up today!
2019 sees the return of...
our 100 mile route which will give the more advanced cyclists the ultimate challenge! Our 50km and 100km routes will feature again which are both great routes for new cyclists and those looking to push themselves to cover more distance. All routes span across the beautiful Warwickshire countryside, and the longer distances crossing into Gloucestershire.
And new for this year...
is our Mini Myton cycle! This is perfect for children and those who are not quite ready for the longer routes, meaning the whole family can get involved!
Last year our Director of Income Generation, Charlotte Ingram, and Graphic Designer, Emma Nailon, both took on their first Myton Cycle Challenge and are eager to get back in the saddle for this year's event!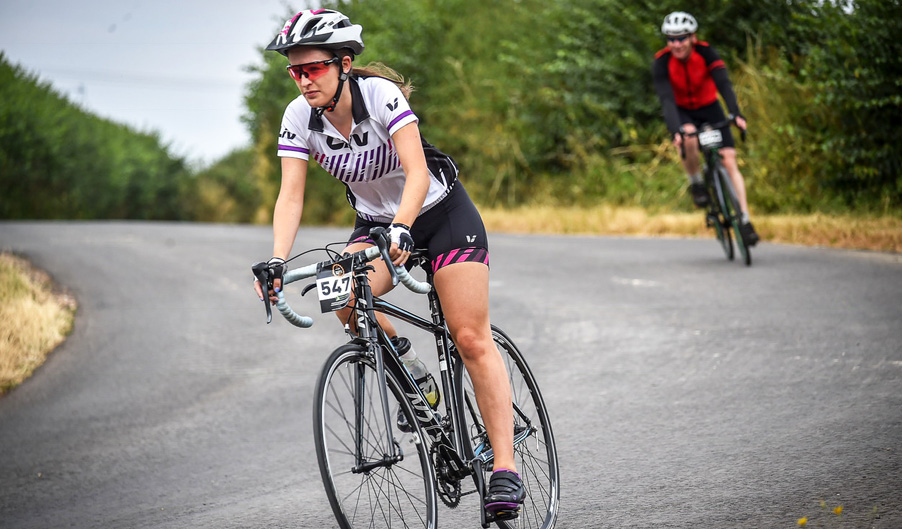 Emma Nailon pictured above
Charlotte said:
In the past, I never thought I could ever enter a cycle challenge, and thought I'd never be fit enough to take part but actually I surprised myself!  I took advantage of the incredible summer weather in 2018 to get out on my new bike and build up my fitness. The day itself was such fun and I loved seeing it from a participant's perspective for once. I was so proud of myself when I crossed the finish line.
Emma said:
The feeling you get after completing such a big challenge of five or six hours of cycling is pure elation. The encouragement from everyone pushes you to get to the finish line. There is such a mixture of age and ability, and it was great to see plenty of women taking part too!
With old favourites and new family additions, whether this will be your first Cycle Challenge or a regular event in your calendar, we cannot wait to see you!