Jackie decided to take on the 66 mile trek around the island in memory of her husband Eamonn, who died at Myton in 2018. The couple were both avid walkers and it was something they had wanted to do together. Jackie also celebrated her 60th birthday this year and so this, coupled with marking the first anniversary of Eamonn's death, spurred her on!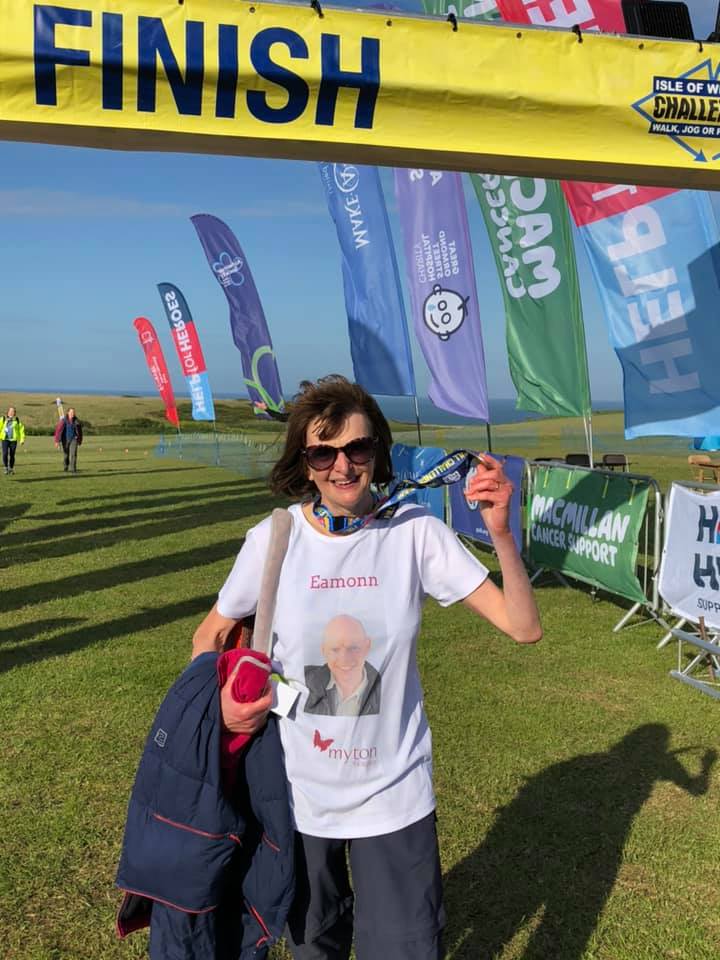 Starting at 7am from Chale on the south on the island, Jackie set out on her challenge. She was joined by several people along the way, including her brother-in-law Bill. The journey took her over 25 hours – including rest stops and a short ferry ride – and she has raised over £4,000!
She said:
At the half way point at Cowes I was feeling good and walking a steady 3.2 miles an hour. The course was enjoyable and had beautiful views, especially from Tennyson Way. Along the way I met two sisters, Charlotte and Laura, and we joined together to walk through the night. The second half was a very lonely walk; not many walkers were around so we were so grateful to Bill, who had done no training, but still walked with us through the very isolated areas.

With 11 km to go I was still feeling ok. I was taking each kilometre in my stride, despite a cold wind and frost. It had been very cold overnight so hats and gloves were really needed.

I finished in 25hrs and 22 mins! It was a tough challenge; emotions ran high at the end as I walked over the finish line in my t-shirt with a picture of Eamonn and the Myton logo on it.
Jackie also held a book sale and coffee and cake morning to raise money and awareness of Myton! Thank you Jackie for your support!
There are a number of other Ultra Challenge events coming up which you can get involved in! Take a look here.
Take a look at our Challenge Events here
If you're thinking of fundraising for Myton like Jackie please get in touch with our Fundraising team by emailing events@mytonhospice.org.