She tells us a little bit about what this once in a lifetime experience was like:
"On Saturday 23rd September me and 15 other members of #TeamMyton set off on our quest to conquer Kilimanjaro. At this point my emotions were all over the place; I was excited, nervous, scared and intrigued all at the same time. So many people had told us we could not prepare ourselves for what we were about to take on and they were spot on.
A day of rest before they set off…
Luckily for us we had a day of relaxation around the pool at our hotel when we arrived in Tanzania which was lovely before we took on the trek. So lovely in fact that we nearly forgot what we were there for, but the mountain was there in the distance, visible from the hotel to remind us of what was to come! On Monday morning we were off; we drove to the gate of Mount Kilimanjaro and started on our 5,895 metre climb.
The high and low points…
Throughout the seven day climb there were plenty of high and low points for every single team member. Some suffered with altitude sickness, some were missing their families and some were physically and mentally exhausted! For me day three was a struggle. But the day got better when our trek that day took us to Lava Tower; we trekked up to 4630m for acclimatisation ready for the next few days of our challenge and the feeling when we approached it was amazing. There were also roast potatoes being served when we reached Lava Tower, which is my favourite side dish!
The Great Barranco Valley…
We had been warned this would be a tough day and boy they weren't joking! We then had to trek down – yes you read that right, we had to trek downwards – into the Great Barranco Valley at 3950m. This was a long and tough day for all of us but as a team we pulled through.
The summit…
Reaching the summit point is still a blur for me and when speaking to my team mates they feel the same. It was eight hours of walking in the pitch black and freezing cold to reach something you could not see in front of you. This is where our mental preparation had to come in; we all had our own motivations for taking on this crazy challenge and we all knew we had so many family and friends supporting us back home. It was this which helped us pull through and reach the 5895m point on Kilimanjaro, all for The Myton Hospices!
#TeamMyton raised an incredible amount…
#TeamMyton has raised a total of £74,905.03 and I would like to say a huge thank you to every single one of them. Without them the trek would not have been the same; it truly was a life changing experience and one I will remember for the rest of my life!"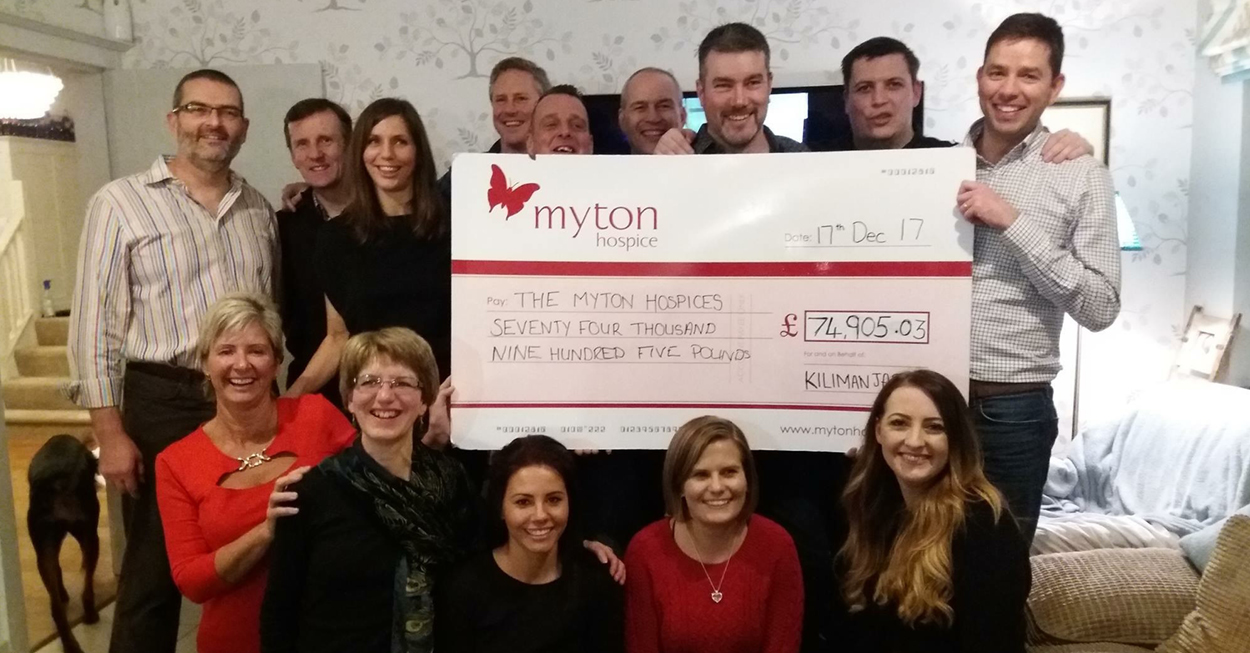 Congratulations to…
From everyone at Myton – patients, volunteers and staff – we would like to congratulate the team who conquered Kilimanjaro and second Rebecca's massive 'thank you' for raising such a phenomenal amount of money!