Four members of the Leamington Sanskar Parivar hit the fundraising trail for The Myton Hospices in memory of two very special ladies from their group who sadly died this year – raising a fabulous £1,728 for the cause.
Preeti and Shampa were both cared for by Myton during their illnesses.
And to say thank you for the amazing care and support they and their loved ones received, friends and fellow Parivar members Vikas Agarwal, Chitta Gupta, Pritesh Mistry and Rajnikant Kandi signed up for the Leamington Half Marathon.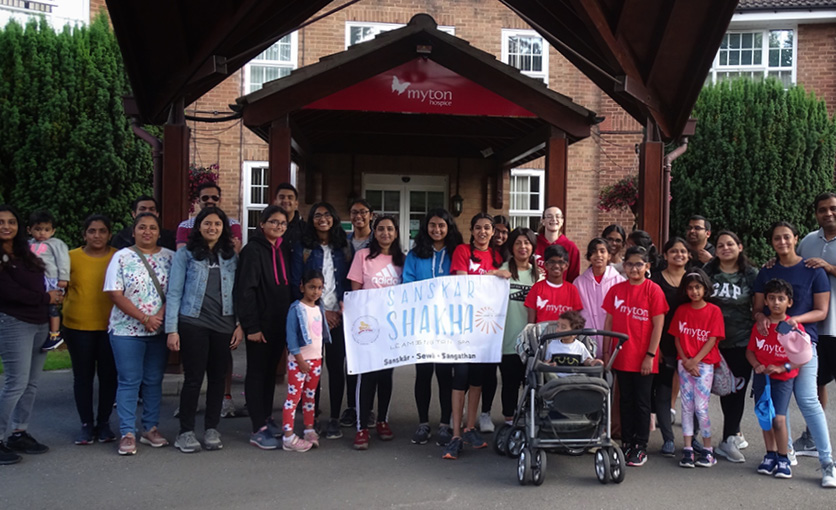 The quartet completed the challenge on July 11 and ...
despite setting a fundraising target of £1,000, absolutely smashed it, raising nearly £1,800 for Myton.
Their support, and the support of others just like them, will enable us to continue to provide our services free of charge to people across Coventry and Warwickshire with a terminal illness, and we are ever-grateful for every penny raised.
Speaking on behalf of the fabulous runners, Vikas Agarwal, said:
We are delighted to have been able to complete the Leamington Half Marathon and raise so much money for the amazing Myton, who have given us so much support and cared so wonderfully for Preeti and Shampa.

A huge thank you to everyone who sponsored and supported us – we believe the wonderful amount of money donated reflects exactly how people feel about Myton and the amazing care it provides.

Thank you Myton.
Shampa's husband added:
During the most difficult time of our life, the support which we got from The Myton Hospices was phenomenal.

I always find myself lacking in words when I try to describe the highly professional, and at the same time amiable service, of each of the members of the team at Myton. They went above and beyond in their effort to make sure Shampa was taken care of to the best possible standard. We decided to donate to their cause, as it is one that affects so many people, yet their compassion is insurmountable. Myton helped Shampa in a way that is truly admirable. I am, and will forever be, grateful to them. Thank you so much.
Preeti's family; husband Bobby, son Rishi and daughter Vishaka, kindly spoke to Myton about what our care meant to them and Preeti in a previous film interview.
Husband Bobby said:
Preeti got poorly around Christmas time and The Myton Hospices team came and started to look after her at home.

The care she got, the consideration and kindness, was incredible, just beautiful. She was eventually admitted to the Hospice itself and it was amazing. We were able to see her when we wanted, to be at her bedside, and all when Covid was rife and lockdown was at its maximum. The staff were just incredible, amazing, and cared for her so beautifully. Her last days were amazingly peaceful and beautiful, so thank you to the amazing staff of The Myton Hospices.
We would like to say a ...
massive thank you on behalf of everyone at Myton for the amazing fundraising efforts of the Leamington Sanskar Parivar team, we really appreciate your support and kind words – thank you!
---
Read the latest Myton news below ...