On Wednesday 6th September, eight daring riders, including James Ricardo and Nigel Maris, will embark on a journey to ride 1000 miles on motorbikes.
To make it even more challenging, they have a time limit to complete the journey in under 24 hours, all whilst raising vital funds for The Myton Hospices.
James, the founder of Midlands Motorbikes, and Nigel, a Warwick resident and businessman, have always been involved in local events together, raising money for local causes. Last year's 1000 miles challenge raised money in aid of Midlands Air Ambulance and raised a fantastic £3,000.
This year, they are raising money for Myton after personal connections.
James said:
When we were having discussions on which charity to support, Myton was an obvious choice for me.

Someone else mentioned Myton, and I knew Nigel also had personal connections, so it was a no brainer.

It turns out that more people than I realised have had experiences with palliative care, so I am delighted to be able to do this for Myton.
Both James and Nigel developed a love for motorbikes from an early age, making this ambitious challenge a perfect fit for their fundraising efforts.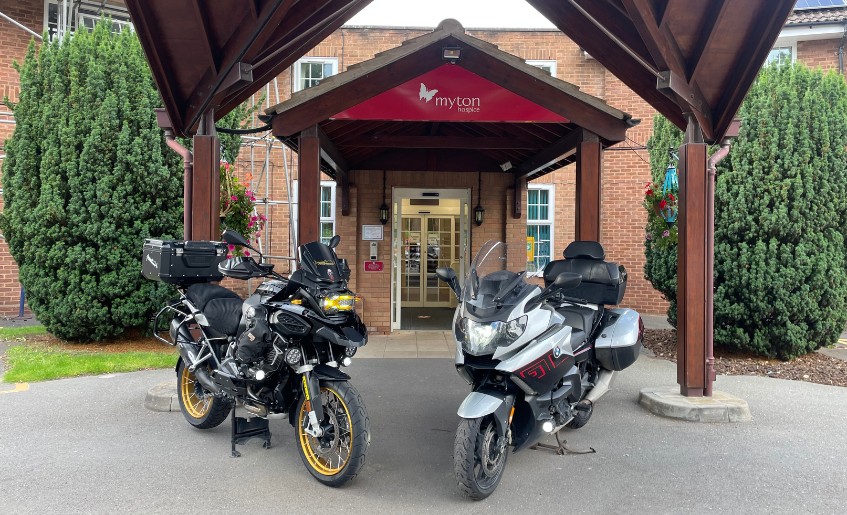 James said:
I've loved bikes since I was a kid, but my parents weren't the most keen on the idea!

So when I was old enough to make my own decisions, I got my first bike and it has just grown from there.

I started Midlands Motorbikes as a Facebook Group in 2012 as a place to share stories and photos.

It has grown to be a community of over 9,000 people nationwide and beyond.
James expressed his love for his son, 9-year-old Oliver, who has also caught the "bike bug" following in his father's tracks!
Nigel added:
I've been riding bikes since I was a child and have done long bike rides throughout Europe over a number of years, though nothing quite as intense at this challenge.

I stopped when I had my children, but started again when my daughters starting showing an interest.

My grandson is almost two and loves everything with an engine! I'm a proud father and grandfather for that!
Setting out from the BP garage southbound on the A46 at junction 15 at 5:30 in the morning, James, Nigel and their fellow riders anticipate a total riding time of 22 hours, spread over 24 hours with minimal breaks to complete their epic ride up to Scotland and back.
Nigel commented:
The apprehension is starting to kick in now, though I know as soon as the day comes I'll be itching to get started!

I'll also be looking forward to sleeping afterwards!
James added:
I'm also looking forward to the nap after!

But above all, handing over the funds we've raised is what I'm doing this for.

The sense of achievement will be incredible, both on a personal level of completing this challenge, but also knowing that I'm doing it all for Myton and ultimately the families affected.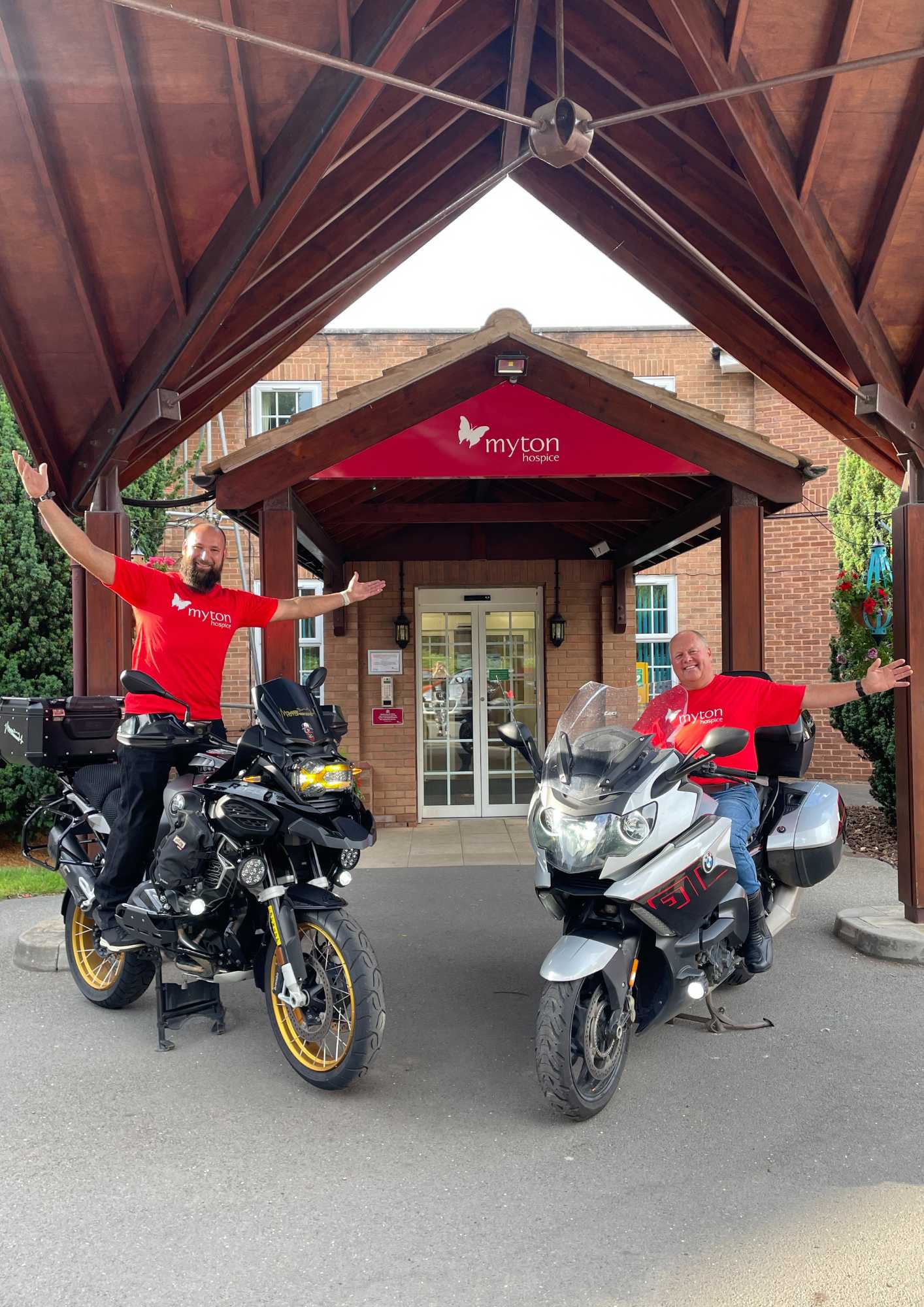 Initially setting a target of £1,000, the group and their supporters have gone above and beyond and have already raised over £3,000!
Thank you to everyone who has supported this incredible challenge!
Saddlesore 1000 challenge JustGiving page
James' Story
James' mum, Andrea, was diagnosed with a stage four 7cm brain tumour in September 2016.
James said:
If you met my mum, she was the most healthy, happy and amazing person. Her diagnosis blindsided all of us.

We were in shock and disbelief, but out of all of us, mum took it the best. She was always so positive.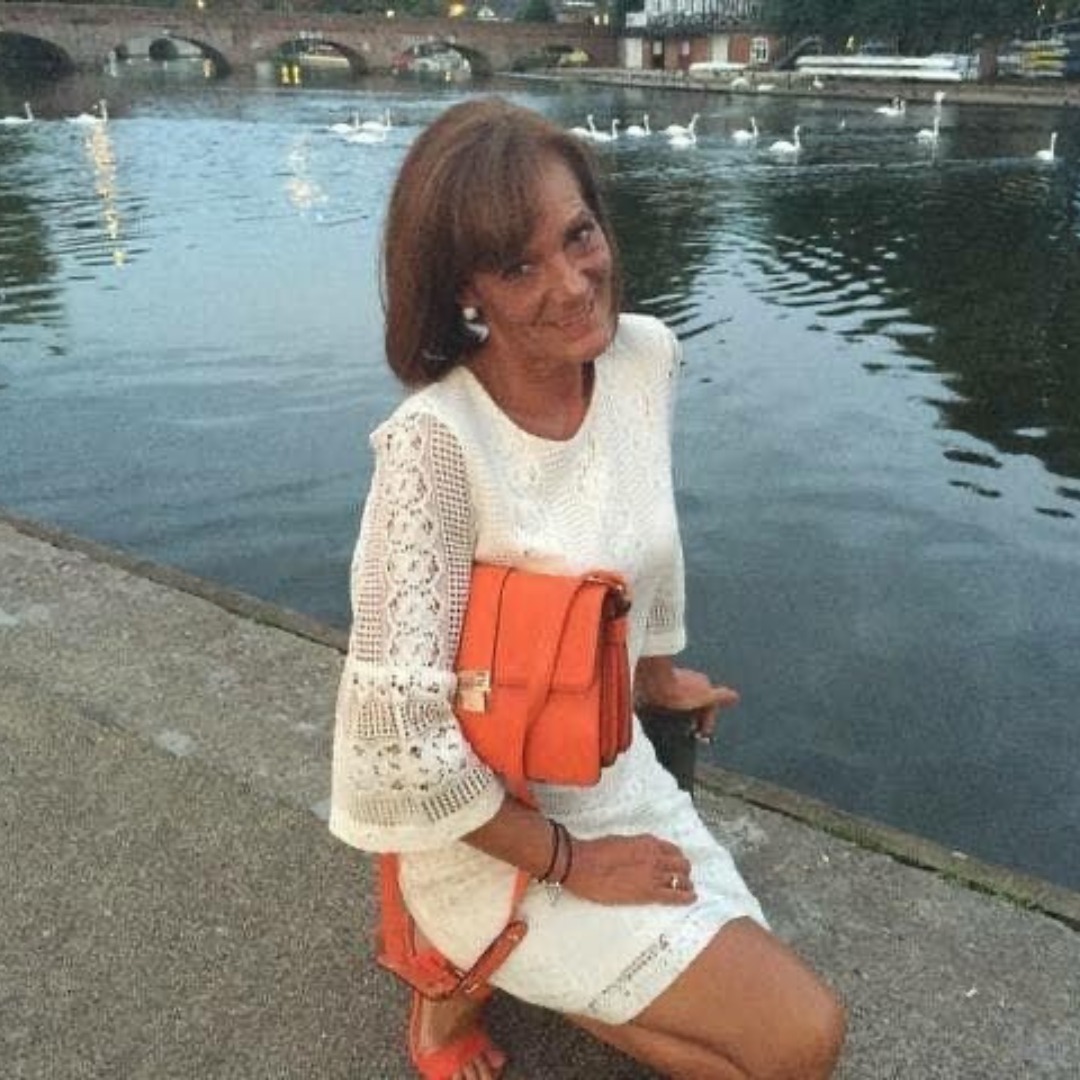 Andrea started chemotherapy and was in and out of hospital. James took the decision to give up his career in sales to look after his mum.
James added:
It got to the point where mum was having seizures so we wanted to look after her and give her the best care and attention possible.

It was an easy choice to become her full-time carer.

It was the hardest, most emotional time of my life, but was so rewarding.

I got to connect with her again in a way I hadn't before.

As rewarding as it was to spend more time with her, it was tough, there's no other way to say it.
Despite being in and out of hospital, Andrea was able to spend Christmas at home with her family and loved ones. This was always a special time of year for her and she made Christmas what it always was to the family.
In the new year of 2017, Andrea was admitted to Warwick Myton Hospice.
James and the family accessed our family accommodation throughout Andrea's stay.
James said:
Mum had moved from Coventry hospital, to Warwick hospital, and then Warwick Myton Hospice.

Myton was like an anchor for us after the continual movement.

When the staff mentioned the family accommodation we were honoured and just expected a room with a bed.

When they opened the door we nearly fell over. It was absolutely gorgeous. It really helped us to feel comfortable.
After six weeks in our Inpatient Unit, Andrea died on 28th March 2017, six months after her diagnosis.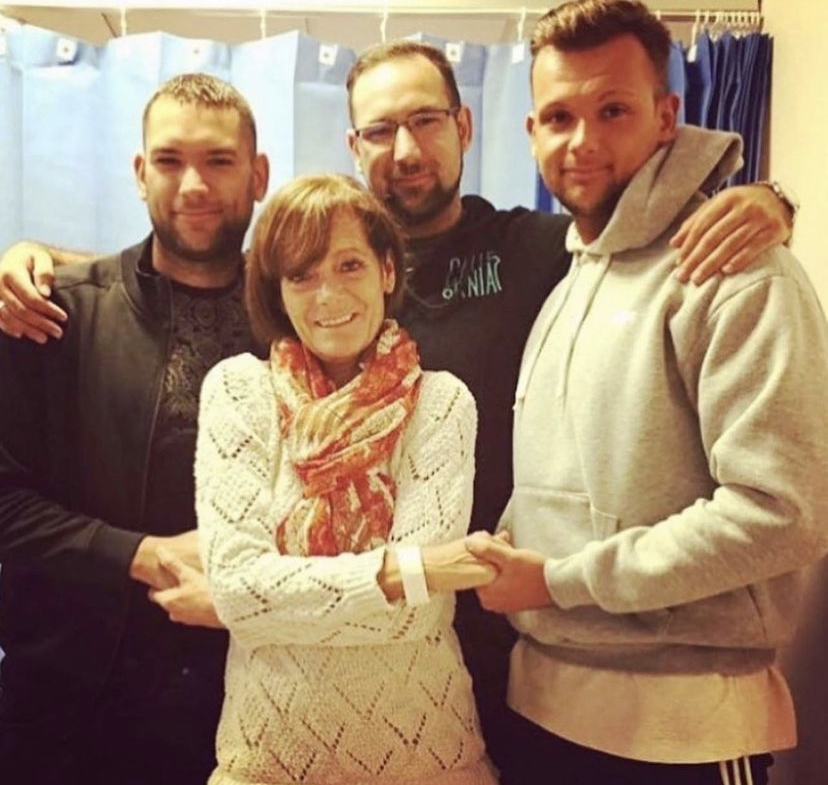 The family accessed counselling through Myton.
James added:
It didn't feel like counselling.

There is a taboo with counselling - feeling uneasy with being psychoanalysed.

But it was like having a chat with a friend, a neutral body where we were free to talk about absolutely anything.

It was good that we weren't bottling up our emotions.

I have nothing but praise for everyone at Myton. They made us all feel so special. They understand that the family are an extension of the patient.

Prior to mum's diagnosis, I knew Myton was a great local cause.

It wasn't until we had this first-hand experience that I knew just how incredible it is.
Nigel's Story
Nigel has lived and worked in the Warwick area for a while, with his children attending school just down the road from Warwick Myton Hospice.
By attending open days and summer fetes, he has always been aware of Myton and the services we provide.
Nigel's first-hand experience with Myton started with his first wife, Lynn, who was diagnosed with breast cancer in 1991, spreading to her brain.
Lynn spent two and a half weeks at Warwick Myton Hospice where she spent her final days.
Lynn died in 1995.
Nigel said:
Lynn was surrounded by loved ones when she died, which we all take comfort in.

Myton was such a nice and calm environment. Everyone was so lovely and had all the time in the world for us, which was a surprising contrast to hospital.

Everyone would sit with you for as long as you needed and talk about what mattered to you.
Nigel married his second wife, but sadly she also died.
Nigel's third wife, Mel has been battling cancer for 20 years.
Initially diagnosed with breast cancer, it has now spread to her bones, skull and liver, and prior to the Covid-19 pandemic, Mel was given a prognosis of 3-4 years.
Nigel said:
Going through this situation again, the past experience makes it both better and worse.

I understand the processes now and I don't feel like I'm kept in the dark which I'm grateful for, but at the same time I know what can come around the corner. Ignorance is bliss sometimes.

Between myself and Mel, we have four daughters who are all going through it in different ways, and understandably so. For my daughters, it's bringing up past feelings as well.

We all do our best to support Myton. It is such a peaceful place that helps you through the transition from trying to cure to recognising that palliative care is what is needed.

We know that Myton will be there for Mel if and when she needs it. We've spoken about this a lot and I know Mel wants to be at Myton when she dies.

She wants our house to be full of happy memories rather than a place where she died.

Mel likes the idea that Myton may play a part in her life later down the line, which is why it's so important for me to do this for Myton.