On Saturday 10th September, 1, 175 locals helped us brighten up the streets of Warwick for our brand new fundraising event, Glow in the Moonlight.
Dressed head to toe in neon, from flashing bunny ears to fluorescent tutus, participants of all ages gathered at Warwick Castle to enjoy a live music set provided by talented local band, Central Six. 20 minutes before participants set off, Zumba instructor and long standing Myton supporter, Matt Print, got the crowd dancing with a lively Zumba warm up.
After dark, participants set the streets of Warwick aglow, completing two laps of St Nicholas Park before making their way back to the castle where they were each greeted with a well-earned medal. Along the 5km course, against a backdrop of thumping dance music, participants passed through bright glow zones featuring colourful lanterns and dazzling lights. Participants also had the opportunity to be splattered with fluorescent bubbles whilst passing through the glow tunnel.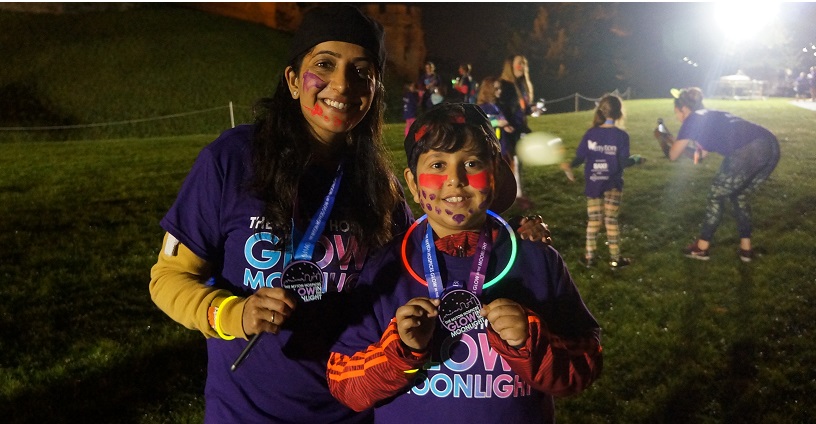 We are delighted to announce that this year's event attracted a record number of participants and the event looks set to raise £65,000 for Myton.
We put a lot of time and effort into our events in the hope of attracting as many people as possible who are willing to help us raise the vital funds we need. We are so grateful to every single person who came to Glow in the Moonlight, making it the most attended event we have ever organised!
We would like to thank this year's sponsors of Glow in the Moonlight, Baxi and Bravissimo. It is thanks to their support that we were able to host this year's event.
We would also like to say a huge thank you to all of our wonderful volunteers who kindly helped out at this year's event as well as Matt Print and Social Media Todd for being this year's MC on the night.
For more photos visit our Facebook page by clicking here
We also had the amazing Simon Coates on the day taking photos which can be purchased by clicking here Simon will kindly donated 10% of all photos purchased back to Myton