Local solicitors very generously gave their time free of charge to write or update basic Wills for Myton supporters, in return for a donation.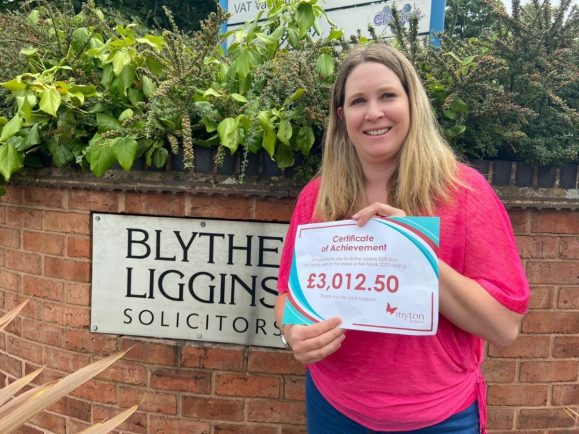 Blythe Liggins Solicitors
We want to say a huge thank you to the 19 solicitors who took part...
Alsters Kelley in Coventry, Leamington Spa and Nuneaton
Blythe Liggins Solicitors
David Lee Solicitors
Dixon Alderton Law
Hammons Solicitors
Johns Gilbert and Frankton LLP
Mander Hadley in Coventry and Kenilworth
McClure Solicitors
Moore & Tibbits Solicitors
Penmans Solicitors LLP in Coventry, Kenilworth and Wellesbourne
Robert Shaw & Co
Robert Lunn & lowth
Willsons Solicitors and Wright Hassall
And thank you to everyone who took part in our Make a Will Week – your generous donations have helped us to raise £17,180!
Writing a Will is...
the only way to be sure your wishes are followed after your death and that the people and causes you care about are still supported when you are no longer here.
Taking part in our Make a Will Week is not only a great way to ensure your wishes are recorded officially, but also ensures we can continue to provide our services to people with terminal and life limiting illnesses, and their families.
1 in 4 of our patients are cared for thanks to money donated to us in a Will and now more than ever we need your support to raise £750,000 every month to continue providing our vital services free of charge.
Don't worry if you missed Make a Will Week...
you can still leave us a gift in your Will, find out more here.