On Thursday 4th August, Mark Pawsey, MP for Rugby and Bulkington, visited Rugby Myton Support Hub to find out more about the new services on offer for the people of Rugby.
Mark met with our CEO Ruth Freeman and manager of the Rugby Myton Support Hub, Tracey Evans, who showed Mark the facilities available for patients and talked to him about the growing number of activity and support sessions on offer.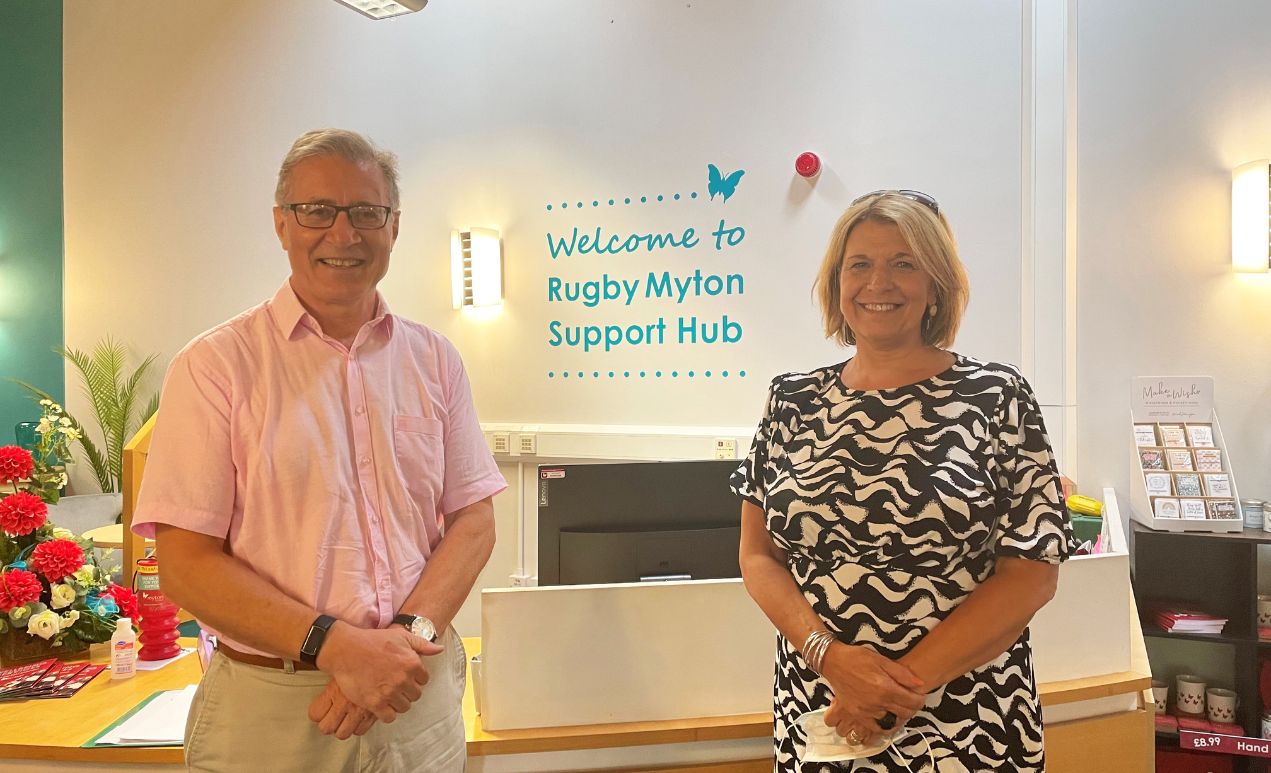 The new hub, based at our Barby Road site, sees Myton team up with experts and organisations across the town to provide all the information, support, advice and guidance needed by anyone aged 18 years and over with a life limiting illness, and their carers.
This is a community-based service working with local partners and all support provided is free of charge, with no referral needed.
Speaking after visiting the Rugby Myton Support Hub, Mark said:
The work of Myton and their incredible team is absolutely invaluable for people at one of the hardest times of their life.

What was extremely clear to me was the compassion and determination to help make the final days and weeks of people's lives as comfortable as possible.

The support which Myton offers goes much further than I realised ahead of my visit, with help available beyond the end-of-life care for family members.
Mark continued:
Myton are only able to offer this help thanks to the generous support of local residents and the importance of both raising funds and raising awareness of Myton's work.

I know that although the pandemic disrupted their ability to fundraise, they have returned to holding events and it was great to hear from Ruth, Tracey and the team how much they appreciate the fundraising of Rugby residents.
Ruth Freeman CEO for The Myton Hospices said:
It was great to have the opportunity to show Mark our new Hub and to talk to him about the services we offer for the people of Rugby.

We want to ensure that everyone who needs our services is able to access them and we want to reach out to people earlier in their illness.

We are not only about end of life care, often people who have a terminal illness have a lot of living left to do and we want to support them to have the best possible quality of life, for as long as possible.

We would welcome people to drop in to the Hub or visit our website to find out more about how we can support them.
The Hub is on the grounds of St Cross Hospital at Barby Road, Rugby, CV22 5PY and is open Monday to Friday, 9.30am to 4pm (excluding Bank Holidays).
You don't need an appointment, just drop in to meet the team or call 01788 550085 and find out more about how we can help you. Alternatively you can visit our website here: 
During his visit Mark also met with two of our Myton at Home nurses based in Rugby, Faye Sawko and Nicola Hughes pictured, to discuss their role in providing care and support during the day and night, 7 days a week for those who wish to be in their own home in the last weeks and days of life.
You can find out more about our Myton at Home service here: