He hosted a Zumbathon in Coventry in October to raise the incredible amount of money for Myton. People pulled on their leg warmers and covered themselves with UV paint to join the two-hour Zumba party which featured a host of local instructors.
Matt has held four Zumbathon's...
This was the fourth Zumbathon Matt has held in aid of Myton and to date has raised in excess of £7,000 for us! He has also become a regular face at our Glow in the City and Glow in the Moonlight events leading the warm up for our wonderful supporters.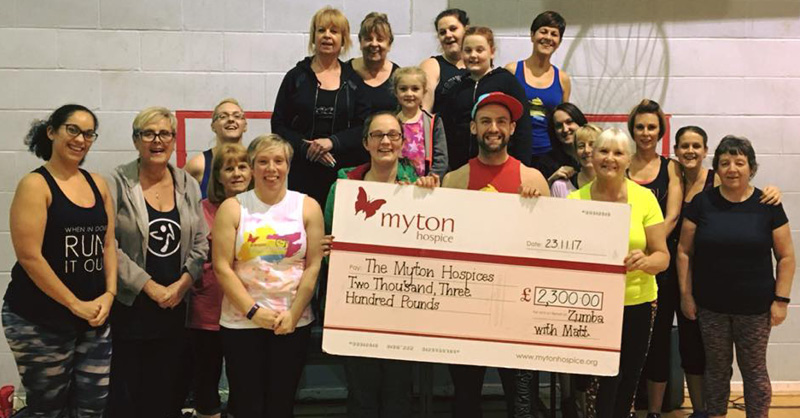 Matt said:
One of the ladies who came to my class was an auxiliary nurse at Myton and we held the first Zumbathon for the charity back in 2010 or 2011. Then a family member was diagnosed with Cancer and spent time in Myton so the connection became more personal. People sometimes think you have to do big events to raise money, but whatever you're good at you can use it to raise money! What better way to raise money than getting people active, coming together as a community and supporting something local!
"As soon as you mention Myton to people, even if they've never done Zumba before, they want to take part because most people have some connection to it. And Zumba is great for everyone because you just take it at your own pace. All people from all walks of life from ladies in their 70s to teenagers come along to support the event.
"When Myton held the first Glow in the City I was asked to do the warm up for the event. They're always such a good event and it's a great atmosphere! It's really nice to be a part of."
A huge thank you to Matt...
Matt was recently crowned Best Male Community Fitness Instructor of the Year at the National Community Fitness Awards! Congratulations Matt, and thank you from everyone here at Myton for your continued support!
Feeling inspired?
If you would like to find out how you could support us, please click here.