We are shining a light on members of our incredible staff to get to know them better. Under the spotlight today is Martin Watts!
Name and job title
Martin Watts, Corporate Fundraiser
If you had to describe yourself in three words, what would they be?
Gregarious, enthusiastic, optimistic
 What does your role entail?
I'm focused on new business within corporate fundraising, which means that I am trying to expand the number of companies with whom Myton has a friendly and profitable relationship.
 How did you come to work at Myton?
Long story… but basically, after a career in finance, mostly in the Far East, I returned home and wanted to do something completely different, preferably for a charity and preferably something that would use my existing skills, such as they are.

I'd known about Myton virtually since its creation, and when this job came up, I leapt at the opportunity.

I feel very honoured to have been taken on-board from such an unusual background.
If you had to describe Myton in three words, what would they be?
Caring, professional, inspiring.
What is a skill you'd like to learn and why?
Car maintenance! I'm commuting by car for the first time in my life, and while my teensy little Skoda is proving quite reliable so far, I'd love to have more practical skills.
If you could have dinner with anyone, dead or alive, who would you pick and why?
Henry VIII. One of the most important people in English history, very learned, the incredibly complex personal life, so the conversation would be fascinating… and can you imagine the feast? I do like my food and drink!
What would be on the menu?
Do you think Henry VIII would have let me include 김치찌개 (spicy kimchi stew) and 해물파전 (Korean seafood pancake) on the menu for our feast?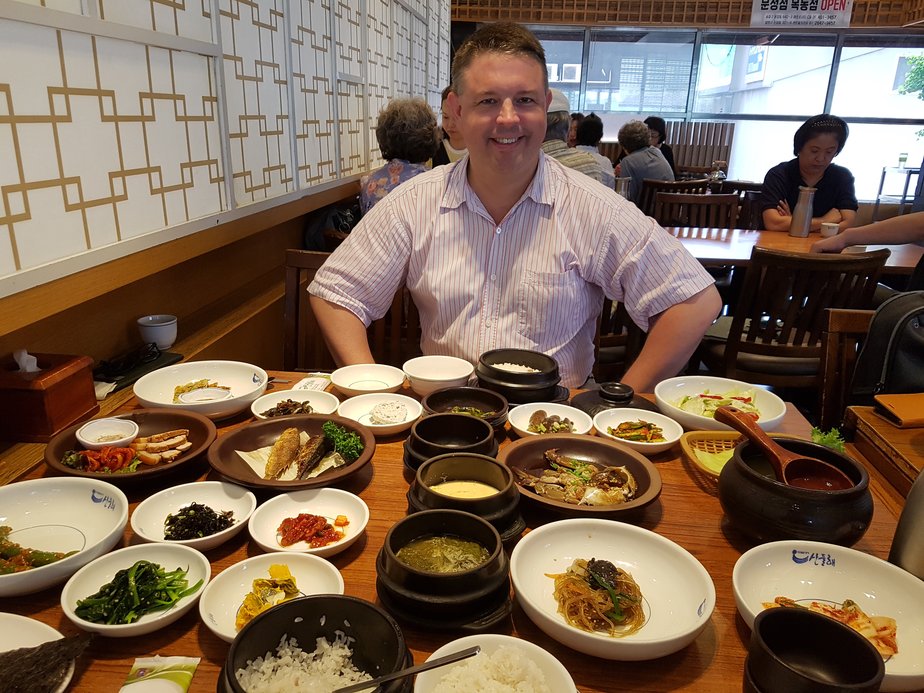 If you could travel to any event past, present or future, what would it be and why?
Considering how many epic events have taken place, this might seem a frivolous answer, but I wish I could have seen Marvin Gaye in concert. He's my musical idol, but died tragically before I had the chance to see him.
What do you like to do in your free time?
In the pre-COVID days, I was an avid traveller. I've lived in Korea, HK, the US and Japan, and visited lots of other countries. I'm looking forward to being able to do that again.

In the meantime, I love to read – old-fashioned, paper books that you hold!

I'm a foodie, I love discovering local country pubs, I watch a lot of sport and I like the ballet far more than I ever thought I would. I once saw the scenery fall down on Darcy Bussell at the Sejong Arts Centre in Seoul…
What is your favourite book or film?
A Suitable Boy, by Vikram Seth. The best book ever written – and it doubles as a useful door-stop!
Anything else you would like to tell us about yourself?
Two things you'd be unlikely to guess about me.

Firstly, I'm a qualified rugby referee, which came about when I was living in HK, where there is a thriving rugby scene, very well-funded by the HK 7s.

I'd been a keen player at school and for the Seoul Survivors RFC in Korea, even if I wasn't that good, and refereeing is a great way to remain part of the game and the community without a 20 stone prop trying to rearrange your internal organs.

Secondly, I'm an absolute fanatic about American college football – the gridiron, not soccer!

I did one semester of my MBA at the University of Michigan, where college football is more like a religion than a sport. I completely fell in love with it, to the extent that, throughout autumn, I will regularly forego Saturday nights out so that I can watch thrillers like Michigan – Ohio State. Go Blue!
To get to know more of our fundraising team, or find out more about our Doctors, Directors and Trustees, head to our Meet the Team page.
To find out more about our fundraising events, head to our Events page.