Amanda's dad and Freya's grandad, Alan Bulpitt, was admitted to Coventry Myton Hospice Inpatient Unit in November 2022 for pain management, after a diagnosis of oesophagus cancer in the summer of 2021.
Alan had undergone surgeries and treatment, however, it was suggested for him to be admitted to Myton for two and a half weeks of pain management, with the goal to go home.
However, Alan stayed for five and a half weeks after he was told he only had a few weeks left. The family decided Myton was the best place for him to be.
Alan died in December 2022, aged 71.
Amanda said:
The care was out of this world. We couldn't have asked for a better place and we're glad his last few weeks were at Myton.

Nothing was too much trouble, from a cup of tea to asking medical questions.

It was my first experience of a hospice and it was just incredible.
During his stay at Myton, the family attended Coventry Myton Hospices' Christmas Fayre.
Amanda said:
Dad loved Christmas and really wanted to attend the fayre, but he was just too poorly. So like a typical dad and grandad, he gave us all a bit of money to spend at the fayre!

We had a lovely time, taking part in the tombolas and raffles, and feeling so festive!

Then my daughter, Freya, noticed a toy stall with some scotty dog cuddly toys. Freya absolutely loves dogs and has too many dog cuddly toys to count. But I gave in and let her spend her grandad's money on this scotty dog. It had a Myton neckerchief on which I did think was quite sweet!

We went back to see my dad to show him the new purchase and he loved it. He was sat on his bed cuddling and talking to the toy with Freya, which he named Snowy. This is a memory we all cherish.

After watching dad and Freya with Snowy, we decided to go back and get my other two daughters the same toy so they can have the same interaction with dad.

It's a really nice keepsake for my daughters to have that links their grandad, Myton and their love of dogs together.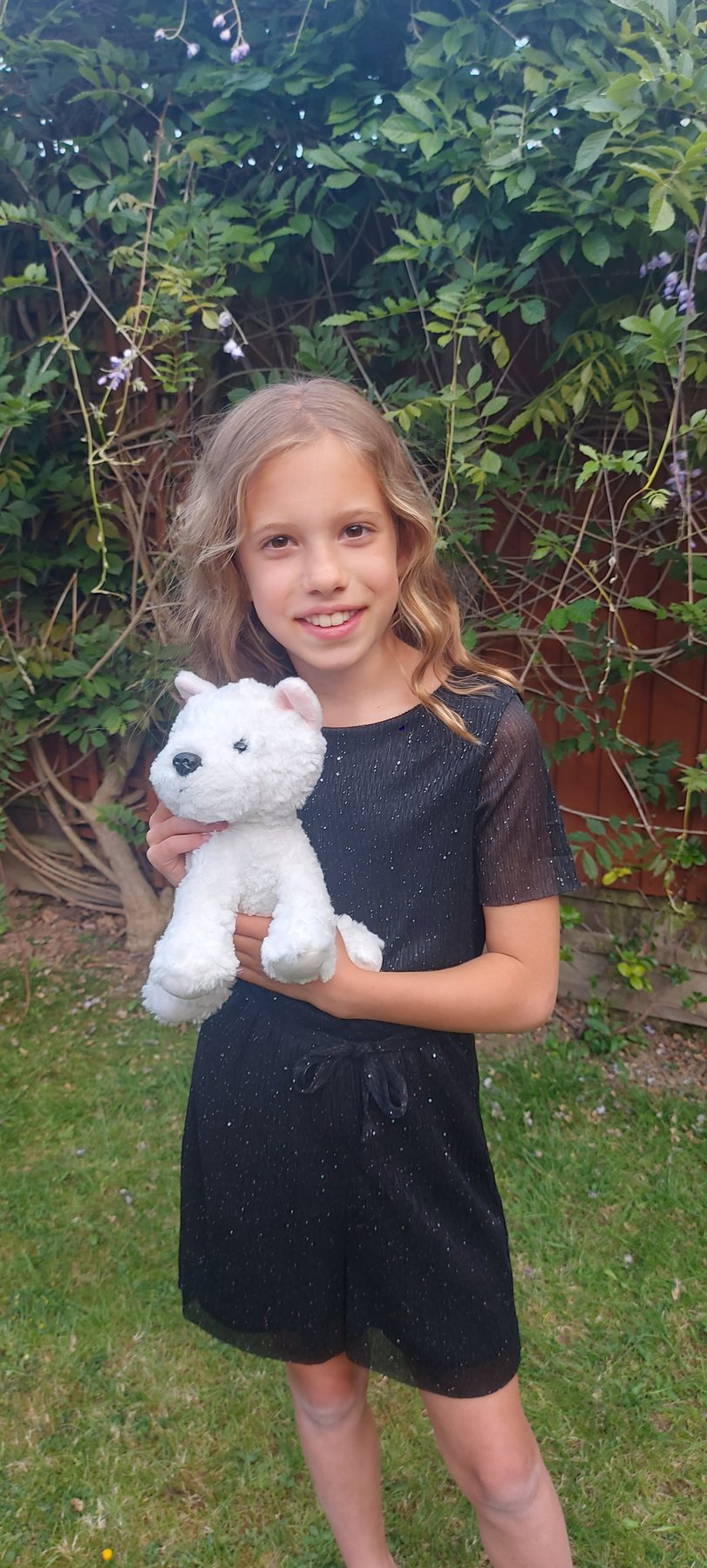 In April of this year, Amanda and her family went on holiday to Mexico.
Amanda added:
Freya has to bring at least two of her toys wherever she goes, so Snowy and another stowaway came with us on our holiday.

One night, Freya couldn't find him. Before we went on holiday, she had removed the Myton neckerchief as it kept falling off, so now it was a white fluffy toy.

After searching the whole room countless times, I initially thought he had gotten caught up with the bed linens with housekeeping, so the next day (after trying to console a crying Freya all night) I asked the hotel to see if they could find it. They didn't offer any help which didn't help my extremely upset 10 year old!

This went on for five days with no luck and Freya was getting more and more upset. She kept saying "Grandad cuddled him and we can't get him back!

It was now getting to me as well as it's so sentimental to my dad and her grandad. My dad was so close to my daughters and they saw each other every day. They saw him sadly deteriorate so knew it was the end, but it didn't stop them being distraught when he died. To see such a special thing to Freya disappear was heart breaking.

My other daughters had offered their scotty dogs to Freya but she didn't want to take their memories of grandad away from them.
On the final night of their holiday, Amanda messaged The Myton Hospices to see if there was anything we could do. We contacted the seller of the toys but was told they were discontinued.
We then sent out a plea to our staff and volunteers to see if anyone else purchased a scotty dog and wouldn't mind parting ways to make a 10 year old girl very happy.
Thankfully, one of our amazing nurses at our Coventry hospice had bought one and was willing to give it to Freya.
Amanda said:
I headed to Coventry Myton Hospice to pick up the scotty dog and I can't tell you how thankful I am to that amazing nurse who gave up the dog for my family.

Freya sobbed and sobbed when she was reunited with the scotty dog. She thinks it's the exact same toy and he took a flight from Mexico to be with her again. She immediately put the neckerchief back on so he can't get lost again! She was so incredibly happy.

It meant so much to me that Myton took the time out of their busy days to arrange this for my daughter. It means the absolute world. Part of dad is back with us again.