On Tuesday 30th June our shops on Albert Street in Rugby and High Street in Henley in Arden will be reopening. And our shop on School Road in Wellesbourne will reopen on Wednesday 1st July.
The following week...
our shops at Cannon Park Shopping Centre, Bridge Street in Nuneaton and on market Place in Southam will reopen on Tuesday 7th July, and on Wednesday 8th July our shops on Trinity Street in Coventry and Warwick Street in Leamington will reopen.
The shops will not be able to accept donations at this time, but...
you can take good quality, saleable items to our shops in Radford in Coventry and Rugby Church Street. Our shop on Far Gosford Street in Coventry will also reopen as a donation station from Saturday 4th July, followed by our shop on Bedford Street in Leamington Spa on Saturday 11th July.
Our donation stations are open from 9am to 5pm on Wednesdays and Saturdays only, but we ask that you please phone ahead to make sure they are able to accept more donations due to overwhelming demand. You can find contact details here.
---
For the reopening of our shops we have put in place measures to ensure there is space for social distancing...
Take a look at our short informative video which shows you some of the measures we have put in place.


Visit our shops page for regular updates
Our new measures are limiting the number of customers allowed in the shop at any one time. All donations are held for at least 72 hours before being handled, regular stringent cleaning will be undertaken, screens have been put in place at till points, contactless payment is encouraged, and staff and volunteers will have the necessary personal protective equipment as required.
Our shops fund the care of 1 in 4 patients and having them closed for three months has had a huge financial impact. We are delighted to have reopened some of them already and to be reopening more – we hope to see you soon!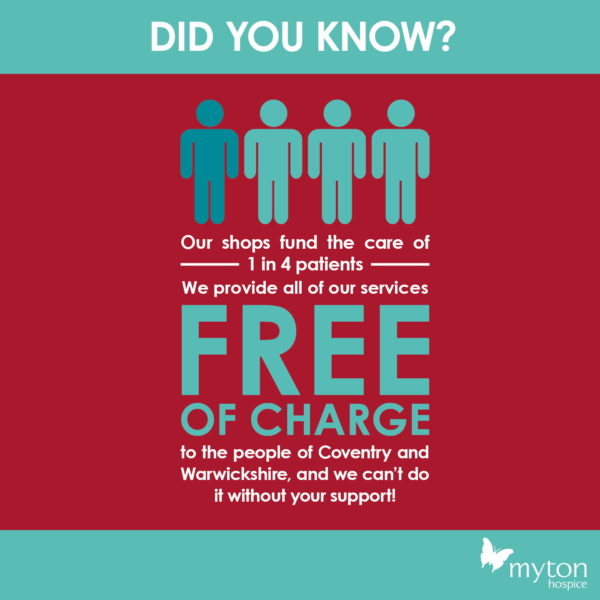 ---
Did you know that we have various virtual events that you can sign up to?
Find out more here.