The Myton Hospices currently has two apprentices, both in our Finance Department – Thomas joined the team in November 2018 and will be leaving Myton in March, and James started his apprenticeship with us in December 2019.
Thomas and James are great examples of how apprenticeships can be for anyone; Thomas completed a Maths degree after school, whereas James completed his A Levels in 2019 and didn't want to go to university.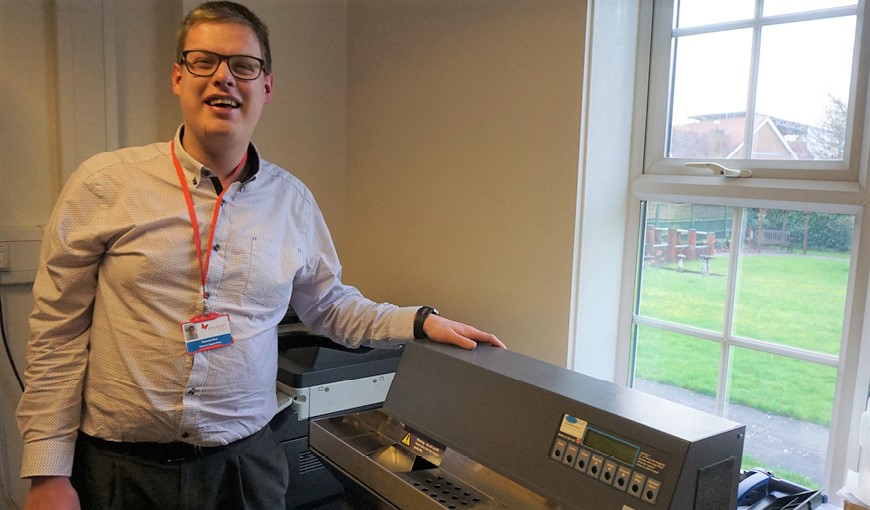 Thomas Roe pictured above
Thomas explains why he chose to start an apprenticeship after university:
I wanted a job where I could use my Maths degree and the Association of Accounting Technicians (AAT) apprenticeship is helping me to do that. Myton has helped me to learn so much and supported me while I've been learning.

At the time when I graduated, apprenticeships weren't seen as something for people with degrees to do. Now, they seem to be more accessible to more people. I'm hoping I will complete my Level 4 with the AAT, and ultimately I'd like to be a Chartered Accountant. The apprenticeship is a nice balance of work and study, and I'm still able to have a social life too.
James was unsure about whether university was for him, and he didn't know what he wanted to study so looked into the apprenticeships on offer at the Coventry and Warwickshire Chamber of Commerce. He said:
Accountancy wasn't something I'd done before but it piqued my interest after talking to someone at the Chamber at their open day. I still wanted to study if I wasn't going to university and an apprenticeship looked like the best route for me to do this.

You learn about being in a job and working environment as well as the curriculum of your course. I like that I'm able to earn money while I'm learning and being able to apply what I learn practically at work. I'd definitely recommend doing an apprenticeship – if you think university may not be for you then look into apprenticeships because there are lots of things you can study.
We are always proud to welcome apprentices across our organisation and over the last few years have had people in our Human Resources, Marketing and Finance teams learning while they work.
Andrew Wilson, Head of Learning and Development at Myton, said:
Apprentices play an important role here at Myton. Recruiting younger employees gives a new energy to the organisation, and training staff to national standards ensures we are meeting our present and future needs.