This new range of services is available at our Day Units in Coventry, Rugby and Warwick and aim to reach out to people earlier in their illness, to help them live well for longer, improving quality of life and wellbeing.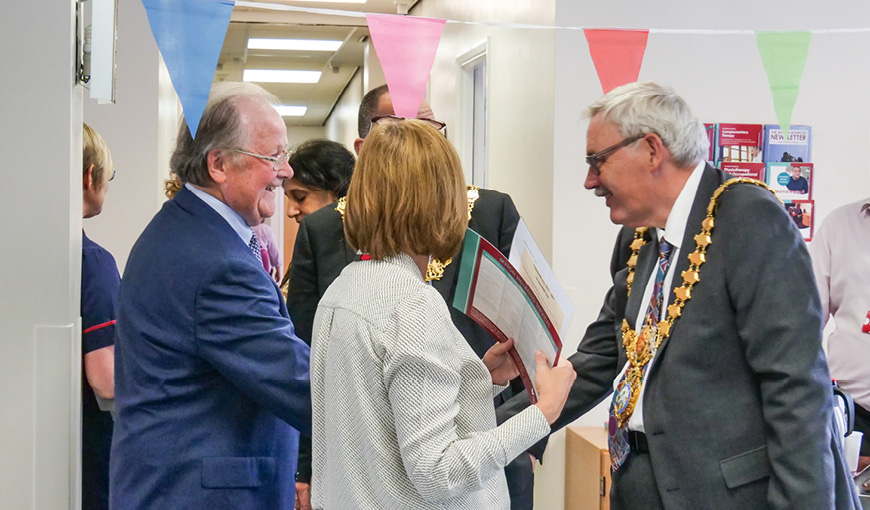 We welcomed healthcare professionals from...
a range of organisations including University Hospital Coventry & Warwickshire, South Warwickshire Foundation Trust and Rugby St Cross Hospital, Mayor of Rugby Bill Lewis, Mayor of Leamington Spa Bill Gifford, Mayor of Warwick Neale Murphy, Deputy Lord Mayor of Coventry Ann Lucas OBE, Warwick District Council Chairman George Illingworth, reporters from Touch FM and Free Radio, as well as partners from CAVA to our three hospices to find out more about the new services.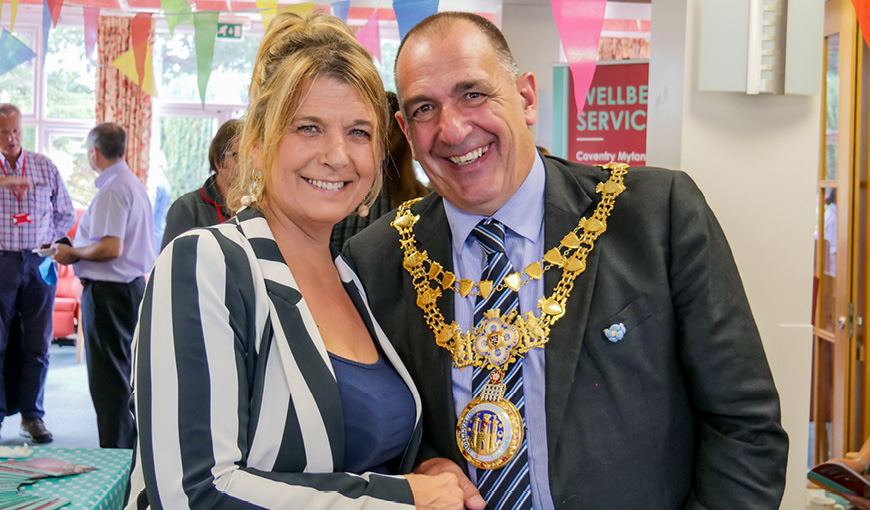 Staff and volunteers engaged in some constructive and thought provoking conversations with everyone who attended, and were keen to showcase Myton as a place not just for end of life care, and as somewhere which supports loved ones and carers as well as patients.
The new services include:
The Living Well Programme, which is an outpatient based service aimed at supporting people who are earlier on in their illness. Clinical staff work with patients to create a tailor made programme to identify their most significant concerns and priorities. It also provides a range of support to help them manage the changes in their life and to enable them to focus on the things which are meaningful to them.
The Fatigue and Breathlessness Programme (FAB) for patients for whom breathlessness is a core symptom, but who may also suffer from fatigue and/or anxiety. The aim is to improve the quality of life for these patients by providing self-management techniques as well as an opportunity to meet others who are experiencing similar symptoms and challenges.
Therapeutic Days to support people who may be earlier on in their illness and are looking to improve their wellbeing and quality of life. These days are aimed at providing patients with greater confidence carrying out physical activities, improved emotional coping strategies and improvement in social isolation. They also give carers the opportunity to have a well-earned break, with the knowledge that their loved one is in safe hands.
Drop-in sessions which are an opportunity for patients and/or family, friends and carers to take part in activities, gain confidence around living with a life limiting illness, socialise and meet others who might be in a similar position. These sessions are designed to empower patients and carers with the knowledge and confidence to feel supported whilst living with a life limiting illness.
Michelle Linnane, Director of Nursing, Care and Education at Myton, said:
We are very excited to be able to offer a broader selection of services to people who are living with a life limiting illness. Hospice care is about more than end of life care; by supporting people who are earlier on in their illness we are able to focus on improving quality of life and wellbeing of our patients, their family and carers.
People can self-refer to all of the new services with the exception of FAB which requires a referral from a healthcare professional.
Take a look at our Wellbeing Services Launch gallery below