Around 90 of our wonderful volunteers celebrated milestone years with Myton in 2018, from five years to 25 years of service! We gathered them together at Wolston Leisure and Community Centre in December to thank them for their dedication!
Among those gathered was...
Margaret Thompson who has volunteered for Myton for 10 years. She volunteers at Rugby Day Hospice as well as being a patient driver. After her dad died at the age of 75 she thought about how hospice care could have benefitted him.
When she retired she moved to Warwickshire and looked into helping at a local hospice – the rest, as they say, is history!
She says that being a volunteer driver is interesting because of the conversations she gets to have with patients, as well as getting to meet their families.
We currently have vacancies for volunteer drivers in Coventry and Rugby!
Find out about our Coventry volunteer driver vacancy here
Find out about our Rugby volunteer driver vacancy here
Valary Ormerod was thanked for her 25 years as a volunteer at Myton's Kenilworth shop!
She has been with the shop since it first opened and can still be seen on Thursday afternoons – the same shift she took up 25 years ago! We are always looking for people to volunteer in one of our 25 shops and you can register your interest below.
Register your interest in volunteering for retail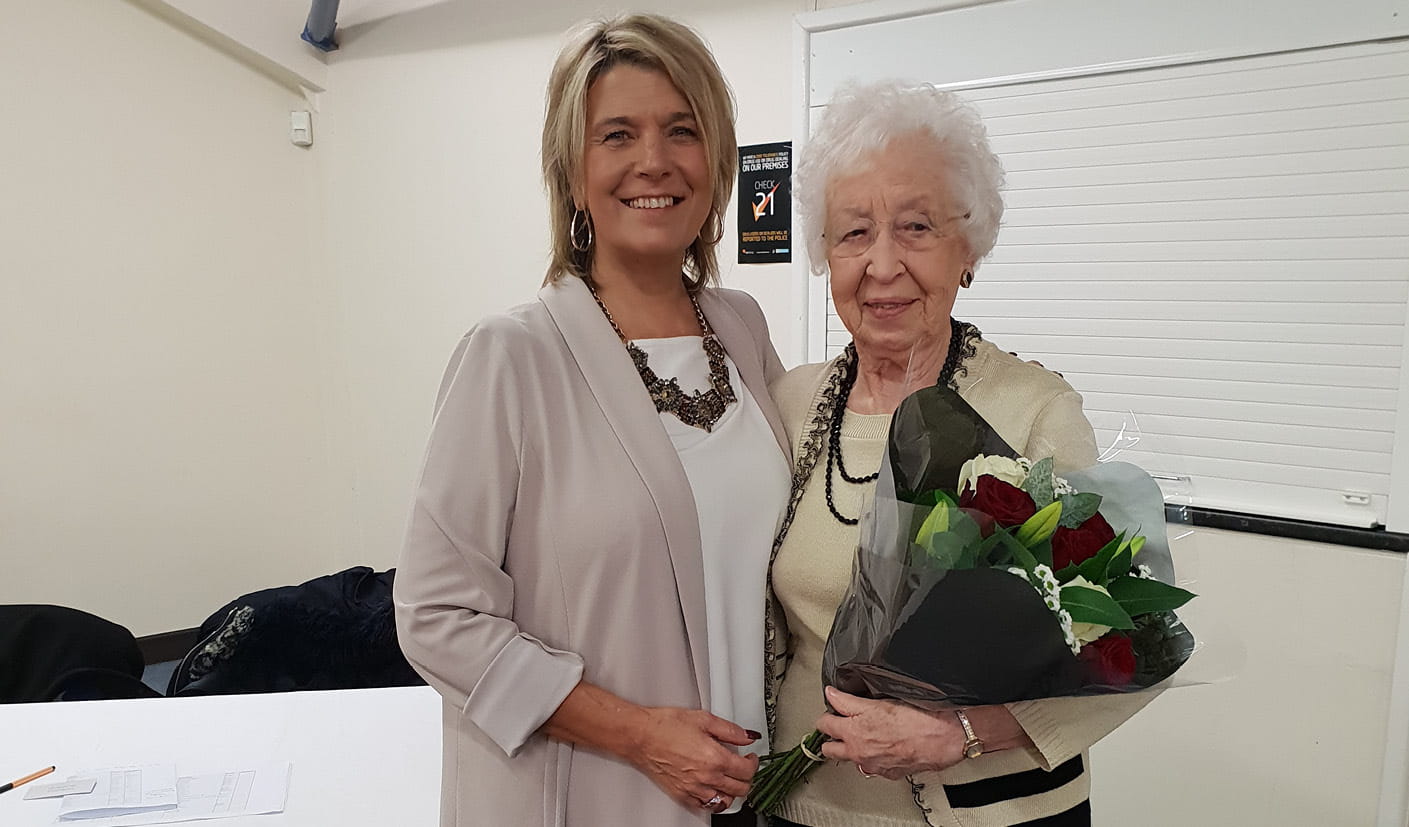 Valary Ormerod pictured with our CEO, Ruth Freeman
Charlotte Witteridge, Head of Volunteering Development at The Myton Hospices, said:
At Myton we have more than 1,000 volunteers who kindly give their time to enable us to continue to support people with terminal and life limiting illnesses and their families in Coventry and Warwickshire. Last year we presented over 90 of our dedicated volunteers with a long service award, some of whom have been with Myton for over 25 years! We are incredibly thankful to all of our fantastic volunteers for their continued support.
Thank you to all of our wonderful volunteers we couldn't continue to help people with terminal and life limiting illnesses in Coventry and Warwickshire without you!