Register your interest in retail volunteering here
Our 27 shops and Distribution Centre couldn't continue without the support of amazing volunteers!
Over 1,000 people volunteer their time to support The Myton Hospices in a variety of ways, which makes a huge difference for us being able to continue providing our services to people with life limiting and terminal illnesses, and their families, free of charge!
And retail volunteers enable our shops and Distribution Centre to be able to sort donations, keep our shops looking lovely, and make sure they have plenty of good quality clothes and accessories on offer to maximise profits for Myton's vital work!
We recently welcomed students from Coventry University and the University of Warwick to our shop in Radford and Distribution Centre in Binley.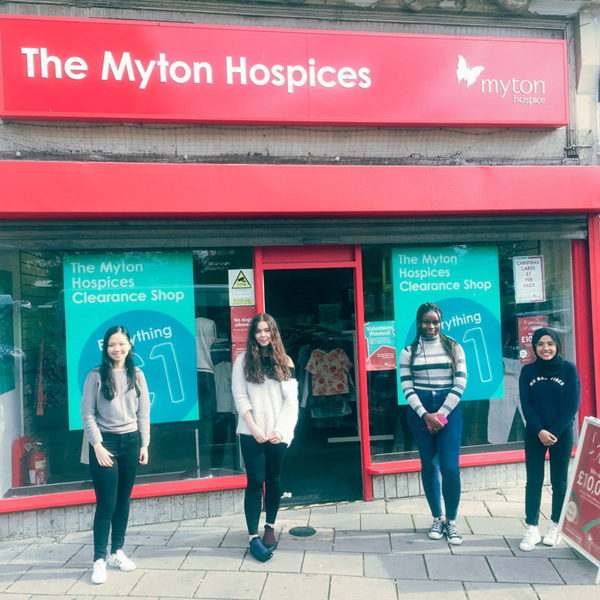 Coventry University students at our Myton Shop in Radford
They brought plenty of fresh ideas with them and were a great help in processing items which had been generously donated.
Paul Norton, Volunteering Development Officer at Myton, said:
It was a pleasure to collaborate with two local universities to promote the mutual benefits of volunteering which will positively impact on the local community. We hope to welcome more student volunteers in the future; we hope that even if they just volunteer for a day, they can be inspired for a lifetime.

We want our volunteering opportunities to be accessible to all so a diverse range of people get involved and promote equality and improve community reach, which is vital for ensuring our services are offered to every section of our diverse community. Whether people volunteer as and when they can, or take on regular shifts, they are helping Myton to be able to continue raising money and providing its services free of charge.
We have a wide variety of roles available whatever your skills and the amount of time you can give, including key volunteers, stock sorting, Sunday volunteers, sales assistants, social media and visual merchandising.
If you are interested in volunteering at one of our 27 shops across Coventry and Warwickshire or at our Distribution Centre, find out more in store, register your interest online here or call 01926 838827.