When asked about the volunteers she said:
They are very eager and very interactive with customers. They are all happy to help in any way they can, they are flexible and want to learn new things. They range in age from 30-75. I'm very lucky to have them!
Shannon is supported by plenty of fantastic female volunteers too...
like Lynn pictured, but we thought we would shine the spotlight on the men as it's quite unusual to have so many male volunteers in one place – the more the merrier we say!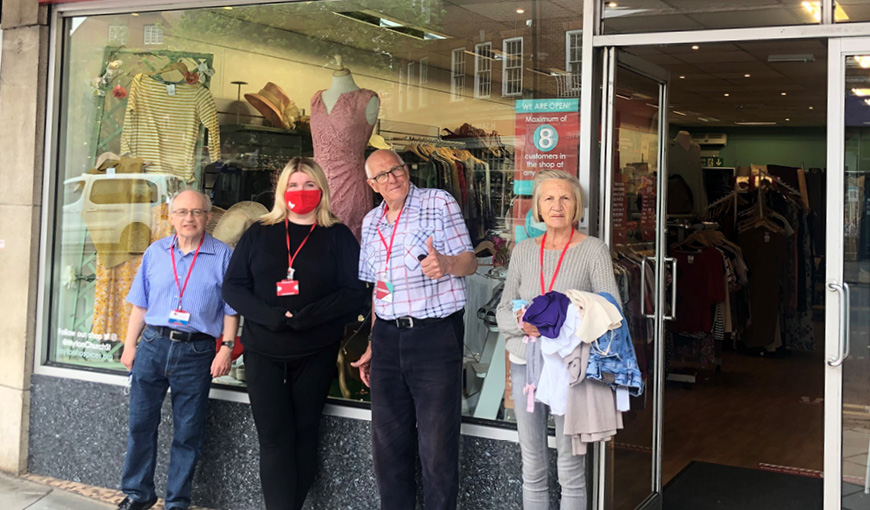 We spoke to two of them to find out what motivates them to volunteer for Myton and what they enjoy most about their role.
Mick Ogden is 73 years old and has been retired for many years. He only started volunteering for Myton in May 2021 and he said he loves it, he only wishes that he had started sooner. Mick walks everywhere and can be at the shop on foot in under 15 minutes, he can do as many hours or days as he wants and that is part of the attraction for him.
When asked how he came to volunteer at Myton...
Mick said he was at his local pub, Seven Stars in Rugby, for a carol singing event in aid of The Myton Hospices. A good night was had by all and after it had finished Mick had a look at some of the literature about Myton, he said from that moment he was hooked and wanted to help.
Mick plays the Myton lottery as well as volunteering at the shop. He has become the self-appointed waste removal man and by being so active he gets a good workout which helps him in his goal to lose weight. He said he also enjoys working with a great team.
Thanks Mick you're a star!
Adrian Futter, aged 70, has been volunteering at the shop since October 2018. He volunteers at least three afternoons each week, he also helps with eBay packing and sorting books at Myton's other shop in Rugby on Albert Street.
Adrian's wife spent 20 days at Warwick Myton Hospice...
before she sadly died in July 2018 and prior to that he looked after her for three and a half years. After his wife died he felt lost and wanted to give something back, he says volunteering at Myton was the obvious choice. Adrian said he gets on well with the staff and volunteers and enjoys the companionship and sense of doing something useful.
When asked what he would say to other people considering volunteering at a Myton shop he said:
Go for it, why not give it a try and see if you like it. There are a variety of things to do and you can find your niche – I like sorting books. It's flexible and you can come when suits you.
Adrian even managed the shop with another volunteer one Saturday afternoon to stop it having to close due to staff shortages.
Thank you for everything you do for Myton Adrian!
All of our volunteers are amazing and our work would not be possible without them!
If you would like to find out more about the range of volunteering opportunities in our shops and hospices, please click here.
Register your interest in volunteering here
---
It's time to get into gear and get the fundraising cogs turning as The Myton Hospices marks the welcome return of its Cycle Challenge.
After Covid forced last year's event into a virtual occasion – we're delighted this year's Cycle Challenge is a hybrid offering – meaning you can join us on the day (in a Covid-secure way of course) or take on the challenge on your own or in bubbles if you would prefer.
We were blown away by the support and fundraising efforts of our cyclists at last year's virtual event – with an amazing £37,000 raised for the cause.
And we're hoping that the positivity surrounding this year's route out of lockdown will inspire cyclists of all ages and abilities to don their lycra for #TeamMyton, take on the Cycle Challenge and raise as much money as possible to support our work caring for people with life-limiting illnesses, and their families, across Coventry and Warwickshire.
Read the latest Myton news below...