With the opening of Rugby Myton Support Hub getting close, we were delighted to welcome a fantastic team of volunteers from Jaguar Land Rover to help give the grounds a much-needed overhaul.
Our dedicated palliative care hub, bringing together key stakeholders in palliative care from across the area, will officially open its doors in early May.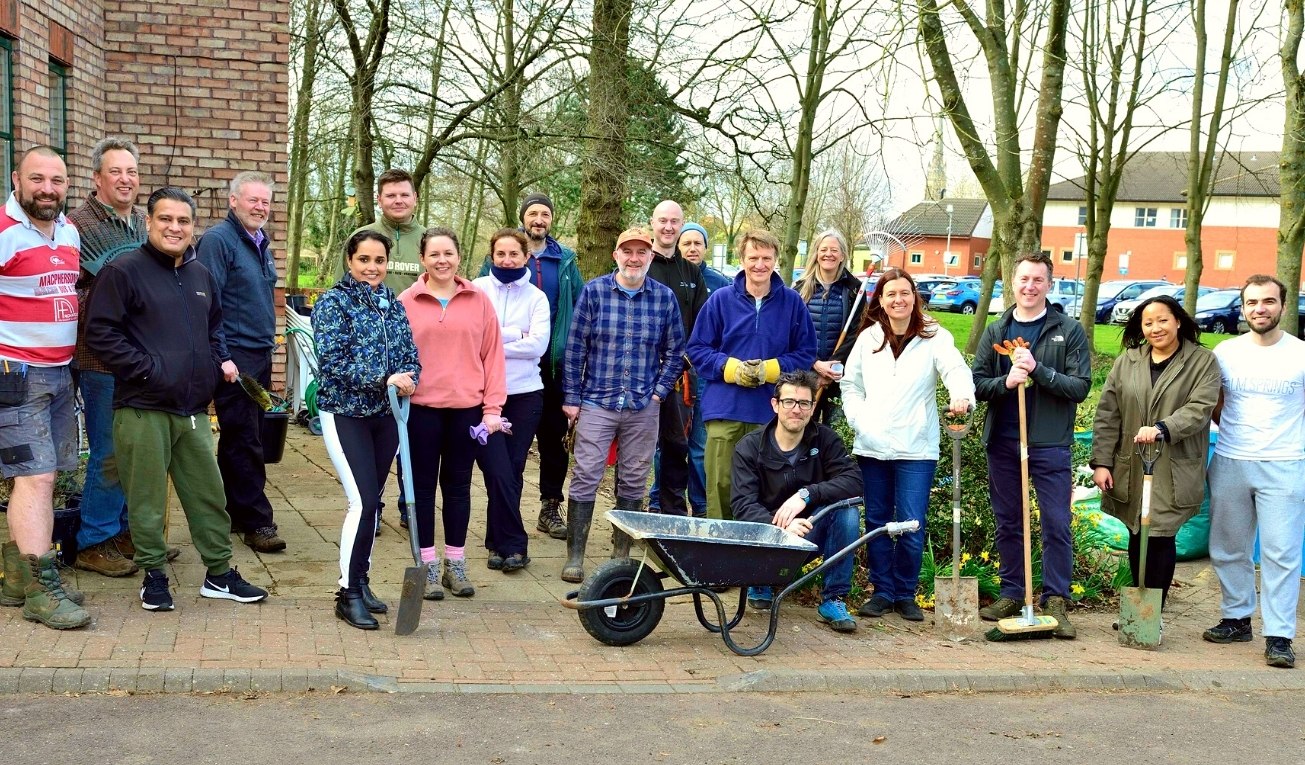 Marianne Daniels, Senior Purchasing Manager at Jaguar Land Rover said:
We were so pleased to be able to offer our support to Rugby Myton Hospice. We're all aware of the vital service that Myton provides in our local communities. Knowing what everyone - staff and patients alike - has gone through during the pandemic, to be able to provide some tangible support in the form of our time and energy was extremely rewarding. And from the JLR side we actually haven't met as a full team in recent months so it also provided us with the opportunity to re-connect, get to know new team members and have some fun.

We were made to feel very welcome, plied with hot drinks and biscuits and even the sun shone for us. Seeing the staff wander round the gardens at the end of the day and appreciate the newly visible spring shoots was a proud moment. Thanks to Myton for giving us the opportunity to give back and in turn help you to create such a wonderful space for your staff and patients.
Tracey Evans, Rugby Myton Support Hub Manager, said she was so very grateful to the amazing team at JLR, who did such a wonderful job clearing and enhancing the gardens of the Hospice ahead of the launch in May.
There has been so much to do, and as the old adage goes, many hands make light work," she added. "That was certainly the case when the JLR team joined us – I couldn't believe how much they managed to achieve in a day. What a difference it has made as we prepare to enter an exciting new chapter in the history of Rugby Myton Hospice. And what a wonderful team of people, who made the day so thoroughly enjoyable.
Chris Willmott, corporate fundraiser at Myton, explained that The Myton Hospices relies so heavily on the support of volunteers – whether that be individuals, community teams or fabulous corporate teams like the team from JLR.
He added:
The difference such support makes is immeasurable and I would like to say a huge thank you to every single member of the team, who did such an amazing job and went the extra mile on many occasions throughout the day. We can't wait to launch our new palliative care hub for the people of Rugby and beyond – and now we have a garden to be proud of when the doors open. Thank you on behalf of everyone at Myton, and, most importantly, on behalf of our patients and their loved ones.
Latest news...