Our charity shop on Brook Street in Warwick will be the first to open since lockdown began in March, followed by the Myton shop on Warwick Road in Kenilworth on Wednesday 17th June. They will be open Tuesday to Saturday and Wednesday to Saturday respectively, 10am – 4pm.
Following government guidance for the safety of our staff and volunteers, and members of the public visiting the shops, we have been putting in place measures to ensure there is space for social distancing, including limiting the number of customers allowed in the shop at any one time.
All donations will have been held for at least 72 hours before being prepared for sale, regular stringent cleaning will be undertaken, screens have been put in place at till points, contactless payment is encouraged, and staff and volunteers will have the necessary personal protective equipment.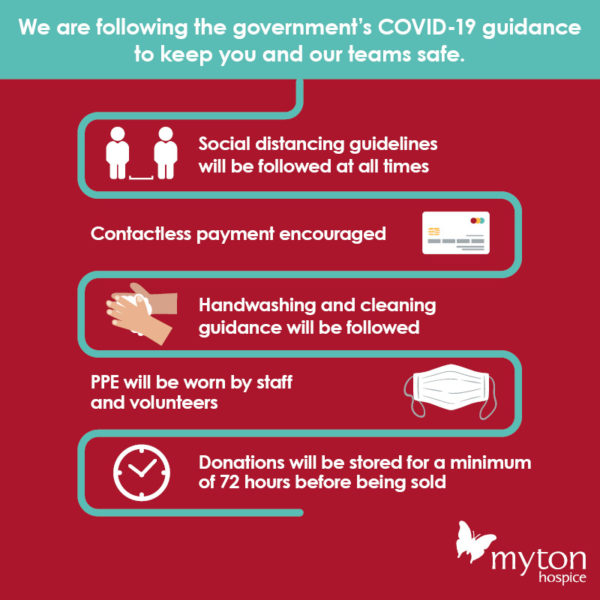 Our shops will not be able to accept donations at this time, but anyone who would like to donate goods to Myton can register their interest in our collection service here which we hope to resume in July.
Alternatively, you will be able to take good quality, saleable items to our shops in Radford in Coventry and Church Street in Rugby which will reopen as a donation stations from 9am to 5pm on Wednesdays and Saturday as of Saturday 20th June. We will be reopening more of our shops as donation stations in July.
We are also reopening our shop in Atherstone for a period of two weeks from Wednesday 17th June. During this time the shop will be holding a closing down sale with all items being sold for 50p each, cash payment only, before shutting its doors for good.
From Tuesday 23rd June...
we plan to reopen our shops in Coventry on Quinton Parade in Cheylesmore and Barker Butts Lane in Coundon, All Saints Square in Bedworth and next to Morrisons on Alcester Road in Stratford upon Avon. The remainder of Myton shops will reopen over the following weeks and you can check opening hours and updates here.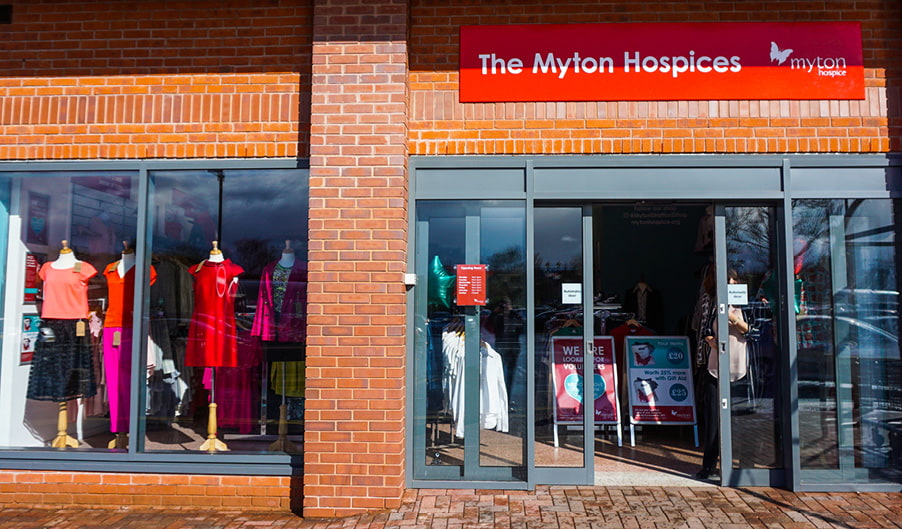 Stratford Upon Avon on Alcester Road Shop above, opening 23rd June
Director of Income Generation at The Myton Hospices, Charlotte Ingram, said:
We are excited to be able to reopen some of our shops, and begin raising vital funds in this way again so we can continue to provide our services free of charge for the people of Coventry and Warwickshire living with terminal illnesses, and their families. Our retail team have been working very hard behind the scenes to ensure the safety of staff, volunteers and customers, and we appreciate everyone's understanding and patience as we all get used to the 'new normal' as our shops begin to reopen.

All of our 27 shops and our Distribution Centre closed temporarily when lockdown was announced. With our shops aiming to bring in over £2 million of the £9.2 million we need to raise each year, the loss of retail income has been felt keenly over the last three months.

We are sad to be saying goodbye to our Atherstone shop, but would like to reassure people that, although Coronavirus has had a significant impact on our ability to raise vital funds, it is not the cause of this decision. We review all of our shop leases when they are coming to an end and decide whether or not it is in Myton's best interest to renew or close in order to maximise funds for the charity. We hope people will show their support for the closing down sale, and hopefully find themselves a bargain!
Want to keep updated with the latest information about our shops? Please see below...
To keep updated with our Shops, please click here.