The monthly MND clinic was introduced as a way to collaboratively support people with Motor Neurone Disease in the local area after identifying that using the clinic model, that had been successful in other areas, would be of benefit to those in South Warwickshire.
The clinic was started in May 2022 at The Shakespeare Hospice at their base in Stratford-upon-Avon, with the support of an MND specialist nurse from the University Hospitals Birmingham (UHB) NHS Foundation Trust, and has more recently seen The Myton Hospices join the collaboration. The start of the clinic in 2022 coincided with the Motor Neurone Disease Association introducing a new volunteer role for supporting clinics like this one.
The clinic enables a patient to be seen and supported in a one-stop appointment with the all the key clinical staff attending. Patients who would benefit from review are identified at a monthly South Warwickshire MND Multi-Disciplinary Team (MDT) meeting where all associated professionals come together to share their input regarding patients' care and support needs.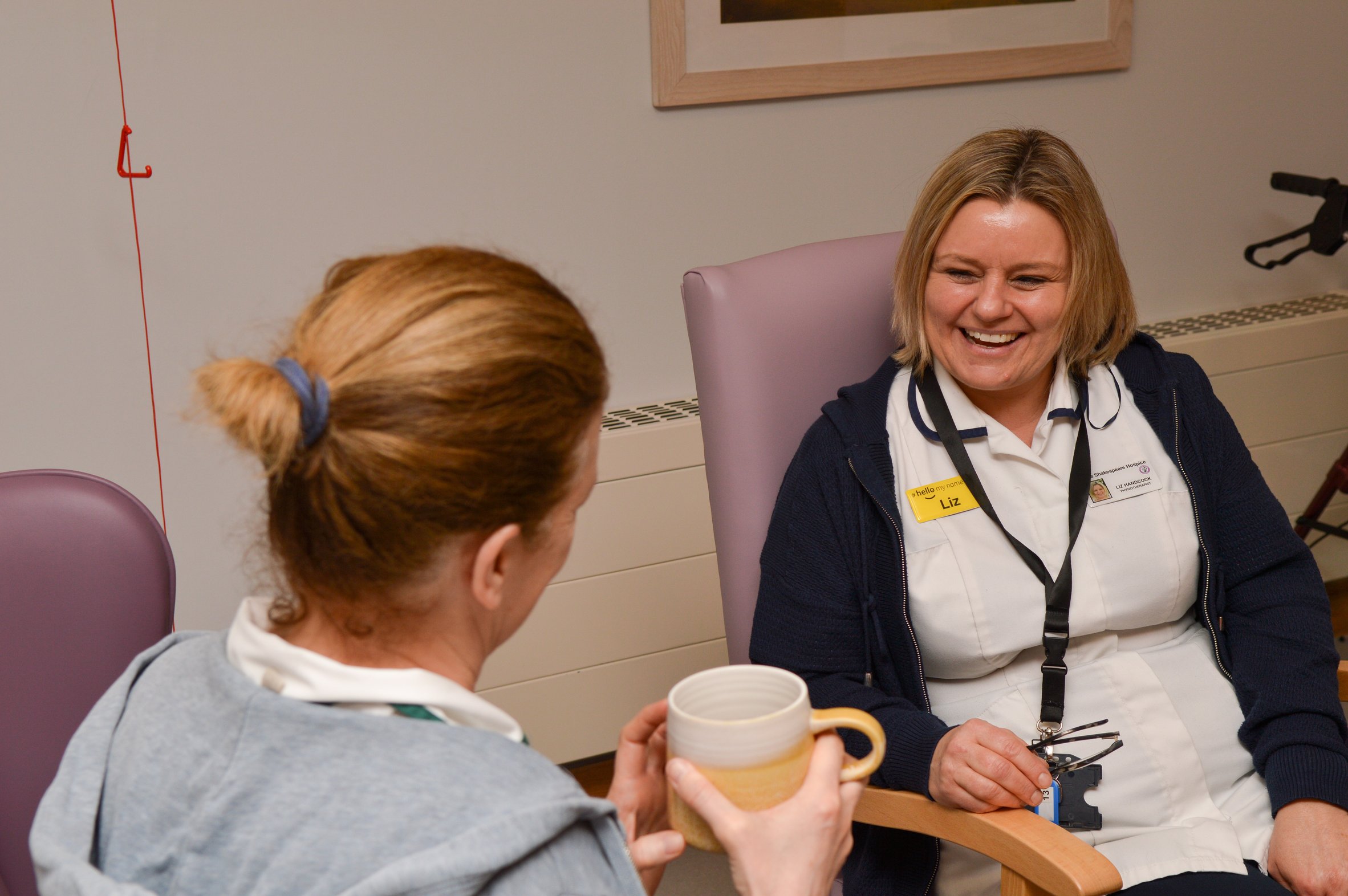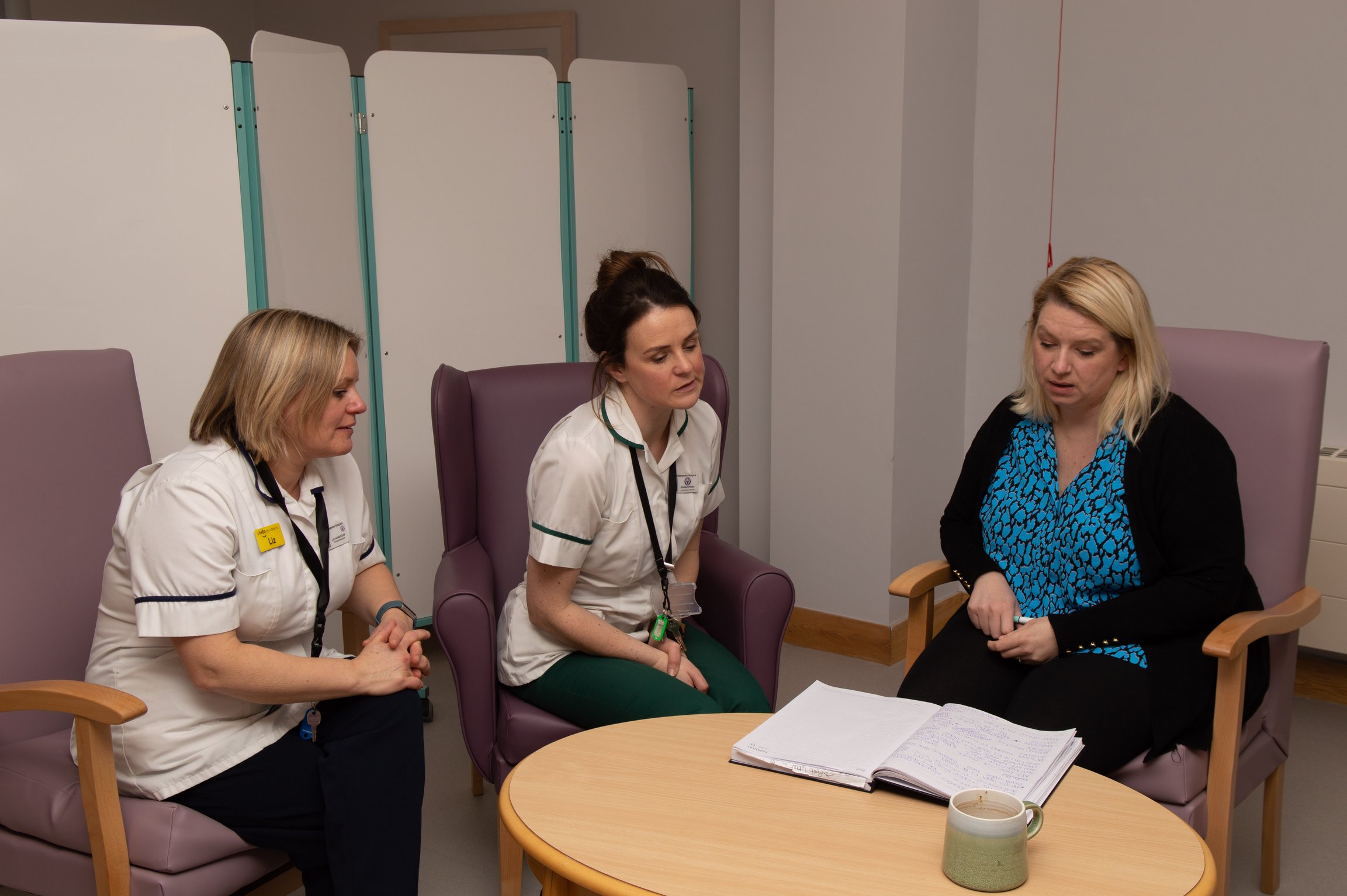 Sarah Perry, Occupational Therapist at The Shakespeare Hospice said:
The aim of the MND clinic is to provide individuals, their carers and loved ones the opportunity to access a clinical review from the Specialist Nurse and Occupational Therapist as well as support and the opportunity for them to ask questions and raise concerns or queries.

It is also an opportunity to introduce the support available from the Hospice.

Since it was first held in May 2022, the clinic has been well received with a continual uptake and request for appointments.

The success of the clinic has affirmed its benefit to patients and their families leading to its expansion to offer support to those under the care of Warwick Myton Hospice.
Dr Sarah MacLaran, Medical Director at The Myton Hospices said:
Many healthcare professionals working in Coventry and Warwickshire are passionate about providing the best possible care for people who have Motor Neurone Disease (MND).

It is well recognised that every person who has MND is unique.

In order to ensure their best care, a full team of specialist professionals are working together very closely to achieve the person's own specific goals, support their changing needs and be there for their family and carers.

Multi-Disciplinary Teams (MDTs) of professionals including specialist nurses, occupational therapists, physiotherapists, doctors, dietitians, speech therapists, nutrition specialists, neurology teams and specialist palliative care teams are already collaborating virtually to best support the people of Coventry and Warwickshire who have MND.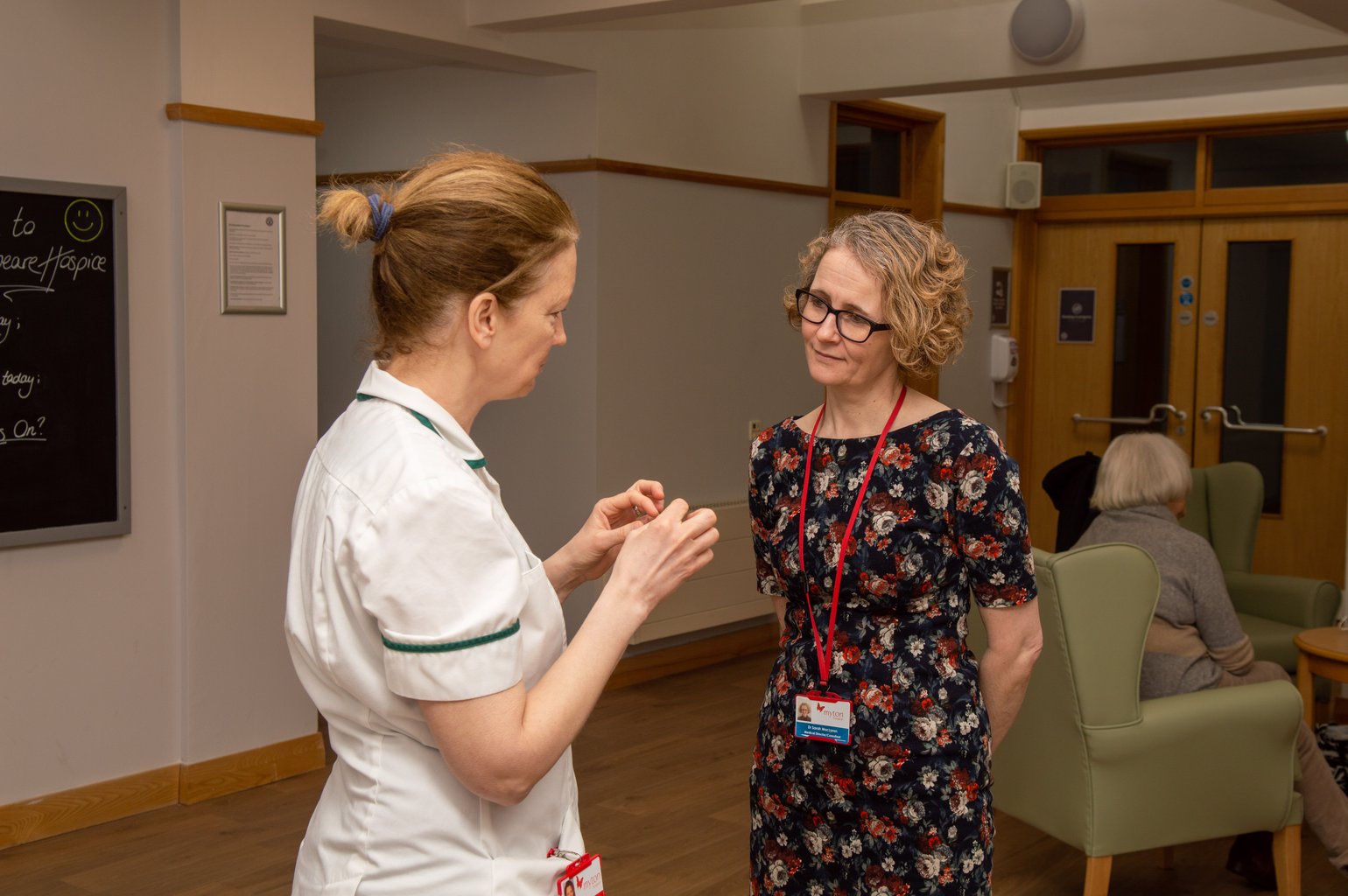 Nicola Hadley, Occupation Therapist for The Myton Hospices added:
The clinic set up provides a less formal approach and enables patients and carers to sit and have conversations with professionals, enabling easy flow into accessing support and information from an MND Association volunteer which has been a really good step forward.

The clinic is held the week before the monthly MND MDT meeting which has been a really helpful and effective way to feed back to the rest of the MDT and review our specialist input for each patient.

We have recently been involved in an MND case audit facilitated by the UHB MND Coordinator and hope to continue to work closely together in the future.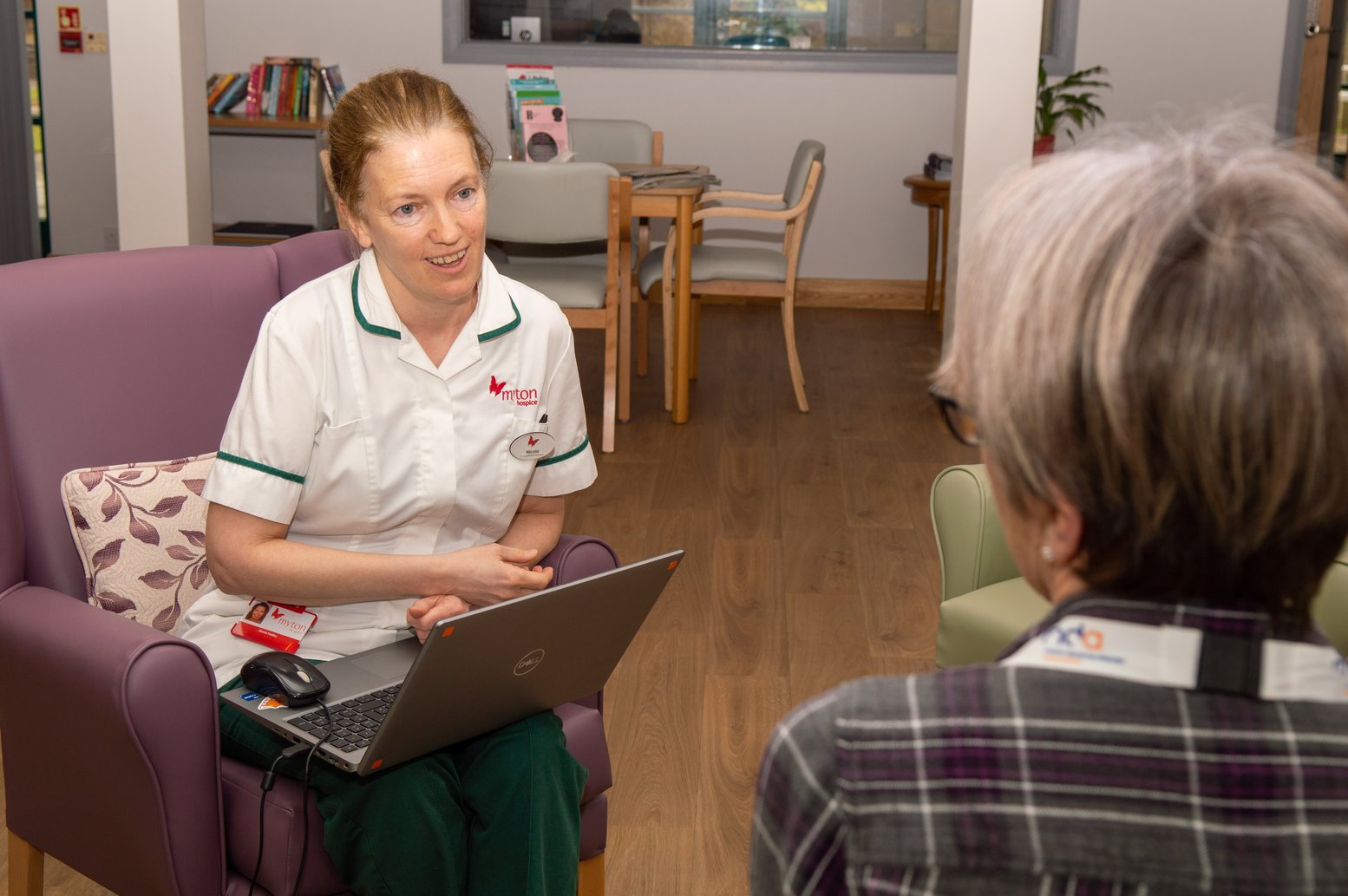 Chris Bennett, Head of Regional Care Partnerships - Central and West, MND Association said: 
We are really pleased to support this collaboration between The Shakespeare Hospice, The Myton Hospices, community-based health professionals and our Birmingham MND Care and Research Centre.

This clinic which provides co-ordinated, holistic support to people living with and affected by MND in South Warwickshire will bring specialist care closer to where people live and help to minimise the number of separate appointments needed by people with MND."
Rachel McTighe, Association Visitor for the MND Association added:
I'm there to introduce the Association and its services to people with MND and their families.

It works well, as putting a face to the Association in a friendly setting is a gentle introduction and people aren't so shy about accepting support.

I've had so much positive feedback about the MND Clinics held at The Shakespeare Hospice. People tell me it gives them the time and opportunity to ask absolutely anything and everything about living with MND, in a comfortable and nurturing environment.
Caroline Davis, Motor Neurone Disease Clinical Nurse Specialist for UHB said:
These clinics help us, as a specialist team in the Birmingham MND Care Centre, to improve our collaborative working with the community teams from The Myton Hospices and The Shakespeare Hospice.

These clinics also enable us to have more joined-up care for patients as a wider MDT including colleagues from University Hospital Coventry and Warwickshire.

This clinic has been well received by patients and enables them to access their MDT locally and also give patients more time with their health professionals in a homely hospice setting.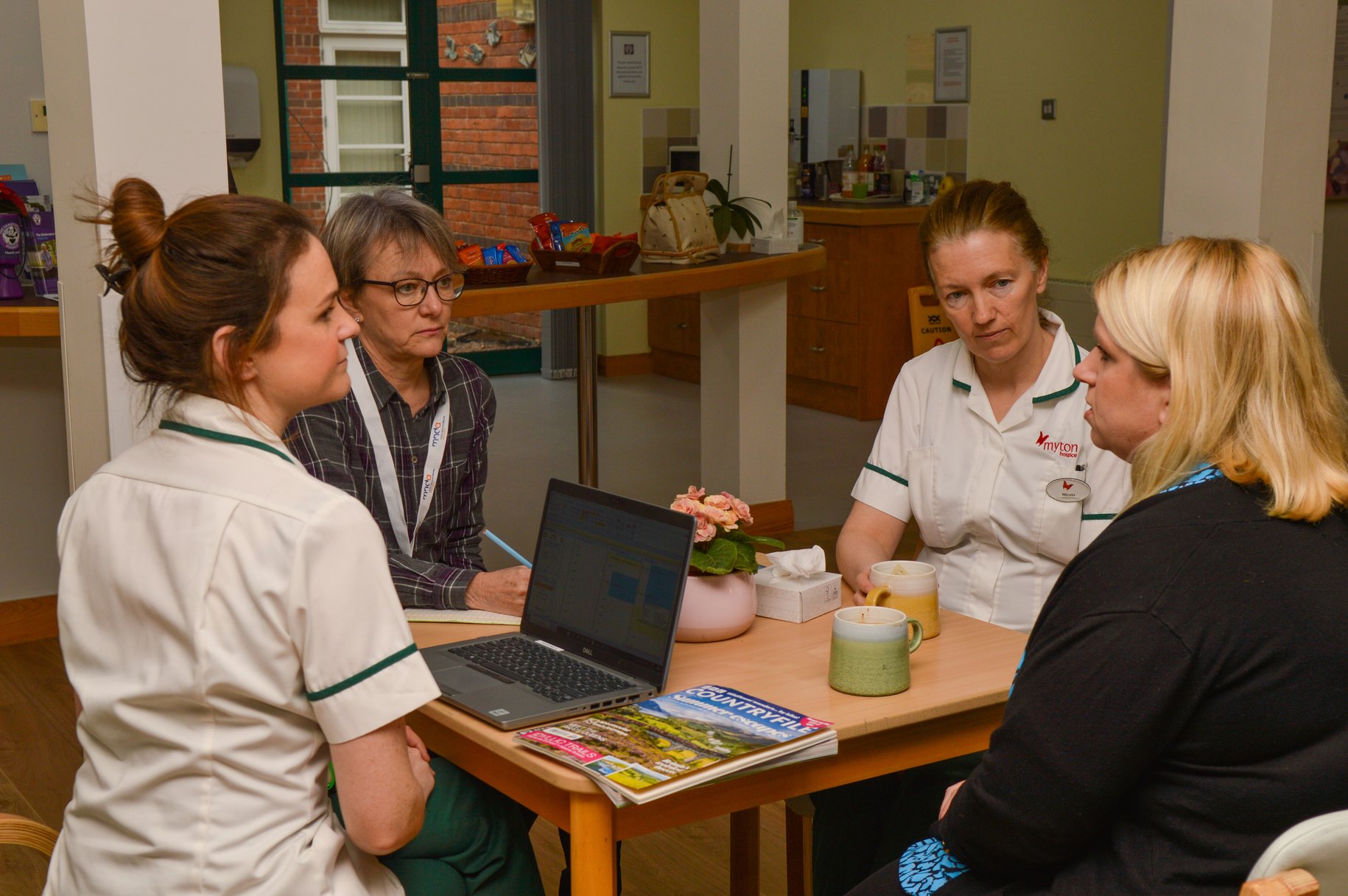 At The Myton Hospices we are delighted to be part of this team, working together to continue to grow and evolve this provision for MND patients and strive towards becoming an area of excellence.
This model is proving very successful and could potentially be replicated for other palliative conditions in the future.