The programme lasted for 12 weeks and was available to Warwick Day Hospice patients on Monday mornings. The patients on Mondays are a diverse and often changing group due to discharge and illness, so offered a good opportunity for us to introduce horticulture to a typical Myton Day Hospice group.
Our own Nursing Assistant...
Caroline Barker our own nursing assistant herself a keen gardener was thrilled with the opportunity to act as support and assistant to Shirley throughout the programme; with enthusiastic support also provided by Steve from our therapy team.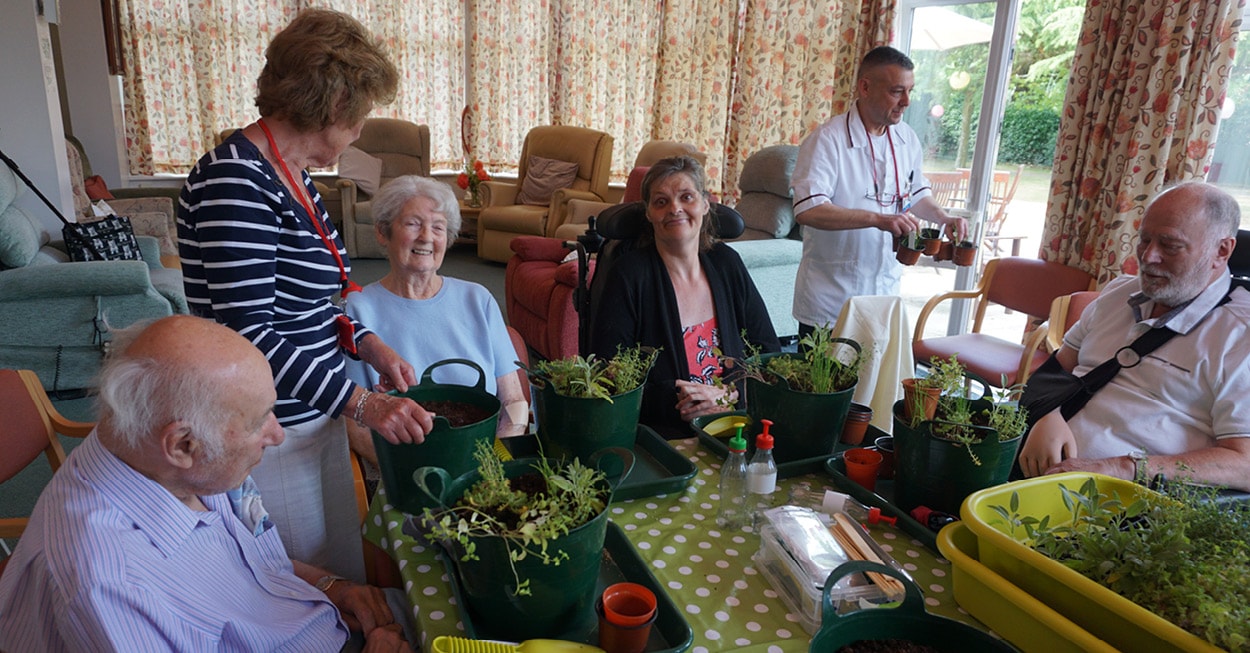 Some interesting research shows...
Research shows that horticulture, gardening and access to nature whether through active or passive participation improves wellbeing (Sempic et al 2005). Benefits to people with life limiting illness include restoration of energy and attention, recovery from stress, improved confidence and person identity, adjustment and normalisation.
Shirley...
On day one Shirley arrived with a car full of horticultural material, and boundless plans and enthusiasm for the project! This immediately attracted some our patients who worked at the table with Shirley, whilst others sat around the periphery of the group – participation was voluntary.
This involving meaningful group work had attracted all of our patients by week three, with all looking forward to what was planned for the day. The early weeks included planting out onions, salad leaves and potatoes to enable salads to be made later in the course. Also every patient enjoyed making butter, jam and speciality teas for use at home and resulted in conversations on a Monday often around the things patients had made and grown the previous week and shared at home with their families and friends.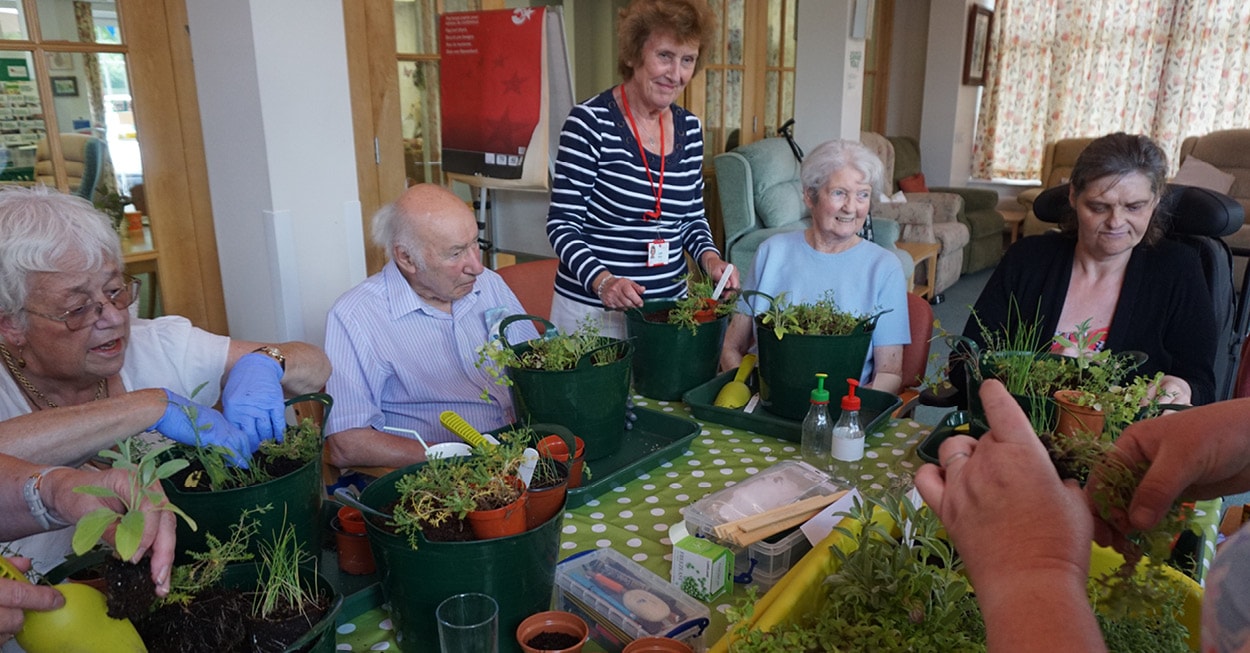 The conversations...
During these conversations several of the attendees shared their sadness that they were no longer well enough to tend their own gardens and allotments, something they dearly missed. A patient also shared how she missed her garden and the freedom and joy it gave her having moved from her house to an assisted living flat. There were many comments around the meaningful and restorative nature of gardening; one attendee commenting how he found taking part in the group promoted contemplative moments for him following the activities.
Through patient's reports and observation, we have noticed the benefits of support, advice and the sense of wellbeing this therapy has provided.
With patients often taking things they have produced back to their homes or bed side. We have also observed peer support and help from attendees for others with tasks they found physically difficult.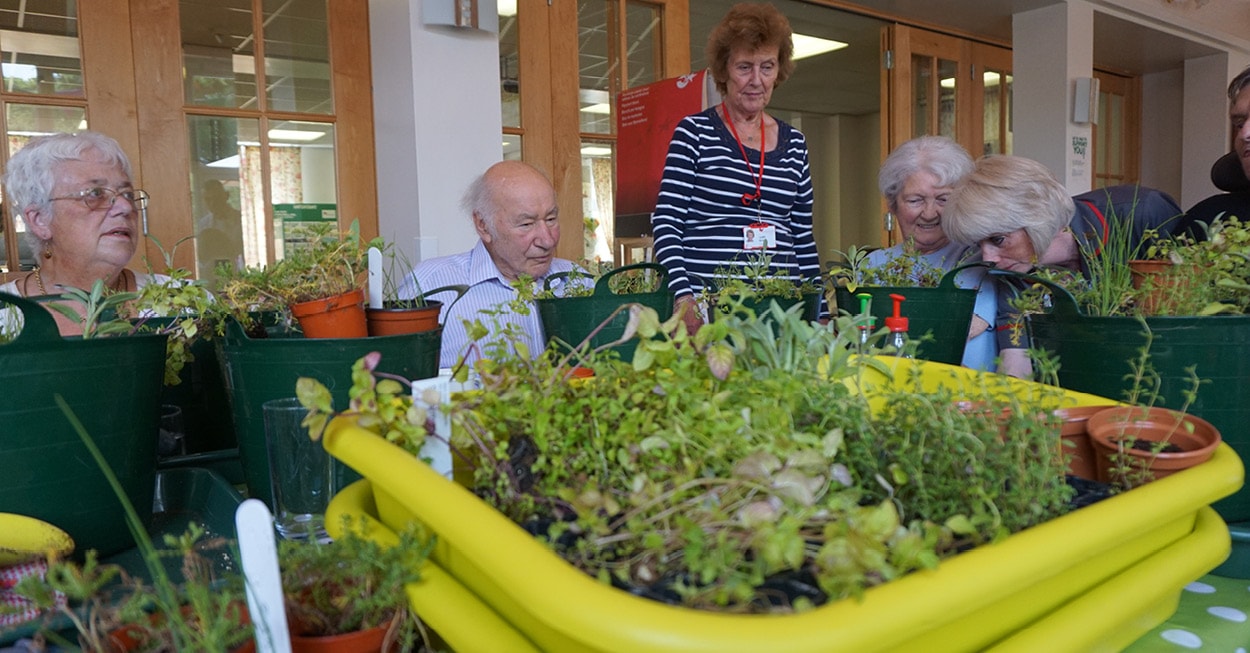 The social aspect of this group was also demonstrated in how attendees felt the group gave them 'space away from the problems and stresses of life'.
All attendees and volunteers agreed in group feedback the gardening and Shirley's visits had been the highlight of their day, giving them an interesting and meaningful occupation and a topic they discussed with their friends and family at home.
Following the success of the initial 12 week programme...
We plan to offer training at Ryton Organic Gardens to staff from our three Day Hospices so that patients across all days of the week will have the opportunity to take part in these valuable activities.