General Manager Tash Beard and Assistant Manager Joe Davies were desperate to help keep the money rolling in for Myton at a time we've never needed it more.
And they baked up a great plan to sell cakes and coffee in aid of Myton - with Tash's mum Christine Beard becoming chief cake maker and rustling up over 100 cakes to sell through the pub's coffee and cake takeaway service.
Peach Pubs, which owns The Rose & Crow ...
donated the costs of the coffee to the cause, with Christine, a loyal Myton supporter, paying for all her ingredients and making the cakes.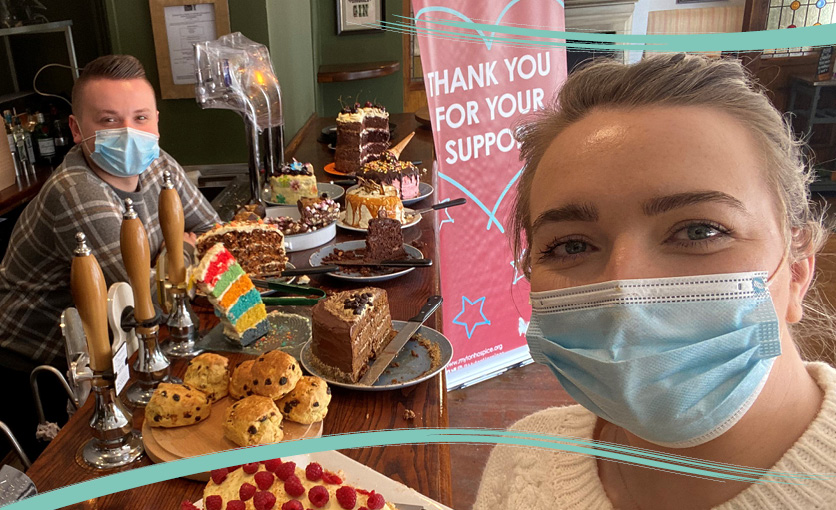 Tash and Joe with some of the amazing cakes baked by Tash's mum and loyal Myton supporter Christine Beard.
They had always hoped to raise a nice sum to help us continue our work supporting people with a life-limiting illness across Coventry and Warwickshire.
But what happened next came as a welcome surprise ...
– as their fundraising efforts proved to be a real recipe for success. Guests donated so generously to the campaign and The Rose & Crown team watched the money roll in – resulting in an amazing £5,733 being donated to Myton.
Tash said:
We chose Myton because it's such a wonderful local charity and we know so many people who have been cared for by their amazing team,

We initially had hoped to raise £1,500 and only run the service throughout February, to enable Myton to continue to provide its services free of charge to patients and their families.

But when guests found out it was coming to an end they were devastated as many had made us a regular stop at the end of their daily exercise.

Not wanting to disappoint our wonderful supporters, we extended the coffee and cake service into March and set ourselves a new target of £4,000, given how popular it was.

But we were blown away by the continued amazing success of the campaign and the generosity of our guests, who helped us smash our targets and raise nearly £6,000.

To have raised £5,733 for Myton is truly fantastic – we are so proud and so grateful to everyone who has been involved – the staff and our families for making it happen and the amazing guests who helped reach this fabulous total, which will do so many great things at the Hospice.

And a special thank you to my mum Christine for her amazing baking and generosity too.
Despite the coffee and cake fundraiser now having come to an end, The Rose & Crown is continuing to support Myton throughout the year.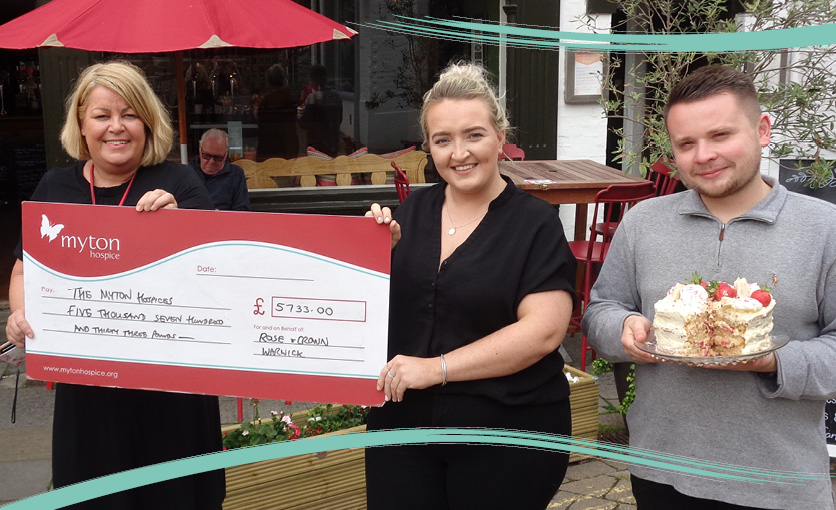 A huge thank you – Myton Community Fundraiser Lou Careless celebrates the amazing donation from the Rose & Crown team with General Manager Tash Beard and Assistant Manager Joe Davies.
And every day there are two home-made cakes, again lovingly created by Christine, which can be purchased, with 50 per cent of the profits coming straight to Myton.
Lou Careless, Community Fundraiser at Myton, said:
A huge, huge thank you to Tash, Joe, Christine and everyone involved in making this fundraising effort such an amazing one.

We are so grateful for everything they have done, and continue to do, and for the fabulous amount of money raised, which will make such a huge difference to Myton, our patients and their families.
---
Bonfire night is set to be a fiery affair at The Myton Hospices this year as we host our first ever Firewalk.
There are a limited 100 places up for grabs for this bucket-list event, which we hope will get your fundraising desires burning as you walk over hot coals for the cause.
Under the professional supervision of firewalk experts UK Fire Walk, fundraisers will get the chance to test their mental strength as they put their best foot forward to raise vital funds for Myton.
The Myton Firewalk has been kindly sponsored by Audhali Fresh Farm Foods and is hoping to raise £10,000 to enable us to continue to provide our services, free of charge, to patients across Coventry and Warwickshire with a life-limiting illness and their families.
Early booking is advised as the limited places may be filled quickly.