This Hospice Care Week we are highlighting the incredible work that goes into opening up end of life care for all.
Our brilliant team of Chaplains allow our patients and their families to explore or deepen their spirituality, no matter what it is that they may believe.
One special member of our Chaplain team is Bracken…
Bracken, a Nova Scotia Duck Tolling Retriever, visits Warwick and Coventry Myton Hospice with owner Rosie Homer to lend patients and their families a fluffy ear!
Rosie is a Chaplain here at The Myton Hospices and offers our patients and their loved one's spiritual care throughout their stay on one our inpatient units.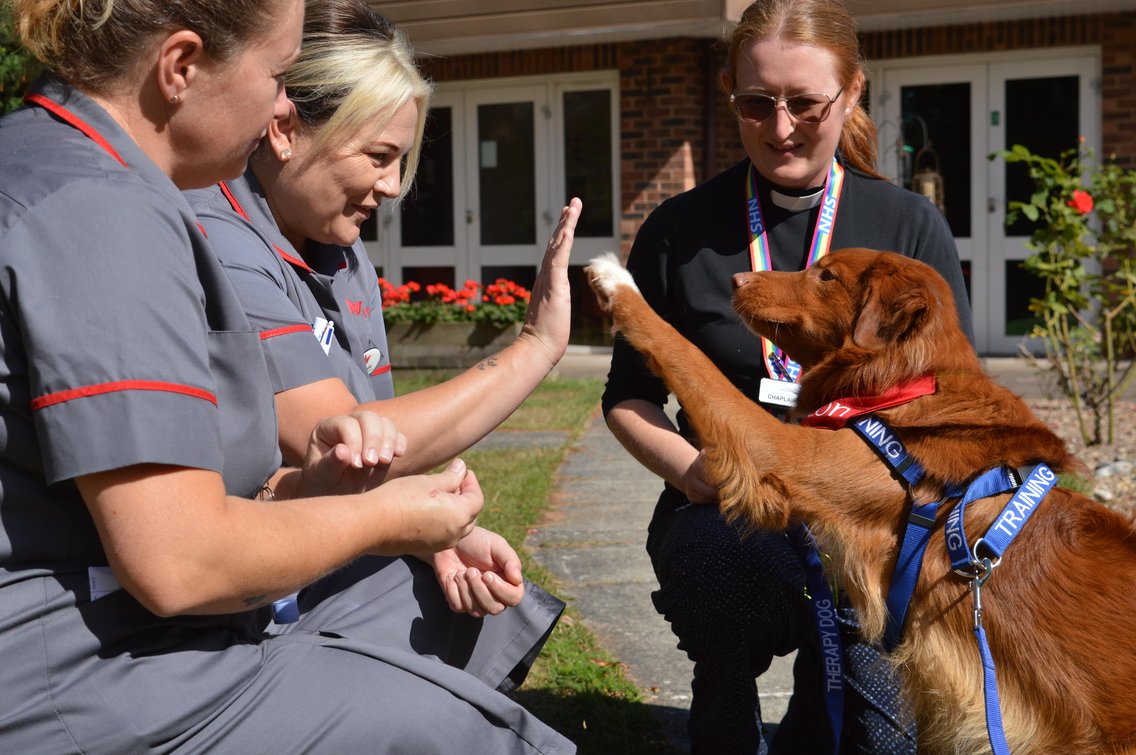 We caught up with Rosie about her role:
"As a Chaplain my role is a supportive presence for everyone - whether that's patients, their loved ones, or staff and volunteers too.

Often the label "Chaplain" or wearing my dog-collar, understandably can lead to certain expectations or assumptions about what we do or the type of person I may be... however... I like to say I am not a 'normal' vicar...

At the heart of Pastoral and Spiritual care is our interest in the 'wholeness' of a person - what makes them who they are as a unique individual, what is important to them, and affirming and supporting them in whatever that may be.

We are here for people of all backgrounds and beliefs, offering an informal listening ear for anyone who would like it, and we walk alongside them through difficult times. Spiritual care comes in many different forms - this could be anything from deep conversations exploring some of the big questions of life, to catching up on the latest football scores, hearing people's life stories and sharing photographs and memories, doing a jigsaw puzzle together, sharing an enthusiasm for watching a particular TV programme or music genre... or it may include particular religious aspects such as praying with people, bringing Holy Communion, or even arranging for people to be baptized or married in the hospice, or contacting a minister of their particular faith to visit.
Rosie is now training her 3-year-old dog, Bracken, to become a therapy dog. Bracken joins Rosie on her visits around our inpatient units to bring joy to everyone he meets.
One patient in particular who has benefited from seeing Bracken is Margaret Murdoch.
She said:
Seeing Bracken always brings a smile to my face and brightens my day.

I love it when he jumps on my bed and sits at my feet – he's like a hot water bottle!

I used to have a dog myself so it's lovely to see his furry face!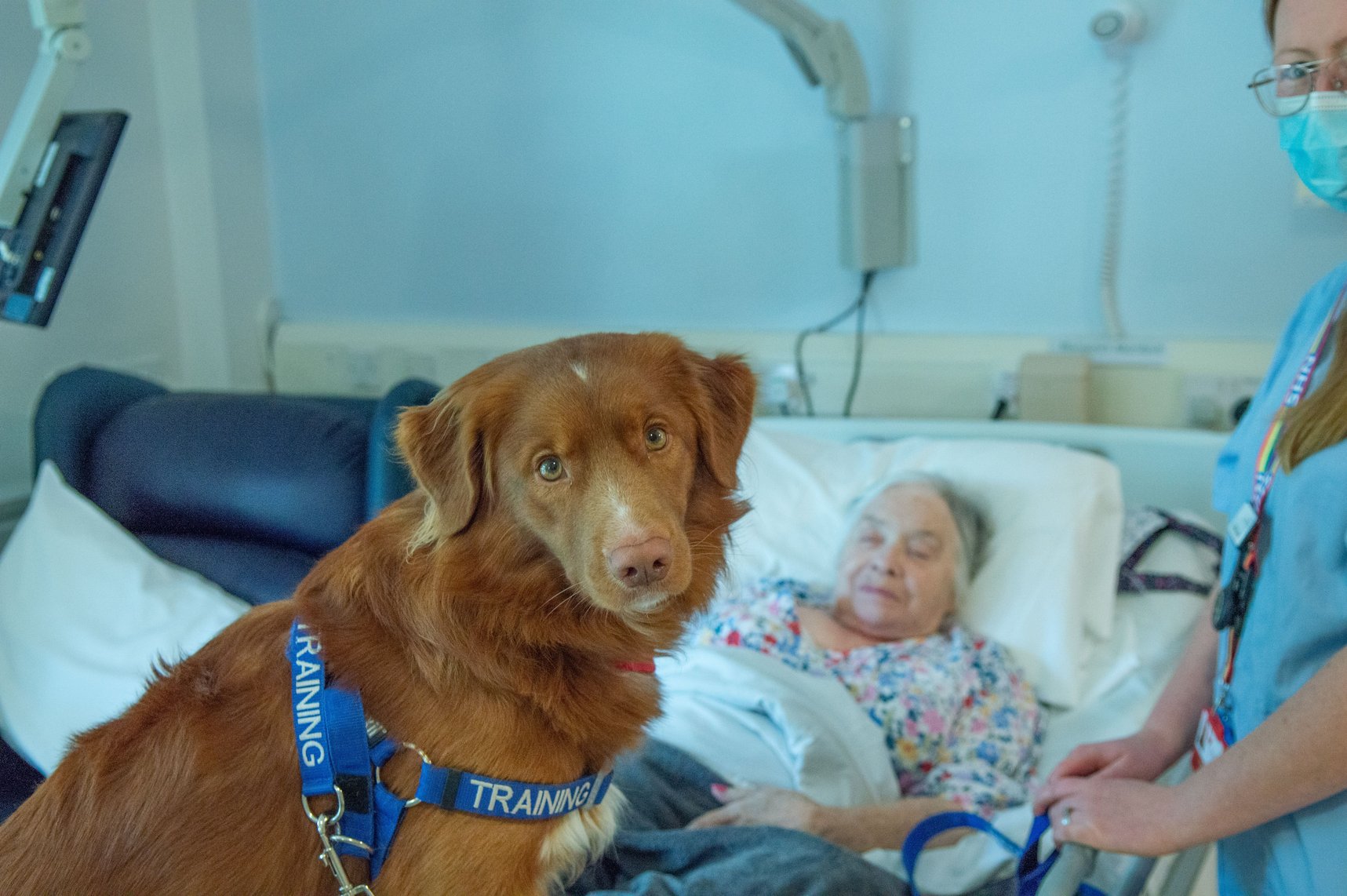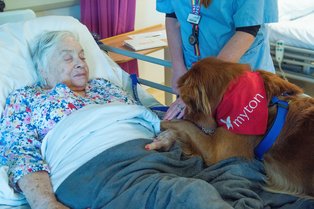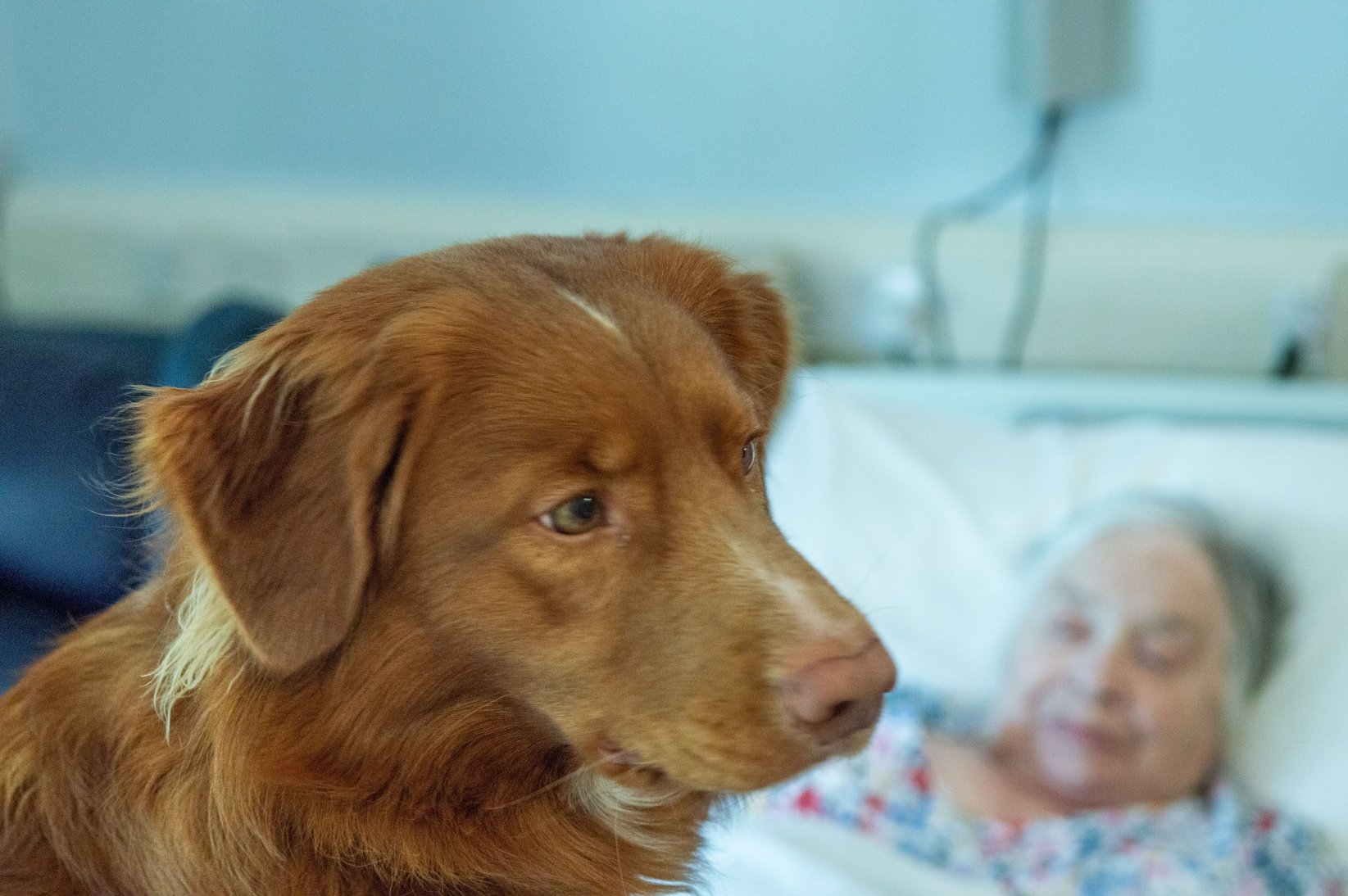 It has been discovered that animal therapy significantly improves mood and reduces pain, anxiety, depression and fatigue in people with a variety of health problems.
Rosie added:
The star of the pastoral team is Bracken, who is my own dog who I have had from a puppy, and I had always hoped that I would be able to bring him to work with me.

He is now three (unfortunately just as he reached adulthood and ready to start training, COVID happened which paused everything!) but now restrictions have eased it is brilliant having him as a colleague.

He offers his own unique 'ministry' to everyone at Myton. When people are having difficult days, they love having a friendly, furry face around.

He's a morale-booster for staff, patients and their families. One of the nurses recently said to me, "It brightens up my day whenever he comes!"

Being fairly large, cute, bright orange, fluffy, and a rare breed, Bracken is always noticed first, and is a brilliant conversation-starter.

People love meeting him, which is a great relaxed way of us getting to know people and them getting to know us and building that relationship as 'support team: human plus dog' (not simply 'the vicar') - which is so important when being alongside people on what often is a very hard journey.

Many people have pets or are animal-lovers - when I'll knock on someone's door and introduce Bracken, people's faces just light up - it's a real treat to have such a special visitor.

He'll give comfort and cuddles, and helps make Myton feel more like home.

The simple love that only a dog can give, or the deep connection felt when stroking him, can sometimes be the best 'medicine' for the soul; and Bracken's little face can bring a bit of joy to brighten even the darkest day for someone.
Bracken's unconditional love and attention brings a therapeutic benefit to all the patients he visits, and everyone is excited to see him when he walks through our doors!
Rosie is busy training Bracken to be a fully qualified therapy dog, and we wish him the best of luck in his exams!
The incredible support Bracken and Rosie, and all our Chaplains give, enables our patients to continue their spirituality journey throughout their stay at Myton.
Find out more about Hospice Care Week here