On Saturday 22nd October, 11 cyclists began their 350km bike ride across Vietnam and Cambodia to raise money for Myton.
Over 6 days, cyclists endured heavy downpours and challenging landscapes whilst traveling from Ho Chi Minh City in Vietnam to Angkor Wat in Cambodia. Thanks to all their fundraising efforts, they have raised £45,441 for Myton so far.
Amongst the 11 cyclists who took part in this year's event was our Retail Operations Manager, Gary Bradbury.  When asked about the experience, Gary said,
'All 11 of us who took part in this year's cycle challenge had our own reasons for raising money for Myton. We were from all different backgrounds but immediately gelled as a group, which was really important given the mileage covered and conditions that we had to cycle in! It was great to experience such diverse cultures and we were lucky to see some fabulous sights from the Mekong Delta to Angkor Wat. It was a truly memorable experience for a very worthy organisation that I am very proud to be a part of.'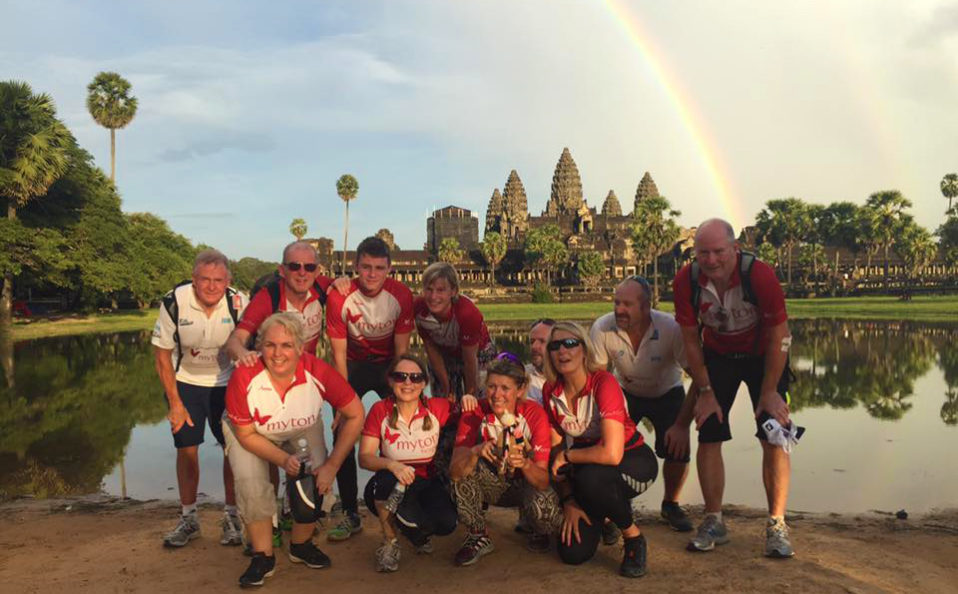 Coventry City Academy Player, Jack Burroughs, also took part in the Vietnam to Cambodia Cycle Challenge, raising £6,300 for Myton. Jack and his mum, Jo, wanted to take part in the challenge to raise money for the charity in memory of Jack's grandma who was cared for by Myton.
Travelling through the forests, farms, schools and villages to our stunning finish point at Angkor Wat ! The rainbow that lingered over this ancient monument as we arrived and remained until the end of our visit seemed appropriate to sum up this magical day !! – Jo Beavis
We would like to take the opportunity to say a massive thank you to all the cyclists who took part in the Vietnam to Cambodia Cycle Challenge. We are sure you will agree that £45,441 is an incredible amount of money and that is why we cannot thank them all enough for their hard work and support!