The charity made its first grant payment of £3,000 to The Myton Hospices on 10th December 2021, as thanks for the care that Carl and his family received at Coventry Myton Hospice.
The donation will fund a syringe driver and go towards Coventry Myton Hospice running costs which includes the upkeep of the relatives accommodation and nursing and care costs.
The Carl Lewis Foundation is a new, fundraising charity, based near Leamington Spa, set up in memory of Carl Lewis, who passed away from pancreatic cancer at the age of 34. Following his death, Carl's family and friends set out to honour his memory and create a legacy in his name.
They started fundraising to build an observation platform at Brandon Marsh, one of Carl's favourite places to birdwatch and take photographs.
A JustGiving page and a number of fundraising events, including an afternoon tea, a sponsored swim, a party night and coffee mornings, raised over £17,000.
Unfortunately, COVID-19 has meant that the plans for the platform have been delayed, but The Foundation is working closely with the Warwickshire Wildlife Fund to progress the building of the platform.
Once they had raised the money required for the observation platform, they wanted to continue fundraising, particularly wanting to donate to some of the organisations that had supported Carl during his illness, and to help others going through the same experience.
The Carl Lewis Foundation Trustees, Angie Archer & Jane Ibbett, handed over the £3,000 cheque to Coventry Myton Hospice Nurse, Liz Leake.
They said:
We are thrilled that our first grant is going to the Coventry Myton Hospice, who looked after Carl so well during his illness. The hospice will be using the grant to buy a syringe driver and to help towards the upkeep of the relatives' accommodation and nursing and care costs at the Coventry Inpatient Unit.
Carl's mum Angie also volunteers at our Bedford Street shop in Leamington Spa and added:
I felt it important that our first grant went to Myton as a thanks for the care we received.
Caroline Green, Senior Trust Officer at The Myton Hospices said:
We would like to say a huge thank you to The Carl Lewis Foundation, to Angie, Jane and all those who helped to raise the funds. The generous grant will help to ensure that we can provide care and support for more people like Carl and will make a real difference for our patients and their families.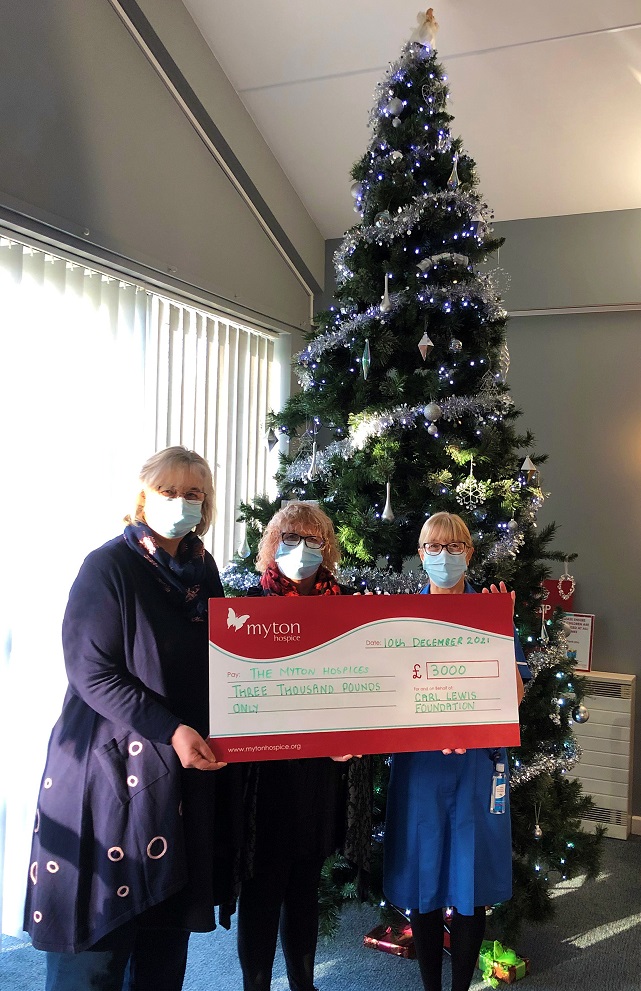 Latest news...