In the summer of 2018, when I saw the look on my GP's face I knew immediately that I had cancer for the third time.
In 2008 it was renal cancer and the decision was made to operate and remove the tumour, and what remained of my left kidney.
I walked into University Hospital Coventry and Warwickshire and a week later walked out, albeit 6kg lighter; the weight of the offending beast!
Soon after, I was invited to take part in a 10-year clinical trial for a new drug. The trial had the benefit of regular x-rays and scans.
One scan took place in the autumn of 2017 and showed a recurrence of cancer, this time in my left lung.
I had another operation to remove the tumours. I walked into the hospital on Boxing Day and walked out 5 days later.
The third time was vastly different as the cancer had now spread to my left femur. I was told that bone cancer can make the bone brittle, so the first job was to strengthen the leg by the insertion of a metal rod through the central core that contains bone marrow.
It was soon followed by a course of immunotherapy drugs and a 5-day course of radiotherapy.
I was pleased to learn that the drug was a derivative of the one I had trialled some 10 years earlier, so my work had not been in vain!
After the 4th of the 5 days of radiotherapy, I was in so much unexplained pain that I could not move and could not get into the downstairs sofa bed where I had been sleeping.
Late that night I was taken back into hospital, and soon realised I was giving the doctors a few headaches. My condition was spread across various medical disciplines: post-operative, orthopaedic, palliative and oncology. Several times I had to explain my situation as individual doctors appeared unclear as to what to do to me.
If I sound critical of my treatment then perhaps I am. Overall, I was feeling neglected by the system.
Then a Macmillan nurse suggested a new pain relief regime and referred me to Warwick Myton Hospice as an outpatient...
As I shuffled on my walking frame into Myton for my trial visit I found myself in tears, which many, I hope, will understand.

Then a supportive arm came around my shoulders and suddenly I felt that others knew my frustrations and understood my emotions.

Through my weekly visits, I felt the supportive Myton arm around my shoulders even more strongly than I did that first day. They've been supportive to me both physically and emotionally and all with a sense of fun and humour.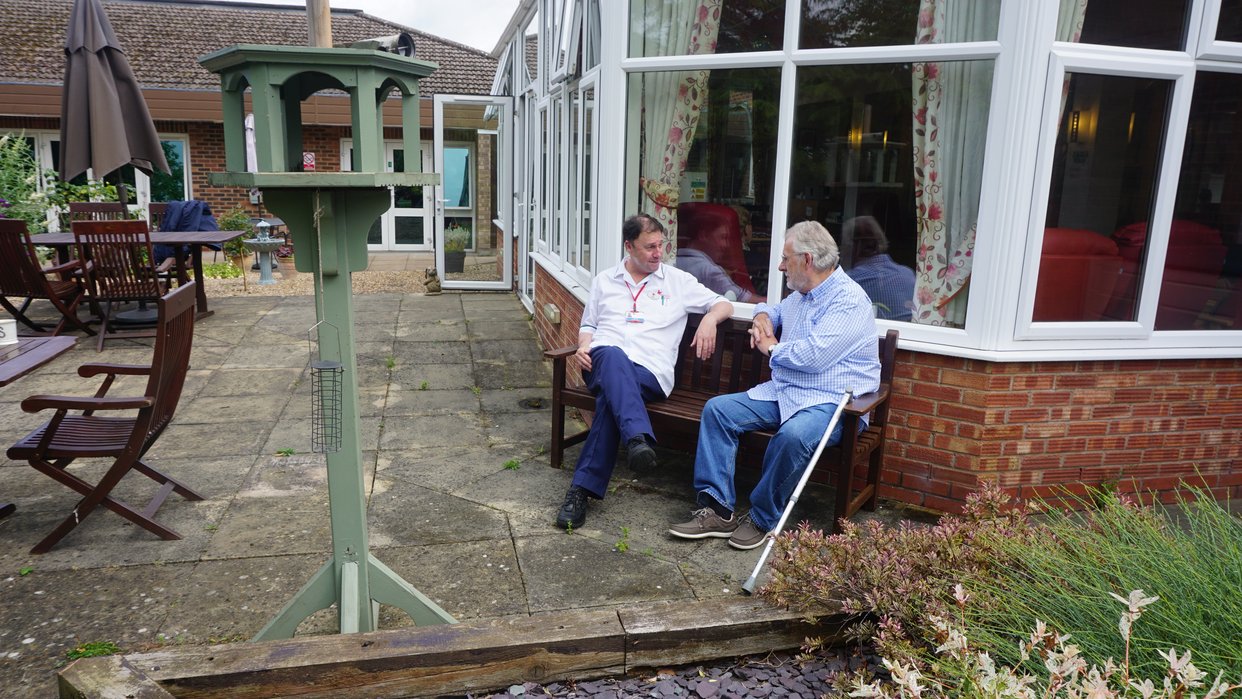 I talk about 'the nurse I had a bath with' when I was unable to climb the stairs at home so washed at the kitchen sink.
I received complementary therapies which were relaxing and removed stress. I enjoyed the camaraderie of joining in games, exercises and activities with others enduring differing illnesses and issues to me.
The only physiotherapy offered to me has been by the staff at Myton...
They encouraged and monitored me walking up and down stairs and supplied equipment which allows me to have showers at home. (No more bathing with the nurses!)
And at home, I am now able to do most things myself.
On my first day at Myton I met Guy, a fellow musician, and we became firm friends...
Guy had Motor Neurone Disease and declined rapidly; I learnt a lot about myself from Guy in the short time that I knew him.
Guy wrote a song about MND and on 1st January 2020 we recorded it with another friend Mike at a local studio in Whitnash owned by Bill Bates.
The following day we gave Guy a copy of the CD and he died shortly afterwards. The song was played at his funeral and was a really special moment for all of us.
When Covid-19 hit and face to face outpatient services temporarily stopped the Wellbeing team at Myton kept in touch regularly and I have received monthly calls from them ever since to see how I am and how they can continue to support me.
When restrictions lifted I attended a couple of outdoor afternoon tea events at Myton to reconnect with the team and fellow patients.
I am currently attending a six-week group exercise programme at Warwick Myton Hospice and through the Wellbeing team I have access to Myton's multidisciplinary team including nurses, physiotherapists and complementary therapists.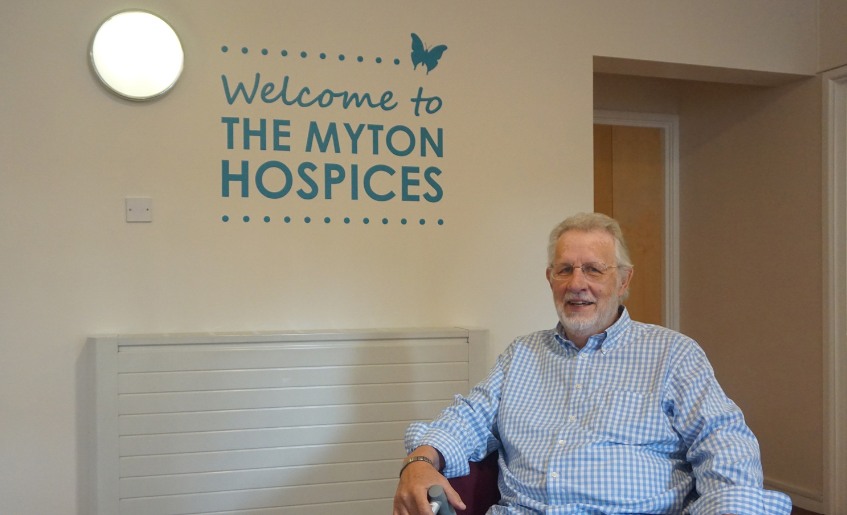 My immune system is severely compromised and during the pandemic I had five episodes of sepsis.
I also had a 4th operation – this time to remove cancer from my left adrenal gland.
I now have four tumours on my lungs and was taking chemotherapy tablets but have recently had to stop taking them due to the awful side effects.
I have been told that further surgery isn't an option.
I know that whatever happens Myton will be there to support me and my family.
My partner and I are truly grateful and do what we can to help this much-needed local charity. Helen raised £2,000 by taking part in a Zip Wire Challenge for Myton and I raised £1,600 by organising a concert of local folk music friends at Napton Village Hall.
Thank you Myton for that supportive arm; it really does mean a lot to me.
If you would like to find out more about how we can help you and your loved ones please click here.