Bedworth
Address:

10 All Saints Square, CV12 8LU

Telephone:

Opening Hours:

| | |
| --- | --- |
| Monday | 9.30am -5.00pm |
| Tuesday | 9.30am - 5.00pm |
| Wednesday | 9.30am - 5.00pm |
| Thursday | 9.30am - 5.00pm |
| Friday | 9.30am - 5.00pm |
| Saturday | 9.30am - 5.00pm |
| Sunday | Closed |
Situated in the heart of Bedworth town centre, our All Saint's Square shop has a wide selection of Ladieswear, Menswear, Homewares, Entertainment and Accessories. We also have a Children's corner; complete with Kid's Clothes, Plastic Toys and Puzzles/Games. We pride ourselves on being part of the local community, and strive to accommodate all of our customers.
Buying a new outfit or redecorating your house doesn't have to break the bank. Find yourself a bargain, and actively support our work, by purchasing an item from one of our shops. #GetTheMytonLook
Each shop is managed by a shop manager but they couldn't operate without the support of our volunteers and the generosity of the local community who donate goods for us to sell.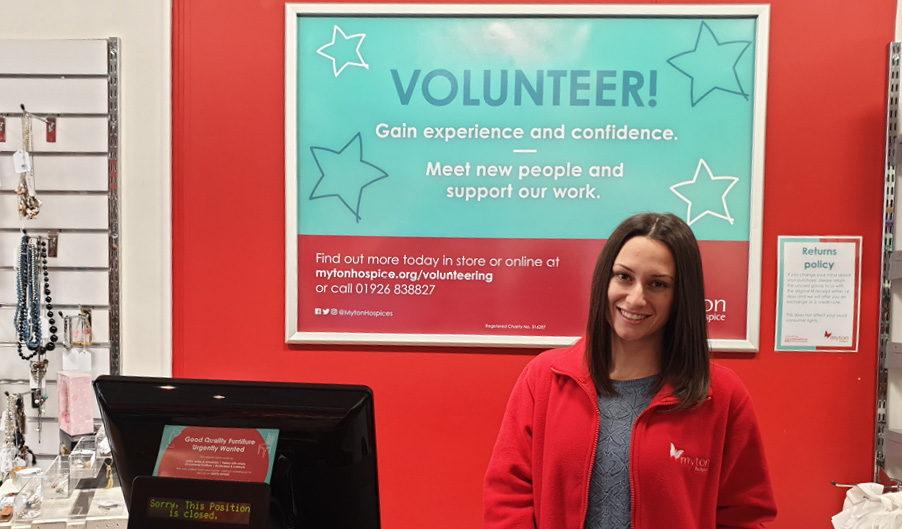 Could you volunteer at one of our shops?
Myton is lucky to have an invaluable team of almost 1,000 volunteers without whom, we would not be able to provide the services that we do. We are often told that volunteering is a way of giving something back. The time that you give as a volunteer will make a huge difference to our patients and their families; you will be supporting people at a critical time in their lives.
Volunteer today