Coventry – Earlsdon
Address:

27 Earlsdon Street

Telephone:

Opening Hours:

| | |
| --- | --- |
| Mon to Fri | 09.00 - 17.00 |
| Saturday | 09.00 - 17.00 |
| Sunday | Closed |
Buying a new outfit or redecorating your house doesn't have to break the bank.
Earlsdon shop specialises in clothing and accessories for both ladies and gentlemen and we are pleased to be part of the local community.
By purchasing an item from one of our shops you can find yourself a bargain whilst actively supporting our work.
Each shop is managed by a shop manager but they couldn't operate without the support of our volunteers and the generosity of the local community who donate goods for us to sell.
Scroll down for more information…
down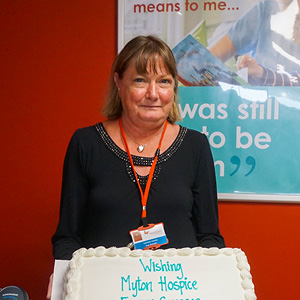 About Lorraine
I first started as a charity retail volunteer in 2012 when my daughter was admitted to hospital for surgery and I couldn't work full time. I absolutely loved it and eventually trained to be a manager and have been working in charity retail on and off since.
I left my last job in November 2017 was planning to take a year out but couldn't stay away! I really enjoy working in this environment – it's not often you get to do a job you truly love. I have always wanted to work for Myton because my mum was cared for by them so I have a personal connection.
I'm hoping to make the Earlsdon shop into a real part of the community! I've already got some volunteers lined up who know the area and the people so it will be great to have them on board. We're going for a boutique feel with the shop. I've been getting tips off other managers while I've been working in their shops; everyone has been really nice and welcoming!
How to get here
By Car
From City Centre – Head north on Ringway Rudge/ A4053 towards exit 8. Use left hand lane to take the A4114 slip road to A45/, Birmingham/Coundon/Allesley, Head towards The Butts and turn left into Albany Road. Take the 4th exit onto Earlsdon Avenue.
By Bus
Bus No 5 from Belgrade theatre to Earlsdon Avenue, No 6 from Pool Meadow Bus Station to Earlsdon Avenue, No 11 from Pool Meadow Bus Station to Earlsdon Avenue.

Could you volunteer at one of our shops?
Myton is lucky to have an invaluable team of almost 1,000 volunteers without whom, we would not be able to provide the services that we do. We are often told that volunteering is a way of giving something back. The time that you give as a volunteer will make a huge difference to our patients and their families; you will be supporting people at a critical time in their lives.
Volunteer today