Leamington Spa – Warwick Street
Address:

104 Warwick Street, CV32 4QP

Telephone:

Opening Hours:

| | |
| --- | --- |
| Monday | 9.30am - 5.00pm |
| Tuesday | 9.30am - 5.00pm |
| Wednesday | 9.30am - 5.00pm |
| Thursday | 9.30am - 5.00pm |
| Friday | 9.30am - 5.00pm |
| Saturday | 9.30am - 5.00pm |
| Sunday | Closed |
Following government guidance for the safety of shop staff and volunteers, and members of the public visiting the shops, we have put in place measures to ensure there is space for social distancing, including limiting the number of customers allowed in the shop at any one time.
Regular stringent cleaning will be undertaken, screens have been put in place at till points, contactless payment is encouraged, and staff and volunteers will have the necessary personal protective equipment.
Open shops will be accepting donations but please phone ahead as if they receive too many on any one day they may have to temporarily stop taking donations. Thank you for your ongoing understanding and support.
Warwick street is one of our first shops that was opened and continues to change with the times.
We have a broad range of customers and have an extensive menswear department.
You will be welcomed with a friendly, warm smile and be rewarded with the range of items we sell.
Each shop is managed by a shop manager but they couldn't operate without the support of our volunteers and the generosity of the local community who donate goods for us to sell.
Scroll down for more information…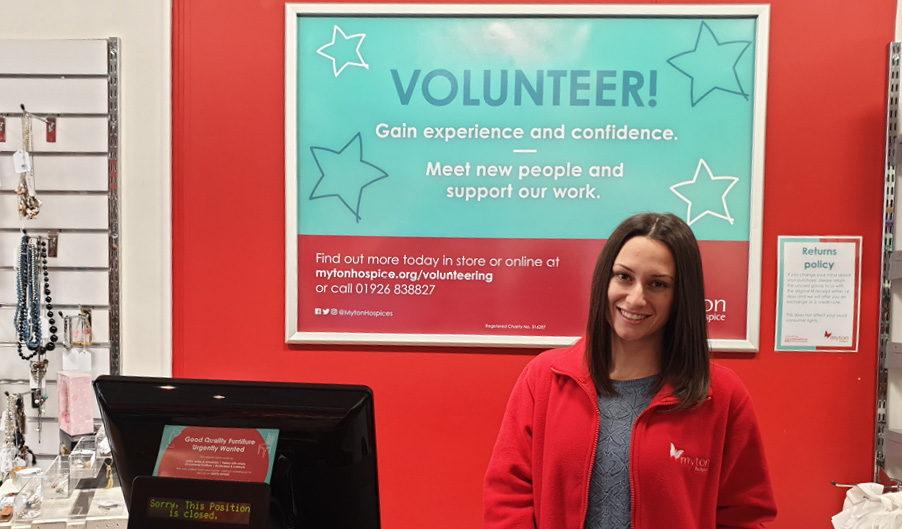 Could you volunteer at one of our shops?
Myton is lucky to have an invaluable team of almost 1,000 volunteers without whom, we would not be able to provide the services that we do. We are often told that volunteering is a way of giving something back. The time that you give as a volunteer will make a huge difference to our patients and their families; you will be supporting people at a critical time in their lives.
Volunteer today