Wellesbourne – School Road
Address:

WRT House , School Rd

Telephone:

Opening Hours:

| | |
| --- | --- |
| Mon to Fri | 09.00 - 17.00 |
| Saturday | 09:00 - 17:00 |
| Sunday | Closed |
Buying a new outfit or redecorating your house doesn't have to break the bank.
We have over 25 shops that stock a wide range of high quality items from clothing and books to homeware and furniture. By purchasing an item from one of our shops you can find yourself a bargain whilst actively supporting our work.
Each shop is managed by a shop manager but they couldn't operate without the support of our volunteers and the generosity of the local community who donate goods for us to sell.
Scroll down for more information…
down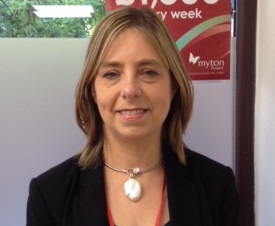 About Jeanette
I began working for Myton Wellesbourne shop as a volunteer about 8 years ago as my daughters were growing up and I had time on my hands. In between volunteering with Myton I worked on an archaeological dig in Stratford upon Avon, which was a fascinating and wonderful opportunity and I've been interested in archaeology ever since.
After a short stint working on the till in a local supermarket, I realised I enjoyed meeting, serving the public and was fortunate to be offered the chance to work as a sales assistant, a year later became a job sharing shop manager.
We moved to our new shop in February 2016 and at the same time I became full time manager, which was a very steep learning curve! Our volunteers have helped support me and we all work hard to help make our shop a success. We are often swamped with donations but we have a great team, and some very loyal customers, we feel part of the community. At the end of a chaotic and stressful day when I turn the key to find we have had a good result on the till I feel it is all worthwhile.
As well as archaeology, I am a rollercoaster enthusiast, a Star Wars, Harry Potter and Dr Who fan and I am interested in art and music, my favourite artist is Bruce Springsteen.
How to get here
By Car
Nearest car park adjacent to Myton Shop & Village Hall on School Rd.
By Bus
Bus-X18 & 18A from Stratford-Wellesbourne, bus stops on Kineton Rd. We are located towards the back of the precinct on School Rd.

Could you volunteer at one of our shops?
Myton is lucky to have an invaluable team of almost 1,000 volunteers without whom, we would not be able to provide the services that we do. We are often told that volunteering is a way of giving something back. The time that you give as a volunteer will make a huge difference to our patients and their families; you will be supporting people at a critical time in their lives.
Volunteer today